The Essential Upcoming Comics and Graphic Novels of 2010
[Hey readers. I noticed that this articles is getting a LOT of hits right now. Just so you know, this is NOT my best of 2010 list. This is a list that I wrote in January, listing stuff that I was most looking forward to in the year. You can find my best of 2010 retrospective, here: http://www.hypergeek.ca/2011/01/the-best-original-graphic-novels-of-2010.html]
Over the last few days I have been listing my favourite comics (see here) and graphic novels (see here) of 2009. Well, it's now the new year, and it's time to start looking forward rather than back. To that end I have created a list of the essential graphic novels and comics (announced so far been) set to be released in 2010.
The releases stretch the gamut from the biggest Marvel crossovers to the smallest indy publishers , I hope you find something that piques your interest amongst this lot!
Please note: These are listed in order of release, with comics first, and graphic novels second. They aren't ranked in order of appeal, or anything like that.
Comics
Written by Grant Morrison; Art by Sean Murphy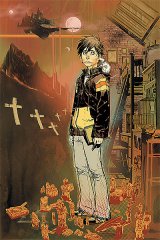 Eight issue miniseries
Released by Vertigo
Issue #1 released on January 20th
32 pages, FC
$1.00 for #1, $2.99 for subsequent issues
Having an overactive imagination can get a kid through a lot, but it doesn't change the facts: Joe's still the kid in school that can't fit in. He's the victim of bullies. His dad died overseas in the Iraq war. And then there's the Type 1 diabetes he has to live with.
So is it insulin-deprived delirium or something much, much bigger that transports Joe to a land inhabited by all his toys – from ninja commandos to action robots to magical knights to star fleet captains? Is Joe really the savior of this wild fantasyland that's been held under siege by dark magic and evil forces? With the help of a samurai rodent, is he ready to take back besieged castles and win the freedom of an oppressed people? Or is he just an over imaginative boy who could die if he doesn't take his meds?
If it has Grant Morrison's name on it, I will buy it. It's a simple rule, and it's never failed me yet! Okay, I'll admit that I didn't really like Final Crisis, but I blame the fact that I read all the lead up stories and spin-offs, and that ruined the main title for me. Grant's Vertigo stuff is always great fun, and I'm really looking forward to checking out this wacky sounds story. I'm hoping we'll also see the third Seaguy series this year, but I expect that will be 2011.

Whatever Happened to the World's Fastest Man? (North American release)

Written by Dave West; Art by Marleen Lowe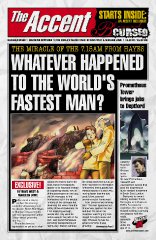 One-Shot
Published by Accent UK
Released on January 27th
50 pages, FC, SC
Diamond Id: NOV090580; ISBN: 9780955576447
$5.95
Life is a balancing act, every decision has positives and negatives. Bobby Doyle has a fantastic ability which could save thousands of lives - but at what price to himself? Join Bobby as he faces the biggest decision of all in this acclaimed science fiction drama.
Review: http://www.hypergeek.ca/2009/08/advance-comic-review-whatever-happened-to-the-worlds-fastest-man.html
This fantastic one-shot finally gets a North American release. Make sure you pick up a copy! Check out my review to see my thoughts on the book.

Written by Brian Wood; Art by Becky Cloonan
Six issue miniseries
Released by Vertigo
Issue #1 released on February 3rd
32 pages, FC
$2.99 per issue
The pioneering indie masterwork returns! And here's the first of 6 brand-new, single-issue, done-in-one stories from Brian Wood (DMZ, NORTHLANDERS) and Becky Cloonan (AMERICAN VIRGIN, Buffy the Vampire Slayer), each one just as powerful and emotionally charged as the original run. In "The Waking Life of Angels," a woman is haunted by a recurring premonition; one of a person plummeting from a great height. Seriously sleep-deprived and with only fragments of images for clues, she abandons her life to travel halfway around the world in hopes of finding this person before her fateful accident occurs.
I am a massive fan of the original Demo series, and believe it to be some of Brian Wood and Becky Cloonan's strongest work. The pair created some incredibly strong done-in-one stories, each packed full of great characters and gripping plots. I cannot wait to see more of this wonderful series!

Written by Ben McCool; Art by Ben Templesmith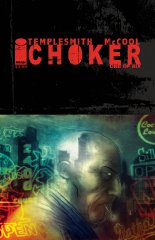 Six Issue Miniseries
Published by Image Comics
Issue #1 released on February 24th
32 pages, FC
$3.99 per issue
PAIN Industry superstar BEN TEMPLESMITH teams up with writer BEN McCOOL for this deliciously skewed tale of hardboiled noir. Johnny 'Choker' Jackson, once one of Shotgun City's most promising police officers, is a bitter private detective with a terrible case of Alien Hand Syndrome. But he's unexpectedly been offered a job back on the force: provided he can nail a twisted drug dealer selling a very exclusive product, that is…
From the twisted minds of Ben McCool and Ben Templesmith comes a hardboiled thriller that is set to push the boundaries of good taste to their limits! If you've had the pleasure of reading the preview of the first issue, or if you checked out the short story in Liberty Comics #2, you'll know what know what kind of craziness these guys have in store for readers. This is going to blow your mind!

Written by Brian Azzerello; Art by Rags Morales
Six issue miniseries
Published by DC Comics
Issue #1 released on March 3rd
40 pages, FC
$3.99 per issue
DC's shocking new pulp universe is finally unveiled! In the shadows of the War, the roots of the Golden Tree cabal grew deep into the heart of a fallen world… and the leaders at the heart of this secret organization see no place in their utopia for heroism. Doc Savage, struggling with the loss of his father, has been blind to their advance – until now. Central City's mysterious Spirit has caught wind of their plans as well. But whose side have the Blackhawks chosen? What is the Red Right Hand? And where is the Batman? Eisner Award winner Brian Azzarello (100 BULLETS, JOKER) and superstar Rags Morales (IDENTITY CRISIS) craft a DC universe like you've never seen before! It's a world with no supermen, only mortal men… Death can come at any moment, and adventure can still be found at every corner of the map! Will Doc Savage be the first to lead the coming world or the last to be crushed under its heel?
Following on from the events in Batman/Doc Savage, Brian Azzerello introduces us to a pulp inspired version of the early DC Universe. This is going to be something special, and you can't afford to miss it!

Written by Scott Snyder and Stephen King; Art by Rafael Alburquerque
Ongoing Series
Published by by Vertigo
Issue #1 released on March 17th, 2010
40 pages, FC
$3.99 per issue
Witness the birth of a brand new species of vampire in this new ongoing series that begins with five extra-sized issues featuring back-to-back stories by exciting new writer Scott Snyder and the master of horror himself, Stephen King! When notorious outlaw Skinner Sweet is attacked by an old enemy (who happens to be a member of the undead), the first American vampire is born… a vampire powered by the sun, stronger, fiercer, and meaner than anything that came before. Plus… Pearl Jones is a struggling young actress in 1920s Los Angeles. But when her big break brings her face-to-face with an ancient evil, her Hollywood dream quickly turns into a brutal, shocking nightmare.
This is Stephen King's first ever comic! Need I say more?

Written by Brian K. Vaghan; Art by Tony Harris
Published by Wildstorm
Released in April (tentative)
The final issue of this groundbreaking superhero political thriller. No details are yet available, but it's sure to be a stunning conclusion!
Written by Grant Morrison; Art by Chris Sprouse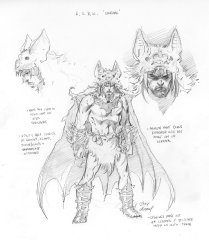 Published by DC Comics
Released in April (tentative)
Lost in the timestream, believed to be dead by his friends and enemies alike, Bruce Wayne must use every bit of intelligence, every ounce of strength and training he's acquired over the years to find his way back to the city, and adopted family of vigilantes, he'd left behind.
Blasted by the mysterious and powerful Omega Effect in the pages of FINAL CRISIS during a deadly battle with the malevolent New God Darkseid, Bruce Wayne must battle back through the waves of time to reclaim what was his – his city, his life…his cowl?
Find out more: http://www.hypergeek.ca/2009/12/dc-announces-batman-the-return-of-bruce-wayne.html
What I first heard abut this, I was a little bit miffed at the fact that it sounds to be the exact same plot as Captain America: Reborn,  but that fact aside, it's written by Grant Morrison, with art by Chris Sprouse - what's not to like?!

Written by Jonathan Hickman; Art by Dustin Weaver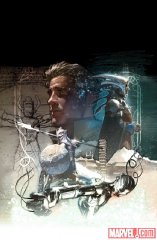 Pulished by Marvel
Released in April 2010 (tentative)
Titled simply SHIELD, the new series is to be written by Hickman, with artwork by Dustin Weaver, and will reveal the secret history of the organization. Apparently, the history of S.H.I.E.L.D. goes back much further than previously imagined, and actual began in ancient Egypt. The series is set to show S.H.I.E.L.D.'s clandestine activities throughout the history of modern civilization, and will feature some of history's greatest figures protecting the earth from threats like Galactus, and the Celestials.
Find out more: http://www.hypergeek.ca/2009/11/jonathan-hickman-to-write-new-s-h-i-e-l-d-miniseries-for-marvel.html
At this point, Jonathan Hickman could write anything, and I would buy it just based on the strength of his previous work. Hickman's writing is always brilliant, and his plots are always griping and original. The scope of this new Shield series is immense, and it's sure to be one of the most exciting new series of the year!

by Various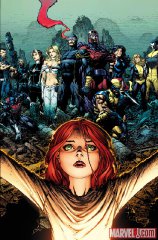 Published by Marvel
Starts in April
The Second Coming saga serves as the third and final chapter in the "messiah trilogy," which began with Messiah Complex in 2007 and continued with last summer's Messiah War, and centers on the mysterious Hope, the first mutant born since the decimating events of M-Day. Similar to the format of the two previous parts of the story, Second Coming begins with a one-shot and continues through UNCANNY X-MEN, X-FORCE, X-MEN: LEGACY and NEW MUTANTS on a chapter-by-chapter basis before wrapping in a special finale.
I read 'Messiah CompleX', the 'Messiah War', and I've followed the entire Cable series, so this crossover is going to be essential reading for me. The very future of mutant-kind hangs in the balance. How much more exciting could this be?!

Written by Greg Rucka; Art by JH Williams III
Published by DC
Release: Late 2010
Greg Rucka has revealed that he will stop writing the Batwoman story in Detective Comics with issue #863. Then he and JH Williams III will be reuniting in Late 2010 to start a new Batwoman title, which will continue the treads of story that the team developed in this epic run on Detective Comics.
Find out more: http://www.hypergeek.ca/2009/12/kate-kane-to-leave-the-pages-of-detective-comics-and-greg-rucka-jh-williams-to-start-a-new-batwoman-title-in-2010.html
Graphic Novels
by Gilbert Hernandez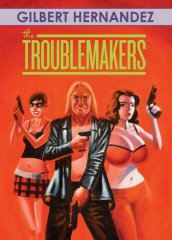 Published by Fantagraphics
128 pages, B&W, HC
Released on January 6th (tentative)
Diamond Id: APR083834
978-1-56097-922-7
$19.99
Dig this scene! Low-life drug dealer Dewey Booth has $200,000 that even-lower-lifes want. BLING! Wes is a rock and roll loser that only wants to buy a club where nobody can tell him he can't sing or perform. WAILIN'! He's known Dewey for years, but that isn't enough to get his dough. Wes needs help. Nala is an über-stacked bombshell whose pleasure in life is to seduce and then humiliate men dumb enough to fall for her. HUSH HUSH! For half the dough, she agrees to help Wes get Dewey's ill-gotten goods. Things don't go so well when a wily grifter from Wes's past shows up to complicate things. GULP! Vincene is another troublemaker who enjoys wrecking people's plans and wants the Dewey dough, too. In the end, deadly fires ignite, heads literally roll, eyes are shot out — and all Wes wants to do is sing in a rock and roll club.
The Troublemakers is the second volume in a series of original graphic novels in which Gilbert Hernandez creates comics adaptations of movies starring or co-starring Luba's half-sister Rosalba "Fritz" Martinez from Love and Rockets. The first, the dystopian Chance in Hell (in which Fritz has only a bit part), was released in 2007. This hard boiled, pulp graphic novel will delight longtime Hernandez fans as well as provide a perfect introduction to newcomers to Hernandez's work.
I loved Chance in Hell, so this follow-up is a must for me. Beto is a wonderful storyteller, and an astonishing artist, so you can't go wrong picking this up, even if you've never read any L&R!

by Jason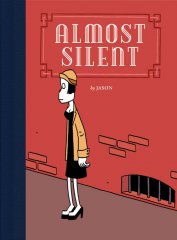 Published by Fantagraphics
304 pages, B&W, HC
Released on January 27th
Diamond Id: NOV090779
978-1-60699-315-6
$24.99
Almost Silent packages four original Jason graphic novels — three of them out of print since mid-2008 — into one compact, hardcover omnibus collection. (As the title indicates, this volume favors Jason's pantomime works.)
"You Can't Get There from Here," the longest story of the book (and the only one to be printed in color — well, a color), tells the tale of a love triangle involving Frankenstein, Frankenstein's Monster, and The Monster's Bride: Jason cleverly alternates between totally silent sequences involving the three characters and scenes in which Frankenstein's hunchbacked assistant discusses the day's events with a fellow hunchbacked assistant to another mad scientist. (You didn't know they had a union?)
"Tell Me Something" is a brisk (271 panels), near-totally-silent (just a few intertitles) graphic novelette about love lost and found again, told with a tricky mixture of forward- and back-flashing narrative. "Meow, Baby" is a collection of Jason's short stories and gags, and finally, "The Living and the Dead" is a hilariously deadpan (and gory) take on the traditional Romero-style zombie thriller.
All of these yarns star Jason's patented cast of tight-lipped (or -beaked) bird-, dog-, cat- and wolf-people, and show off his compassion and wry wit. Almost silent is a perfect starting point for a new reader wanting to know what the fuss is all about, and a handsome, handy, inexpensive collection for the committed Jason fan.
Jason is one of the greatest cartoonists in the world, and I've read nearly every book that he has published. Sadly, some of his books are now out of print, so I haven't been able to get my hands on them. However, this new volume collects three of these out of print books, together with a reprint of one of his best stories. Fantagraphics plan to print the rest of Jason's rare material in another collection, set to come out in 2011. I can't wait!

Mr Amperduke (North American release)
By Bob Byrne
Published by Clamnut Comics
180 pages, B&W, SC
Released on January 27th
Diamond Order Code: NOV090705
$17.95
The tiny citizens of Mr. Amperduke's miniature city must battle a giant, marauding insect as their benevolent master and the Panzer Meister race to save them in this dark and compelling adventure. Since its debut as a 6-page story in Judge Dredd Megazine, this story, told silently without words, has been acclaimed, with appeal to LEGO collectors. This compelling adventure offers a new mode of visual storytelling to long time comic fans and new readers alike.
Se more: http://www.hypergeek.ca/2009/11/small-press-spotlight-highlighting-two-fantastic-small-press-releases-in-this-months-previews-magazine.html
Mr Amperduke is a silent epic, a masterpiece without the need for words. This wonderful book from Irish cartoonist, Bob Byrne, has been out in the UK and Ireland for some time, but is only now getting a North American release. Trust me when I tell you that you NEED this book in your collection! It's one of the most magical and enchanting stories that I have ever read!

Written by Andi Ewington; Artwork by various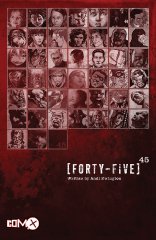 Published by Com.x
132 pages, FC, SC
Released on January 27th
Diamond ID: OCT090823
ISBN: 9781615847136
$17.99
Journalist, James Stanley, is faced with the imminent birth of his child. Having decided to forego the test that would determine whether his child is carrying the all-important Super-S gene, which differentiates the genetic makeup of a superhero from that of a normal person, James sets out on a quest to interview forty-five super-powered individuals in the hope that their experiences may better prepare him for the birth of a child that is potentially gifted with extraordinary abilities.
On his journey, he encounters characters from all walks of life; from single mothers struggling to raise gifted children, to rebellious super-teenagers, all the way through to those reaching the end of their lives. But what starts as a voyage of personal discovery becomes something far more ominous when he crosses paths with an organization known as XoDOS.
Each page of art has been illustrated by a different comic artist, with no predetermined brief given; just the written page as guidance. The concept is unlike anything you've seen in comic books so far; it truly is an original attempt at redefining what people expect from a comic book format. Featuring the art of Liam Sharp, Jock, Sean Philips, Randy Green, Charlie Adlard and Dan Brereton, to name but a few of the 45 contributors.
Eighteen page preview: http://www.hypergeek.ca/2009/09/fifteen-page-preview-of-forty-five-45.html
An interview with Forty-Five creator, Andi Ewington: http://www.hypergeek.ca/2009/10/an-interview-with-andi-ewington-about-forty-five-45.html
I am actually in the middle of reading a pre-release of Forty-Five, and so far it's a brilliant piece of work. Andi Ewington has created something really unique in this book, and the artwork that accompanies the interviews is nothing short of breathtaking. I should have a full review up within the next week, so watch out for that!

by Gilbert Hernandez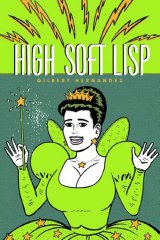 Published by Fantagraphics
Released on April 6th
144 pages, B&W, SC
Diamond Id: DEC090866
ISBN: 9781606993187
$16.99
From the pages of Love and Rockets, the life of one of comics' most seductive heroine. "Five six. Hundred twenty-eight pounds. Forty-three twenty-two thirty-six. High soft lisp. Genius level I.Q." That's how motivational speaker Mark Herrera sums up Rosalba "Fritz" Martinez, bombshell, former punkette, former psychiatrist, "Z" movie star — in this supremely sexy, constantly surprising graphic novel.
And Herrera should know, being only one of many to fall under Fritz's "lithping" spell—others including slobbish rocker Scott "The Hog" and high school nerd turned obsessive bodybuilder Enrique Escobar (and that's just her husbands).
Hernandez has taken this suite of stories (including the 48-page graphic novelette "High Soft Lisp"), originally serialized in the second volume of Love and Rockets, and fleshed them out with a dozen brand new pages, creating an original and inventive (and very steamy) volume that, through its connections to his main character Luba (Fritz is Luba's half sister, and characters from the Luba stories pop up here), works both as a standalone graphic novel and a further exploration of Hernandez's rich world.
This collection is essential for all L&R fans, as it collects together many of Beto's stories from the second L&R series, for the first time.

by Jamie Hernandez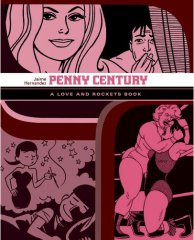 Published by Fantagraphics
240 pages, B&W, SC
Released on April 6th
Diamond ID: DEC090868
ISBN: 9781606993422
$18.99
Wrestling, romance, and more in the fourth collection of Maggie stories from Love and Rockets. Picking up right after Perla La Loca, the third volume of the definitive "Maggie" series repackaging, this compilation of stories from Jaime Hernandez's solo comic Penny Century and his subsequent return to Love and Rockets (Volume II) charts the further lives of his beloved "Locas."
But first… wrestling! Penny Century starts off with a blast with "Whoa, Nellie!," a unique graphic novelette in which Maggie, who has settled in with her pro-wrestler aunt for a while, experiences that wild and woolly world first-hand.
Then it's back to chills and spills with the old cast of Hopey, Ray Dominguez, and Izzy Ortiz—including Maggie's romantic dream fantasia "The Race" and the definitive Ray story, "Everybody Loves Me, Baby."
Penny Century also features two major "flashback" stories: "Bay of Threes" finally reveals the full back story behind Beatriz "Penny Century" Garcia, Maggie's long-time, bleached-blonde bombshell friend (who gives this volume its name and can currently be seen as a super-villainess in Love and Rockets: New Stories), while "Home School" is one of Hernandez's popular looks at his characters' lives from when they were little kids, drawn in an adorable simplified Dennis the Menace type style. 240 pages of black-and-white comics.
Another essential collection for fans of L&R, collection Xamie's Penny Century stories from the Penny Century series and from Love & Rockets Volume II.

by Peter Bagge
Published by Vertigo
136 pages, B&W, HC
Released on April 14th
Diamond Id: DEC090263
ISBN: 978140121902452499
$24.99
Meet three certified geeks: a self-loathing journalist who has a seemingly normal girlfriend, a conspiracy theorist who still lives with his mother and an unemployed gamer who lives in his car. These strangely likable misfits find that dark personal secrets can sometimes be a virtue in OTHER LIVES, a hilarious original graphic novel by award-winning creator Peter Bagge (Hate). The story also explores people's identities, both real and created, and how the two become confused and conflated through the Internet and role-playing games.
http://www.hypergeek.ca/2009/11/a-three-page-sneak-peek-preview-of-peter-bagges-other-lives.html
Peter Bagge is one of the world's finest cartoonists, and his work on Neat Stuff and Hate was instrumental to shaping me into the person I am today… so now you have someone to blame!!!
Other Lives marks Bagge's first new work since he produced Apocalypse Nerd for Dark Horse comics in 2007. Earlier this year he also released the brilliantly titled Everyone is Stupid Except for Me, which collected together all of the strips and articles that he has contributed to Reason magazine over the years. Currently, his long lost Hulk strip that he produced for Marvel some time ago, The Incorrigible Hulk, is being published monthly in the anthology comic, Strange Tales.
By Eddie Campbell & Daren White
Published by Top Shelf
Released in July
ISBN 978-1-60309-056-8
$14.95
The Playwright rather enjoys a quiet moment in the local park. It is a good place to mentally sort his ideas, and is often frequented by pretty young ladies. He once saw a pigeon defecate onto a businessman's shoulder. It struck him as absurd that such an event is often considered lucky. Surely the luck lies with passers-by who, statistically, are far less likely to be similarly soiled at that precise moment. Similarly, the Playwright has always derived an almost perverse sense of relief upon receiving news that an old friend has developed prostate cancer. Because statistically, he reasons, such news significantly reduces the chances of him being similarly afflicted. And to be honest, at his age, his prostate needs all the statistical support he can muster…
The Playwright: a dark comedy about the sex life of a celibate middle-aged man.- A 160-Page Deluxe Full-Color Hardcover Graphic Novel, 9″ x 5 1/2″ (landscape)
This graphic novel sees Campbell teaming up with Batman: Order of the Beast collaborator Daren White, who is writing the story, while Campbell handles the artwork. Eddie Campbell's artwork is always delightful, and this story sounds incredibly intriguing, so this is sure to be an essential purchase.

by Alex Robertson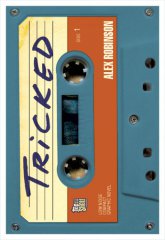 Published by Top Shelf
Shipping in August
Diamond: JUN053269 - ISBN 978-1-891830-73-0
$19.95
Alex Robinson, "the master of true-to-life relationship drama" (Library Journal), has created another tour de force. Tricked follows the lives of six people — a reclusive rock legend, a heartbroken waitress, a counterfeiter, an obsessive crank, a lost daughter, and a frustrated lover — whose lives are unconnected until an act of violence brings them spiraling in on each other. Combining intriguing characters with a story structure that is both complex and innovative, Tricked is not to be missed. Now in its 2nd printing, sporting a brand new cover to boot! — A 352-Page Softcover Graphic Novel (with an all new cover designed by Matt Kindt)
The second book from Alex Robinson, of Too Cool to be Forgotten fame. Out of print for some time now, Top Shelf are finally reprinting this amazing story. If you missed it the first time, make sure you pre-order this new version!

The League of Extraordinary Gentlemen (Vol III): Century #2: 1968
Written by Alan Moore; Art by Kevin O'Neill
Co-Published By Top Shelf Productions & Knockabout
Released in October
ISBN 978-1-60309-006-3
$7.95
CHAPTER TWO takes place almost sixty years later in the psychedelic daze of Swinging London during 1968, a place where Tadukic Acid Diethylamide 26 is the drug of choice, and where different underworlds are starting to overlap dangerously to an accompaniment of sit-ins and sitars. The vicious gangster bosses of London's East End find themselves brought into contact with a counter-culture underground of mystical and medicated flower-children, or amoral pop-stars on the edge of psychological disintegration and developing a taste for Satanism. Alerted to a threat concerning the same magic order that she and her colleagues were investigating during 1910, a thoroughly modern Mina Murray and her dwindling league of comrades attempt to navigate the perilous rapids of London's hippy and criminal subculture, as well as the twilight world of its occultists. Starting to buckle from the pressures of the twentieth century and the weight of their own endless lives, Mina and her companions must nevertheless prevent the making of a Moonchild that might well turn out to be the antichrist.
The League of Extraordinary Gentlemen is Alan Moore's true magnum opus. Forget Watchmen, forget V for Vendetta, this is the work for which Alan Moore should be remembered. The same goes for Kevin O'Neill, his artwork of LoEG is some of the best of his career, which is really saying something.
The first volume of LoEG III was an thrilling ride through the late Edwardian era, and now we move forward to 1968, a time exemplified by the hippie subculture. I can't wait to see the league's adventures in this period of history, and what sorts of surprises Moore & O'Neill have in store for us!

Written by Pat Mills; Art by Kevin O'Neill
Published by Top Shelf
Released in December
ISBN 978-1-60309-023-0
$49.95
At long last, Top Shelf presents a revolutionary epic over twenty years in the making: THE MARSHAL LAW OMNIBUS — a super-deluxe definitive collection of the groundbreaking series by British comics legends Pat Mills (JUDGE DREDD, CHARLEY'S WAR) and Kevin O'Neill (LEAGUE OF EXTRAORDINARY GENTLEMEN). This legendary graphic novel one-ups Watchmen, going beyond superhero deconstruction to full-on superhero demolition. — Full-Color, Deluxe Oversized Hardcover, 512 pages, 7 5/8″ x 11 3/4″
In a twisted, decadent future not so far away, the city once called San Francisco is now a war zone. The government has commissioned living weapons of mass destruction to wage war on terror. The survivors return home broken, bitter, insane… and almost unstoppable. Some form gangs, some go psycho. Some turn into A-list celebrities with A-bomb fists.
Only one man knows the dark secrets these so-called "heroes" are hiding. Only one man has the power to take on America's best and brightest and bring them to justice. His eyes will reflect the rocket's red glare. He is the twilight's last gleaming. He is… MARSHAL LAW.
Marshall Law is the most well known of all the comics that Pat Mills produced during his brief forays into American comics. Accompanied by Kevin O'Neill's intense artwork, Mills carves out one of the most insane stories of his career. Marshall Law is a relentless superhero deconstruction, punctuated by moments of brutal violence and lunacy, that is sure to shock even today's comic audience. This omnibus, for the first time, collects the entire series into one indispensable volume. This is going to rock!

Written by Alan Moore; Art by Stephen Parkhouse
Published by Top Shelf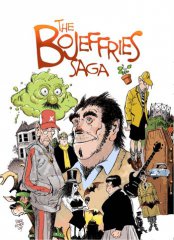 Released in December
ISBN 978-1-60309-063-6
$19.95
People have described The Bojeffries Saga as being about "urban decay" or "the demise of the nuclear family," as if getting a handle on this oblique entity would somehow make it fair game for intellectual scrutiny. But what the Bojeffries set out to do was simply poke fun at the British — which is what the British do best.
This edition includes the evolutionary development of the principal characters, as well as an all-new story (as if the Bojeffries were living in modern times). Alan and Steve both agree that modern Britain is on a fast track to nowhere, yet Alan's affectionate and penetrating understanding of human nature creates a kind of desperate poignancy in the characters; and Steve's deft and articulate line work brilliantly echos this throughout the collection.
It's all there, untutored, unpolished, ramshackle and always on the edge of collapse. Very much like Britain itself.
Alan Moore's Bojeffries saga has been out of print for many years, forcing fans like me to pay too much money for the original issues of Warrior on eBay, or overpriced copies of the previous hardcover release from 1994. Finally, Top Shelf are putting out a high-quality HC reprint of this fantastic story, making a lot of Alan Moore fans very happy. This new volume also includes background material, and an all-new story!!!! Every Alan Moore fan needs a copy of this in their collection!

Love & Rockets New Stories 3
by Los Bros Hernandez
Published by Fantagraphics
No details have yet been released about next volume of the New Stories books, but Fantagraphics seem to be publishing one volume a year now, so it is likely we'll see another in 2010. If it's a tenth as good as the first two volumes, we're in for a treat!
Accent UK's 2010 anthology: Predators
Published by Accent UK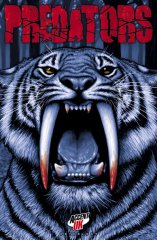 Written by various; Art by various
Published by Accent UK
Release date unknown
Every year, Accent UK publish a themed anthology, featuring contributions from some of the UKs top indy writers and artists. The theme for this year is Predators, so the anthology will contain stories based around the predatory theme, be it from the perspective of the predator or the prey.
Accent's anthologies are always filled full of fantastic stories and top quality artwork, and they keep getting better every year. Last year's Western
anthology was a brilliant collection, and I'm sure this one will be even better!
To find out more, click here: http://www.accentukcomics.com
Related posts: