Review/Spotlight on 2000 AD Prog 1740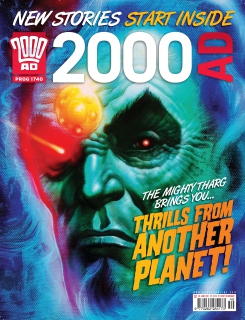 2000 AD Prog (issue) 1740 is a British sci-fi comics anthology, which was released in the UK on Wednesday, June 29th, and is set to be released in the US in the 2000 AD June pack from Diamond, which is due out on July 6th. The issue cost £2.25 GBP, and will cost $25 USD bundled with three other issues. The gorgeous cover for the issue was provided by Liam Sharp, and depicts Tharg, 2000 AD's alien editor.
As a huge 2000 AD fan, or Squaxx dek Thargo*, I'm always looking for ways to introduce my non 2000 AD reading comic friends, or nonscrots, to the galaxy's greatest comic book. This can sometimes be hard, due to the anthology nature of the comic, as it's very difficult to pick out an issue and say "start reading here", because issues can often contain the first part of a certain story (or Thrill), the final part of another, and even have a few others that are half-way through. However, every so often, the stars align to produce an issue like this one, where every single story in the prog is the first part of a new story!
That's right, in this issue you will find the first parts of a new Judge Dredd story, a new Savage story, a new Zombo story, a new Sinister Dexter story, and a brand new Tharg's 3riller. However, I should mention that apart from the 3riller, which is a standalone three-part story, all the stories are continuations of long-running 2000 AD stories. Not to worry though, because you don't need to have a PhD in Judge Dredd continuity to figure out what is going on here, as Tharg's got you covered with 1 paragraph introductions to each story on the inside cover of the magazine, which explain exactly what the story is about, and where each one left off at the end of its last installment.
In recognition of this special jumping-on issue, I thought I would mark the occasion with a review/spotlight on the prog, to help spread the word, and hopefully bring in some new readers. So without further ado, let's  look inside the issue…
Judge Dredd - The Further Dastardly Deeds of PJ Maybe
Written by John Wagner
Art by Colin MacNeil
Long-running Dredd enemy PJ Maybe returns in this new thrill from Dredd creator John Wagner and classic Dredd artist Colin MacNeil. Last time we saw PJ was when the judges had discovered the fact  that for several years he had been impersonating Byron Ambrose, the Mayor of Mega-City One. We now find him incarcerated in an iso-cube, with his face having been changed back to his own. The council of five have stayed his execution, and convinced that there is no way for him to escape,  are planning to allow psychologists to analyse him, to find out what makes him tick.  Judge Dredd isn't convinced though, and still thinks that PJ is a seriously threat to the public. Meanwhile, PJ begins to plot his daring escape…
John Wagner puts together a great story here, which brings new readers up to date on the exploits of PJ Maybe with some light exposition, which doesn't overload them with information. All you really need to know about PJ is that he's a notorious serial killer, a master of disguise, and the only man who's ever escaped Dredd's justice. Colin MacNeil's artwork on the issue is pretty fantastic. He's one of my favourite Dredd artists, and I'm glad to see him back illustrating Mega-City One!
Sinister Dexter - Charon's Crossing, Part 1
Written by Dan Abnett
Art by Anthony Williams & Rob Taylor
Dan Abnett's Magnum Opus returns for a new adventure featuring the continuing exploits of gun-sharks Finnigan Sinister and Ramone Dexter. Last time we saw the pair, they were caught in an explosion with an insane cab driver. Don't worry, they're not dead, but with the parallel universe's version of crime-boss Holy Moses Tanenbaum having been elected mayor, they'll soon wish they were! Now, at the site of their crash, the mayor's newly appointed head of the Bureau of Violence has taken over the investigation, and he seems like one tough bastard!
Dan Abnett kicks this story off in classic SinDex style, with explosions, gun fights, and ultra-violence. He doesn't waste anytime on trying to bring people up to date with the story, instead concentrating on introducing us to new character Lupo Culp, who is the new head of the Bureau of Violence. He's a bad-ass cop with unorthodox methods, who is bound to cause lots of trouble for the boys. Expect things to turn violent pretty quickly! While Anthony Williams & Rob Taylor are not the original artists of Sinister Dexter, they are the art team who have become most associated with the strip over the years, with good reason too, because they bring the city of Downlode to life in stunning fashion, which is unparalleled by any other artists that have worked on the title.
Savage - Secret City, Part 1
Written by Pat Mills
Art by Patrick Goddard
Freedom Fighter Bill Savage returns to continue his one-man war against the Volgan occupiers of Britain. The Americans have now joined the war against the Volgs, and Savage has been charged with helping stricken Allied airman out of occupied Britain. We meet Bill again as he interrogates two newly recovered airmen to see if they are actually Allied soldiers, or really Volgs in disguise…
Pat Mills delivers the opening salvo in the latest gritty chapter of the life of Bill Savage. Everything you really need to know about the back-story is contained in the blurb at the start of the comic, so Mills dives straight into the story, with a grim and violent opener, which sets the tone for things to come. Patrick Goddard delivers another stunning dose of black & white artwork, which brings Savage's world to life in all of its dark beauty. The artwork for Savage used to be done by Charlie Adlard, before he left to go full-time on The Walking Dead, and when he left I can remember thinking that the strip would never be the same. However, Goddard has really made the strip his own, with rich and detailed artwork that is every bit as good as, if not better than, Addlard's.
Tharg's 3Rillers - The Silver-Tongued Exploits of Cosmo Nibs
Written by T.C. Eglington
Art by John McCrea
Tharg's 3Rillers are a new story format for 2000 AD, and are basically a three-part version of their classic done-in-one Future Shocks stories. In this first 3riller, we meet Cosmo Nibs - a notorious grifter, whose scams are aided by a voice chip with which he can persuade anyone of anything he says.  But Nibs is about to have a very bad day, and things are only going to get worse…
This being the first ever 3Riller, T.C. Eglington really has his work cut out for him here, but he definitely delivers, with an opening installment that is packed full of laughs, and plants a number of seeds, which are sure to grow and blossom in the next thrilling installment. John McCrea's artwork has a cartoonist style to it here, which works perfectly with the comedic tone of the story.

Zombo - The Day the Zombo Died, Part 1
Written by Al Ewing
Art by Henry Flint

Everyone's favourite half-man/half-zombie returns for a new story which finds him on Earth for the first time. In this new chapter, the government have come to the conclusion that Zombo is too dangerous to fully control, and so have gone back to the drawing board to create Obmoz - the reverse Zombo! I wonder what will happen when Zombo find out about this? Expect chaos!
Al Ewing kicks off a fantastic new Zombo tale, which gets off to a bizarre and hilarious start! Zombo is one of my favourite new 2000 AD characters of the last decade, and Al Ewing's writing on these stories is always bitingly witty and original, and will take you places you would never expect to go! Henry Flint's artwork here is absolutely spectacular! Zombo, along with Shakara, is one of two characters I think his art works best on.
Summary
I've been reading 2000 AD for over 20 years now, and it's the gold standard against which I measure all other comic books. During those two decades, I have very rarely been disappointed by the anthology - sure, there are a few stories and writers that I haven't liked over the years, but you can't have variety and still please everyone. However, even an average issue of 2000 AD is typically better than the majority of other comics out there. This issue though is very far from average, with the return of three of my favourite ongoing stories, a new Dredd story from Dredd creator John Wagner, and the debut of an exciting new story format!
2000 AD prog 1740 serves a perfect jumping on point for new readers, while still offering plenty to keep long-time readers happy. If you haven't already bought a copy, get out and buy it now, or order the June pack from your North American local comic shop (see details here). Alternatively, you can also download the issue shortly from Click Wheel, here.
Don't miss out, because this one is sure to overload your Thrill sensors!
* Confused by all the weird 2000 AD terminology? See here for a handy guide!
Related posts: