Reviews: Gladstone's School for World Conquerors #1, Axe Cop: Bad Guy Earth #3, Irredeemable #25
It's weekly comic review time! This week we've got BOOM!, one from Dark Horse, and one from Image!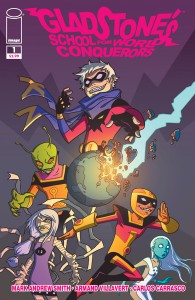 Don't forget to check back in a couple of days time when I will be reviewing Thr3d World Studios' Stuff of Legend, Volume II!
As my "day job" is an evil night/third-shift schedule (11 p.m. - 7 a.m.), I can never make it downtown during the week, because I mostly sleep during daylight hours, like a Vampire. However, due to the magic of the internet, and publishers who are living in this century, I now get sent a ton of digital copies of the week's comic. Not all publishers do this, so you can mostly expect to see stuff here from: 2000 AD, Archaia, BOOM! Studios, Dark Horse Comics, Fantagraphics, Image Comics, Oni Press, and Radical Comics.
If you work for a publisher, and want to get your books to me for review, please email me at [email protected]!
This week's reviews (click the title to skip to the review):
My Pick of the week!
Gladstone's School for World Conquerors is one of those "wish I'd thought of it" concepts! I mean, I can't believe no-one has thought of this before, it seems so obvious! The titular school is a institute that aims to train young metahumans to be supervillain - like a bizarro version of the Avengers Academy, or Xaviers School for Gifted Youngsters!
In this debut issue, we learn the story behind the founding of Gladstone's Academy, which has an awesome twist that you'll never see coming! We also get an introduction to many of the school's more prominent pupils, including Kid Nefarious, Mummy Girl, Martian Jones, Ghost Girl, and the infamous Skull brothers. The latter are hated by the other students, because their mom "turned good" and turned on her fellow villains, which kicks off a glorious fight scene in the schoolyard. The issue closes by giving us a glimpse at a dark secret that the adult heroes and villains keep hidden from the world…
Image Comics have been launching some truly remarkable series lately, all of which seem to be selling out within days of release. I wouldn't be surprised if the same doesn't happen to the first issue of Gladstone's School for World Conquerors, mark my words. The book is a brilliant all-ages title that truly is suitable for all ages. I thoroughly enjoyed every panel of the issue, and I would be happy to put this in the hands of my child, if I had one. Hell, it's probably even worth conceiving a child, just so you can share the awesomeness with them! Mark Andrew Smith weaves a brilliant story here with a smart plot and clever script, which teases just enough about the bigger picture to keep readers coming back for more, without giving all of it's secrets away to early.
Armand Villavert's artwork on the issue is big, bold, and fun, and is brought to life with eye-popping colours by Carlos Carrasco. It makes for a gorgeous looking comic that just look really exciting, and jumps out at you from the shelf!
Going in, I knew this was going to be a fun read, but I just can't praise it highly enough. Make sure to buy yourself a copy, and get one for your kid if you've got one, they will love it!
Axe Cop: Bad Guy Earth #3 takes the craziness dial, and cranks it up to eleven! Sent back to the year 0,000,0 Axe Cop and team meet the Psychic Twins' parents, and find out the secret behind what makes them so evil. With this knowledge in hand, the team travel back to Bad Guy Earth for the biggest and most spectacular battle in the history of time. Ever! Prepare to meet the beast Shabaccus, who has Machine Gun Ears! Meet Bear Cop, Zombie Bear Cop, and President Zombie Bear Cop! Gasp as Axe Cop and friends battle evil versions of themselves, including Chainsaw cop, who has a nice beard. This issue has all of this and so much more! There's enough plot in here for a whole line of comics, never-mind just one issue!
Spoiler alert: Axe Cop and his team all DIE in this issue. It's OK though, they get better…
Axe Cop is the greatest comic book of all time. If you don't agree with me, you're either stupid, terribly misguided, or can't read. 'Bad Guy Earth' is the best Axe Cop story yet told, and it seems that Malachai Nicolle is developing a refined sense of the absurd, which belies his brief six years on this Earth. Nah, I'm just kidding, the world's craziest kid just gets crazier and crazier! I dread the day when he grows out of telling silly stories and starts being interested in girls. This will be a dark time for comics!
Let's not forget Ethan Nicholle, whose artwork here is sure to blow you away. He effortlessly brings to life every crazy idea that Malachai cooks up, showing himself to be a truely gifted artist. Expect to see him drawing tons more book in the near future. Buy Axe Cop Bad Guy Earth #3, or the bad guys win!
*Funny story. I met Ethan and Malachai at Emerald City Comicon earlier this year. I was planning to get a sketch from Ethan, but Malachai grabbed the pen and drew me a sketch. It's a really doozey, and took him about 20 minutes to draw. Remind me to upload a scan sometime!*
The Plutonian and his new-found ally embark on their plot to break out of the intergalactic insane asylum that the find themselves imprisoned on. To escape they must fight their way to the core of the plan, battling ever more dangerous foes as they travel though the layers of the asylum planet. It's a really nice reference to the nine circles of suffering from Dante's Inferno! Meanwhile, as they make their way to find Tony, Modeus reveals to Qubit how Plutonian's powers really work (this will blow your mind). Back on Earth, Survivor is furious about the fact that Qubit has disappeared, and gets dangerously close to breaking point!
I really wasn't sure where Mark Waid was going to take the plot of Irredeemable after Plutonian was caught. I half expected him to wrap things up, but in the last few issues, he's been laying the groundwork for the next few storylines, and I couldn't be happier. We've got tons of interesting new characters, and the story has expanded to a galactic scope as Waid does some mind-blowing World Building! I'm really looking forward to watching Survivor crack, and everything that comes in the wake on that, and seeing how the Paradigm respond to it. What will come of Modeus' love of Tony? What is Auroran up to? It's finding out the answers to the questions that keeps Irredeemable right on top of my 'read pile'!
The artwork on this issue is split pretty evenly between ongoing artist Peter Krause, and new series artist Diego Barreto. Both provide fantastic pages, and I swear that if you didn't know there were two artists on this issue, you'd never know. Their styles are remarkably similar!
Twenty-Five issues in and Irredeemable just gets better and better! I can't wait to see what Mark Waid has up his sleeve for future issue. I love Kingdom Come and Superman: Birthright, but in my opinion Irredeemable is Mark Waid's true Magnum Opus!
Related posts: