Garfield & Papercutz Prepare for the 2011 Holiday Season!
From the press release:
Garfield & Papercutz Prepare for the Holidays 2011!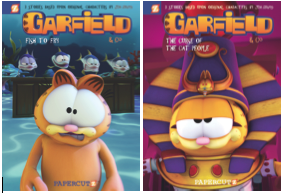 New York, NY: In May of 2011, New York publisher Papercutz released GARFIELD & Co. #1 and 2 to an overwhelming response. Despite the heat of summer approaching, the publisher announced this week the anticipated release of the next two adaptations of the popular Cartoon Network series – both with a festive theme just in time for the holidays. In these upcoming volumes, readers between the ages of 6 and 11 will continue to experience capers of our legendary lasagna-eating feline along with colorful 3-D artwork. THE GARFIELD SHOW is one of Cartoon Network's biggest hits – it airs every day of the week reaching approximately 600,000 kids!
In GARFIELD & Co. #3 "Catzilla," debuting August 30, it's Halloween and Garfield has dressed up as Catzilla, a fierce wild cat, to go out trick or treating. But what he doesn't know is that the real Catzilla has escaped from the zoo, and police are looking for him, leading to a wild case of mistaken identity! Will Garfield end up in a zoo, and will Jon and Odie be trapped with the real Catzilla?
On October 25, Papercutz opens up the Christmas season with GARFIELD & Co. #4 "Caroling Capers."  Garfield, always on the look-out for an opportunity to stuff his face, goes caroling in the hopes that his neighbors will give him holiday treats. But Garfield is completely off-key, and nobody gives him a thing. When he notices that Nermal and Odie are having much greater success, Garfield knows he has to find a way to get in on the goodies received by the harmonious duet of his foils!
Both "Catzilla" and "Caroling Capers" are based on characters created by Jim Davis and are adapted for graphic novel by Cedric Michiels who has adapted several Garfield television episodes into comics for Dargaud Media. He is a staff member at Dargaud media where he writes and edits. Illustrator for the GARFIELD & Co. series, Ellipsanime is one of the foremost animation production studios in the world, developing children's programs, TV series and animated films. Recent work by the studio includes Garfield, Contraptus, Babar, Tintin and Miss BG. Each of these two volumes includes two supporting stories in addition to the feature title story.
The Garfield franchise is one of the most expansive in the world. Created and first published by Jim Davis in 1978 as a newspaper strip, Garfield has grown into a billion-dollar merchandise line, animated television specials, two animated television series, two feature-length live-action films and three animated direct-to-video movies – and now a graphic novel series. Guinness Book of World Records has listed Garfield as the most widely syndicated newspaper strip as of 2007. The current Cartoon Network series is distributed to 125 countries and in the US specifically, THE GARFIELD SHOW ranks as the third most watched program among boys ages 6 to 8.
Founded in 2005, Papercutz, the premiere publisher of such popular graphic novel series as BIONICLE, DISNEY FAIRIES, GERONIMO STILTON, HARDY BOYS, NANCY DREW, THE SMURFS, PAPERCUTZ SLICES and TALES FROM THE CRYPT, is dedicated to publishing the best comics and graphic novels for kids 6-14 and all young at heart. GARFIELD & Co. graphic novels are 6½ x 9, 32 pages, full-color $7.99 in hardcover. #3 "Catzilla" ISBN: 978-1597072786, #4 "Caroling Capers" ISBN: 978-1597072878.
Related posts: