Marvel & Disney Set Summer 2013 Release for Thor 2; Kenneth Branaugh Not returning
Deadline.com has the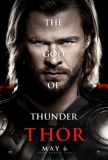 scoop that Marvel Studios is making a full commitment to Thor 2, with Chris Hemsworth reprising his role as the title hero, and have set a release date of July 26th, 2013.
However, Deadline has learned that Kenneth Branagh will not be returning to direct the movie, but will likely be involved in some producing capacity. It seems that his exit from the picture was "mutual and amicable." So expect some fierce competition between directors to fill this much desired director's chair.
As well as Thor 2, Marvel also has the Joss Whedon-directed The Avengers in the works, set for a May 4th, 2012 release date. They are also prepping Iron Man 3 for a May 3rd, 2013 release date.

Related posts: