The Best Comics of 2009 (As Picked by Edward Kaye)
As a follow-up to my list of the best graphic novels of 2009, I have compiled a list of my favourite comics of 2009 - by which I mean monthly and weekly titles, rather than collections and graphic novels.
I found this list incredibly hard to put together, as I originally intended to write a list of series I enjoyed, and then write a short paragraph about each, saying why it was on the list. However, as I composed the list, it got longer, and longer, and longer… until I realised that I couldn't possibly say something about each of these great series. Therefore, I broke the titles up in to categories, and picked my top title from each, then wrote a few paragraphs about what made that one the top pick. The other titles I considered are included in the honourable mentions section of each category (not necessarily in ranked order).
The categories picked are: best new ongoing series; best established ongoing series; best miniseries; best anthology title; best one-shot; best event series; and best quarterly/irregularly published title.
I hope you enjoy my picks, and be sure to let me know your thoughts
Best Established Ongoing Series

A new era in the history of DETECTIVE COMICS begins as Batwoman is unleashed on Gotham City! Marked by the blood-red bat, Kate Kane is a soldier fighting her own private war - one that began years ago and haunts her every waking moment. With a script by Greg Rucka and breath-taking art by JH Williams III, you've never seen anything like this! Featuring the debut of a new co-feature starring The Question written by Rucka! Odds against you? Alone and nowhere to turn? Willing to fight, but you don't know how? When you're searching everywhere for an answer, sometimes all you need to do is ask the right Question. Renee Montoya again dons the faceless mask to help those in need, all the while searching for her own answers in this new adventure with art by Cully Hamner (BLUE BEETLE).
Why?
The year for Detective Comics started with Neil Gaiman's 'Whatever Happened to the Caped Crusader' which crossed over with Batman. It was a wonderful retrospective of the life of Bruce Wayne, as told by his friends and foes. A dreamlike wake for a man that no-one ever truly knew.
Following this issue, Greg Rucka came on board, kicked Batman off the title, and gave us a story of the new Batwoman, with a co-feature story following the adventure of the new Question. Batwoman is really the star of star of the show, with the story following her continuing battle against the religion of crime, which has taken route in Gotham, and has a new leader, the mysterious Alice. Greg brings all of his crime writing skills to this tale, to give us a gritty tale from the dark side of the DC Universe - a street level book from the streets of the meanest city in the world! Greg was accompanied on the title by JH Williams III, who illustrates the title in breath-taking fashion, with some of the most astounding and stylish artwork I've ever witnessed. JH Williams III has always been a great artist, but his work on Detective Comics is beautiful beyond words. Sometimes, I would turn over the page, to be met with a splash page, and I would just have to stop and admire it for a few minutes, before continuing on reading!
But It's not all about the Batwoman, the Question back-up was in many ways just as good as the main story. Where the Batwoman story was a street level tale, the Question delved more into the gritty underworld of human trafficking, to take a look at the grim underbelly of the DCU. Renee Montoya is one of Rucka's greatest creations, and by this point in her ongoing story, I feel almost as if she's a real person. The tale is illustrated in brilliant fashion by Cully Hamner, who does an amazing job bringing the characters to life, and delivering us with a dark, far more realistic, version of the DCU.
Honourable Mentions:
Fables
Unknown Soldier
Hellblazer
Air
House of Mystery
100 Bullets
Terry Moore's Echo
Nova
Jack of Fables
Northlanders

Justice Society of America
Guardians of the Galaxy
Captain America
Ex Machina
Usagi Yojimbo
The Boys
Irredeemable
DMZ
Daredevil
Invincible Iron Man
X-Factor
Fantastic Four
Elephantmen
Wasteland
Cable
X-Men Legacy
Uncanny X-Men
X-Force

Immortal Iron Fist
Walking Dead
Invincible
Best new ongoing series
The plot revolves around Tom Taylor, son of Wilson Taylor, an author who disappeared without a trace. Wilson wrote a series of books about a boy wizard called Tommy Taylor, very much like the Harry Potter series. Shortly after the start of the series, it comes to light that Tom Taylor may not be Wilson's son at all. Conspiracy theories about identity fraud become prominent with fans of the books, outraged that they may have been lied to all this time. Other fans in New Zealand create a theory that Tom Taylor may in fact be Tommy Taylor made flesh from words. This theory gains credibility when other characters from the Tommy Taylor series begin appearing around Tom.
Why?
This fantastic new series from Mike Carey and Peter Gross is a high-concept metafiction epic, filled with abundant references to literary works, and a tongue-in-cheek examination of the Harry Potter Phenomenon. I have been a huge fan of Mike Carey's writing for many years, and this is probably his best work to date. Peter Gross is also producing some of the best artwork of his career, creating an absolutely gorgeous comic that puts even Lucifer to shame. Carey and Gross are working at a synchronized creative peak on this story, forging a tale that is both beautiful and engrossing. Quite definitely the best new series this year!
Honorable mentions
Greek Street
Batman & Robin
Secret Warriors
Sweet Tooth
Chew
Viking
Do Andoids Dream of Electric Sheep?

Stumptown
Wolverine: Weapon X
JSA All-Stars
Incorruptible
The Anchor
Best miniseries
Comics legends Gilbert and Mario Hernandez join forces to present a bizarre, sexy view of the future and what it means to be human. Twenty years ago, the most famous, lifelike robot in the world was engulfed in scandal, arrested, and deactivated. Since then, an anti-robot movement has developed, while body modification is in and prosthetic limbs have become hot, black-market items.
Stories like these are the stock-in-trade of gossip columnist Sergio Bauntin, whose startling revelations earn him the constant scrutiny of both the mob and the city's mysterious investigators, the Truth Takers. When Sergio catches wind of sightings of the long-missing robot celebrity CTZ-RX, all of these interests will collide in violence and intrigue.
Why?
Gilbert and Mario Hernandez have collaborated to create one of the most bizarre works of science-fiction ever conceived. Like a twisted mash-up of Love & Rockets, and Do Androids Dream of Electric Sheep? The brothers explore the moral issues of creating a robot in the image of man, and whether artificial life is as valid as that of organic. The story is punctuated by moments of absurdity that will feel quite familiar to fans of Love & Rockets. What is the gigantic block in the middle of the city? Why has someone grapphitied 'why?' onto the block? Why has Citizen Rex reemerged after all these years? And most importantly, what happened to Bloggo's shoes? These questions are all answered inside the pages of this original and thought-provoking story, and you wont believe some of the answers!
The story is illustrated in Beto's inimitable style, with his minimalistic linework, and strong, confident brush strokes. The artwork oozes style, and his wonderful character designs are unique and full of personality.
Honourable Mentions:
Incognito
Criminal: the Sinners
BPRD 1947
Hellboy: The Wild hunt
Groo: the Hogs of Horder

North 40
Battlefields: the Tankies
The Boys: Herogasm
Locke & Key: Head Games
Hotwire: Requiem for the Dead
Hercules: Knives of Kush
JSA vs. Kobra: Engines of Faith
The Trial of Sherlock Holmes
The Complete Dracula
Chronicles of Wormwood: The Last Battle

Beasts of Burden
Phonogram 2: Singles Club
Days Missing
The Literals
Crossed
Ghost Rider: Heaven's on Fire
Captain America: Reborn
Umbrella Academy: Dallas
Ignition City
Groom Lake
Stuff of Legend
Best Anthology
What?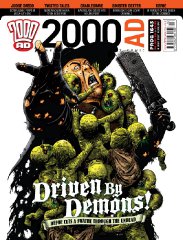 The UK's premier science fiction anthology! The galaxy's greatest Comic! The home of Judge Dredd, The ABC Warriors, Nemesis the Warlock, Strontium Dog, Rogue Trooper, and many more!
Why?
It's been a hell of a year for 2000 AD, with so many wonderful new and ongoing stories appearing in the pages of the prog that many readers actually reported suffering from thrill-power overload.
High-lights of the year included: Defoe, Book 3: Queen of the Zombies (Pat Mills & Leigh Gallagher); Kingdom, Book 3: Call of the Wild (Dan Abnett & Richard Elson); Shakara, Book 4: Destroyer (Robbie Morrison & Henry Flint); Savage, Book 5: 1984 (Pat Mills & Patrick Goddard); Sinister Dexter: Wish you Were Here (Dan Abnett & Anthony Williams); Zombo (Al Ewing & Henry Flint); CradleGrave (John Smith & Edmund Bagwell); Nikolai Dante: An Army of Thieves and Whores (Robbie Morrison & Simon Fraser); as well as multiple arcs of Judge Dredd by legions of fantastic creative teams.
The galaxy's greatest is just getting better and better, it's a good time to be a Squaxx dek Thargo!
Honourable Mentions
Judge Dredd Megazine
Wednesday Comics
Western (Accent UK)
Strange Tales
FTL (Orang Utan Studios)
Best One-Shot
What?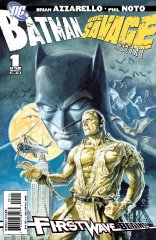 Doc Savage returns to DC Comics …and comes face-to-fist with the Batman! Superstar scribe Brian Azzarello (100 BULLETS, JOKER) and the breathtaking art of Phil Noto combine to shine the first light on a shadowy new version of the DC Universe, where the thugs run rampant, corruption runs deep, and even heroes can't be trusted! Doc Savage, the Man of Bronze, hates what he's heard about the connections between a grisly murder and Gotham City's violent new vigilante. But the Batman can't abide do-gooders getting in his way…and his .45 just won't stay in its holster!
Be here for this vital prologue to an upcoming 6-issue miniseries by Azzarello and Rags Morales (IDENTITY CRISIS), which will pull back the curtain to reveal the full width and breadth of DC's new pulp-influenced universe. This special issue also features sketchbook material by Rags Morales that will show you just what you're in for! You might think you're ready - but you're very, very wrong…
Why?
Having given us the amazing conclusion to his hard-boiled epic, 100 Bullets, Brian Azzarello has come to the DC Universe to revive and reinvent the pulp magazine style of the 1930s and 40s. Designed as a taster for his upcoming First Wave series, this special one-shot introduces us to an early incarnation of Batman, trying to tame the wild streets of Gotham City. When experienced crime fighter Doc Savage comes to town, the pair lock horns before learning that they have a lot more in common that they know. It's a great story, which is over far too quickly… bring on the miniseries!
Honourable Mentions:
Whatever Happened to the World's Fastest Man?
The Eternal Conflicts of the Cosmic Warrior
Wormwood, Gentleman Corpse: Down the Pub

Tank Girl: Dark Nuggets
The Devil's Handshake (Archaia)

Dead Space: Extraction
Doctor Who: Whispering Gallery
Best Event Mini
In the aftermath of the Secret Invasion, Black Bolt has led the Inhumans on a shockingly savage path to restore their strength and security. But that path has brought them into direct confrontation with the Shi'Ar Empire - and their mad ruler Vulcan! Who will get in the first strike? Who will fall on the bloody battlefield? Who will rule? The Imperial Guard, the Starjammers, the Inhuman Royal Family and more of your favorite sci-fi characters are locked on a collision course!
Why?
Dan Abnett and Andy Lanning have been weaving Marvel's cosmic titles into a universe-spanning epic. First they picked up the threads of Annihilation to give us Nova; then the Annihilation: Conquest event came, from which we got Guardians of the Galaxy; then they gave us their grandest story yet, War of Kings -  a battle between galactic empires. Told between the main title, Nova, and 'Guardians', this event was one of the best cosmic comics ever made. But at the same time, it was only a stage in their master plan, as the other cosmic characters are now left dealing with a massive rift in Space-Time, which is sure to lead to tons more thrilling tales in 2010! Abnett & Lanning can do no wrong!
Honourable Mention:
Best Quarterly/Irregular
What?
Jeff Smith, the visionary writer and artist behind the epic fantasy Bone and Shazam: Monster Society of Evil, unveils his newest series, the stark sci-fi series, Rasl! Meet Rasl, an art thief searching for his next big score - and trying to escape his past! Where other thieves plan their heists with breathtaking precision, Rasl has an ace up his sleeve - he can travel through the light between dimensions, affording him access to museums that no ordinary thief could access! In this issue Rasl faces an assassin's bullet and stumbles across a mystery that not only threatens to expose his own illicit activities, but could also uncover one of the world's most dangerous and sought after secrets.
Why?
Jeff Smith has totally reinvented himself with this title. We all loved Bone, but this is something else entirely! Mixing science-fiction with southwestern Native American culture and hardboiled crime fiction, Smith has created something truly original and unique. The dark and intense story is complimented by high contrast black & white artwork that makes these bizarre characters jump right out of the page! It's just a incredibly unusual and inventive story, and every time a new issue comes out, it's like a breath of fresh air.
Honourable Mentions:
Nexus
Kick-Ass
The Goon
Gravel

Fear Agent
Godland
The Dead: Kingdom of Flies (Beserker)

Related posts: