Advance Review: Com.x's Bluespear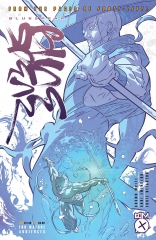 Bluespear is a 40-page graphic novel written by Andi Ewington & Eddie Deighton, and illustrated by Cosmo White. The book will be published in July 2011 by Com.x.
Bluespear is a sequel to last year's smash hit original graphic novel Forty Five. Forty Five was an incredibly unique graphic novel, which was written as series of interconnected superhero interviews documented by the fictional character James Stanley. The Story, or rather interviews, were written by Andi Ewington and each of the forty five pages of art that accompanied the interviews were illustrated by different artists.
To follow-up on this unique project, Andi Ewington has teamed up with Com.x publisher Eddie Deighton to write a trilogy of one-shots which further explore the stories of three of the characters featured in the original graphic novel: Bluespear, X, and Skyline. Through this trilogy of interconnected stories, Ewington and Deighton plan not only to further explore the back-stories of these fan favourite characters, but also to provide readers with a more in-depth look at the world of Forty Five, the role of superheroes in it, and what part the shadowy organization known as XoDOS has to play in their lives.
Bluespear opens with a reprint of the original Bluespear interview from Forty Five. Bluespear is one of the more enigmatic characters from the original story, in that the character himself is not available to be interviewed, and James Stanley has to interview his brother, Akira Tomikowa. Little is gleaned from this interview other than the fact that Bluspear is a Japanese 2nd-degree Super-S who gained his powers as a child, when he went missing during a fishing trip with his brother. Akira blames himself for what happened to his brother, and the subsequent destruction of his family. Over the years the brothers have drifted apart and now rarely speak.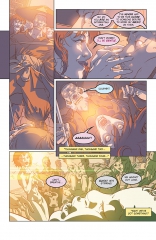 Following this recap, Ewington and Deighton give us a glimpse at the origins of the character and how he discovered his legendary spear. The story then shifts to the present, where a crack team of XoDOS operatives has been assembled to find Bluespear and take possession of the enchanted weapon that gives him his powers. This team consists of the character 'X' from the original story, the mysterious woman know as 'Lotus', and a new character called '2nd Degree'. The story that follows involves Yakuza gangs, super-powered battles, siblings reunited, and betrayal…
It goes without saying that Bluespear isn't quite as original as Forty Five - going with the traditional sequential narrative format rather than the interview format of its predecessor. However, this is in no way a bad thing, because frankly I think that Ewington took that format as for as he could with the original story, and to try and replicate the format for this sequel may have felt forced. Following the story up with a trilogy of interconnected one-shots is in itself a pretty original concept, and a great way to explore the overarching story.
Ewington and Deighton do a fantastic job on this first story, giving us a more in-depth look at Bluespear's back-story, without revealing the origins of the mysterious spear and its unique power. Meanwhile, they tantalize us with an intriguing new story involving XoDOS wanting control of the spear that gives the character his special powers. What they want with the spear, and how they plan to utilize it, is not revealed in this one-shot, but will be explored in the following volumes, cunningly making us come back for more!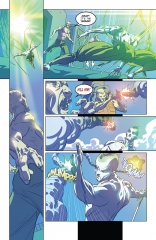 While the story is designed as a sequel, new readers should have no trouble jumping straight in and reading this as a standalone story. Obviously the experience is enriched by a familiarity with the original story, but Ewington and Deighton have been careful to make this story easily accessible to new readers, and I believe that the story is definitely strong enough to be read alone.
The artwork on the issue is by British artist Cosmo White. I have to say that I've never heard of Cosmo White before, nor seen any of his previous work, but holy crap! He is one hell of a talented artist! His artwork on this story is just breathtakingly beautiful, with amazingly intricate linework, and bold, astonishing colours. The colours are probably the most striking aspect of the art, as they give the story a halcyon, almost dreamlike quality! This is definitely an artist to watch, and I wouldn't be surprised to see his art everywhere pretty soon!
Bluespear is fantastic follow-up to one of the decade's most interesting and unique graphic novels. Ewington and Deighton present an action-packed standalone story, which expands upon elements from the original, while remaining highly accessible to new readers. The story is brought to life with spectacular artwork by Cosmo White, which will make your jaw hit the floor! Definitely a strong contender for graphic novel of the year!
Where to buy? Ask your local comic shop to order you a copy of the book from this month's Previews catalog (May 2011), with the order code MAY110970. Make sure to tell them soon though, because it's almost order deadline time! If your store is one of those annoying stores that doesn't order anything indy except on special order, you can also find the book on amazon.com!
Related posts: