Comedian Jimmy Carr Contributes Comic Strip to Latest Issue of "CLiNT"
From the press release: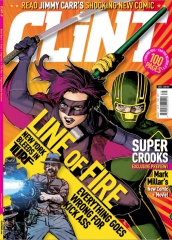 Jimmy Carr, famed stand-up comedian and co-host of Channel 4's 10 O'Clock Live, has written an exclusive comic strip story in the latest issue of CLiNT.
Stepping out of his comfort zone and away from the acerbic one-liners that characterise his on-stage routine, Carr delivers a story of violent point-scoring and social alienation.
"Entitled 'Beat My Score', Carr's comic strip is a nihilistic satirical sideswipe at the glamourisation of violence, tackling the difficult and disturbing effects as seen in school shootings around the world. Its manga-styled images by Japanese artist, Ryusuke Hamamoto, will resonate in the brain like a ricochet long after the final shots have been fired."
When every action is assessed for its potential as a Tweet, and every success is accompanied by Achievement Points, what will one maladjusted Japanese college student do to claim pole position?
Kick-Ass creator and CLiNT editor, Mark Millar said:
"We've been incredibly lucky with CLiNT in this first nine months. We just got nominated for a big award before we've even reached our first birthday and the talent line-up has been unmatchable. We've had people as diverse as Victoria Coren, Ian Rankin, Jonathan Ross and Frankie Boyle in here and now we've got Jimmy Carr doing comic books. It's crazy. What's nice is that he rose to the occasion and gave us maybe my favourite story in the comic so far. It's such a beautifully simple idea I sent it to my agents and suggested they set the movie up. I couldn't be happier with it."
CLiNT, which launched last September, has already boasted the first-look at Kick-Ass 2, the sequel to the best-selling series that inspired the blockbuster movie, and seen Jonathan Ross, Frankie Boyle and Stewart Lee present their comic debuts.
Jimmy Carr's 'Beat My Score' will feature in CLiNT issue #9, on-sale 30 June, available from WH Smith, Forbiddenplanet.com and all good magazine retailers and newsagents.
For more information and to subscribe to CLiNT, visit www.CLiNTMag.com.
Connect with CLiNT on Twitter or Facebook.
Related posts: