Reviews: Hellboy: The Fury #1, Reed Gunther #1, 50 Girls 50 #1
The weekly reviews are back! Last week we took a break to do a big advance review of Com.x's Bluespear (check it out here), but now they're back! This week, in the spirit of DC's "big news", everything is a #1 issue!
As my "day job" is an evil night/third-shift schedule (11 p.m. - 7 a.m.), I can never make it downtown during the week, because I mostly sleep during daylight hours, like a Vampire. However, due to the magic of the internet, and publishers who are living in the 21st century, I now get sent digital copies of many the week's releases. Not all publishers do this, so you can mostly expect to see stuff here from: 2000 AD, Archaia, BOOM! Studios, Dark Horse Comics, Fantagraphics, Image Comics, Oni Press, and Radical Comics.
If you work for a publisher, and want to get your books to me for review, please email me at [email protected]!
This week's reviews (click the title to skip to the review):
It all comes down to this! The epic conclusion of a story years in the making! Hellboy, the rightful king of England, heads off to face down Nimue, the queen of all witches. However, this fight maybe too much even for Hellboy, as Nimue makes a terrifying transformation, and the Ogdru Jahad reach through her black heart and posses her body! Meanwhile, with Hellboy unwilling to take up Arthur's sword, another comes forward to lead the noble dead of Britain against the forces of darkness.
This issue kicks the story off in top gear. If you've not been following the last few arcs of Hellboy then this is most definitely not a good place to jump on! With this issue, Mike Mignola begins to wrap up lots of storythreads that he's been playing with for years, and sets the stage for a grand battle that will change Hellboy forever! The story is fast paced and action packed, and when you hit the last page, you'll wish you could read the rest of the story right away! Duncan Fregado's artwork here is some of his best on the series to date, and Dave Stewart's colours are just sublime. This is the story that Hellboy fans have been waiting for, and it's everything we wanted and more!
A cowboy named Reed Gunther, and his best friend, who just happens to be a bear, are wandering the Wild West when they happen upon a damsel in distress. Reed loves to help people, especially a pretty lady, but it looks like he may have bitten off more than he can chew, when the source of her woe turns out to be a giant snake that's eating all her cattle!
This first five-issue Reed Gunther mini is actually a full-colour reprint of the black & white series that Shane and Chris Houghton originally self-published. Image loved their self-published book so much that they agreed to republish the series in full colour, and help the brothers bring their all-ages book to much wider audience. The initial mini will be followed up with all new adventures!
Like many, this was my first exposure to Reed Gunther, and I have to say that I loved every second of it. The story is lighthearted and fun, and the script is chock full of laughs. The artwork is done in a great cartoony style, which seems to be influenced in part by Guy Davis' style (Guy also provides a great pin-up at the back of the book). I love that Image are putting out so many all-ages titles at the moment. This is the kind of things that the comic industry needs to bring in new readers, not constant character deaths and reboots, just great storytelling and artwork! Reed Gunther #1 is fantastic, buy it!
In the not so distant future, the Earth's population has reached catastrophic proportions and mankind has depleted the Earth of all of its natural resources. With no other alternative, man (or woman) looks to the stars for a solution, utilizing a new wormhole generating technology to enable faster-than-light travel, to reach distant planets and salvage their minerals, energy, and food-sources. The technology has one catch however, it is incompatible with the Y chromosome, and therefore can only be utilized by women with the rare XXX genome - of which there are only 50 on the planet, and they are all drop dead gorgeous!
In the first issue, we join the crew of the Space Vessel ESS Savannah as they return from their latest expedition. Something has gone terribly wrong though, and instead of returning them to Earth, the wormhole has stranded them in a strange star system, filled with bizarre hostile worlds.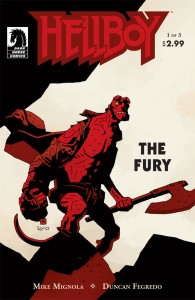 With 50 Girls 50 Doug Murray and Frank Cho have created a brilliantly original sci-fi story, which because Cho is involved, just happens to be packed full of beautiful, buxom ladies! The concept is incredibly inventive, and the story in this first issue is action-packed and thrill filled! Axel Medellin's artwork on this debut issue is nothing short of spectacular, they really couldn't have picked a better man for the job. I've really been impressed with Medellin's recent work on Elephantmen, but with 50 Girls 50 he's really excelled himself! Don't miss it!
Related posts: