Digital Manga and IDW Bring Twenty New Titles to eManga.com
From the press release:
Digital Manga and IDW bring twenty new titles to eManga.com
Partnership brings first American Comics to eManga.com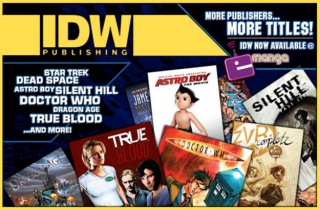 San Diego, CA (June 30, 2021) - Digital Manga, one of the manga industry's most unique and creative publishers, is proud to announce another online collaboration with IDW Publishing, a leading and award-winning publisher of American comics, graphic novels and trade paperbacks, based in San Diego, California. This evolving partnership will launch with twenty new titles from IDW's backlist catalog to eManga's online library.
This is the first time a mainstream American comics publisher will be showcasing their titles to what was previously a manga-only online reading storefront. Digital Manga's eManga.com will be expanding their library to reach out to manga fans, who are also fans of American comics and to those who would like to try something new.
The IDW titles will be available for purchase through eManga's online manga service, emanga.com, which streams content through an Adobe Flash player, allowing readers to access their library wherever they have an internet connection. Originally sold as comics and as a full graphic novels with an average price ranging from $3.99 to $19.99 in print, IDW's titles will be available on eManga.com varying from $1.99 to $14.99.
The first batch of IDW titles will launch with the following titles: Army of Two, Astro Boy: The Official Movie Adaptation, Astro Boy: Underground – the Official Movie Prequel, Danger Girl, Deep Space: Salvage, Doctor Who: Agent Provocateur, Doctor Who: The Forgotten, Dragon Age, The Last Unicorn, Locke & Key: Welcome to Lovecraft, Locke & Key: Head Games, Locke & Key: Crown of Shadows, Silent Hill: Sinner's Reward, Silent Hill: Past Life, Star Trek: Movie Adaptation, Tribes: The Dog Years, True Blood, Witch and Wizard, Zombies vs. Robots, and  Zombies vs. Robots Aventure.
For more information about our eManga system and to begin reading right away, visit www.emanga.com and click on the IDW tab under "publishers".
Digital Manga invites partnerships with other manga and American publishers to showcase their titles to eManga's online storefront. If interested please contact [email protected] for inquires.
Digital Manga and IDW's first partnership began back in April 2010 where both companies teamed up to bring the first manga into Sony's PSP Digital Comics storefront—Hideyuki Kikuchi's Vampire Hunter D.
About Digital Manga Publishing
Located in Gardena, CA, Digital Manga Publishing is one of the industry's most unconventional and innovative companies, specializing in building corporate and cultural bridges from Japan to the Western Hemisphere - specifically through the licensing, importation and preparation of anime (Japanese animation), manga (Japanese comic books) and related merchandise for the North American mainstream and subculture markets. In this capacity, DMI serves as a catalyst for the expansion of Japanese pop culture institutions into global arenas. The company's imprint line includes DMP: its mainstream imprint, DMP PLATINUM: its classic manga imprint, JUNE´: its boys love imprint, 801 MEDIA: its adult boys love imprint, and DokiDoki: its exclusive co-publishing imprint with Shinshokan Publishing.
For more information about Digital Manga Publishing, visit www.digitalmanga.com as well as:
www.emanga.com
http://twitter.com/digitalmanga
http://www.youtube.com/user/junemanga
http://www.youtube.com/user/801media
http://www.youtube.com/user/digitalmanga
http://www.facebook.com/DigitalMangaInc

About IDW Publishing
IDW is an award-winning publisher of comic books, graphic novels and trade paperbacks, based in San Diego, California. Renowned for its diverse catalog of licensed and independent titles, IDW publishes some of the most successful and popular titles in the industry, including: Hasbro's The TRANSFORMERS and G.I. JOE, Paramount's Star Trek; HBO's True Blood; the BBC's DOCTOR WHO; Toho's Godzilla; and comics and trade collections based on novels by worldwide bestselling author, James Patterson. IDW is also home to the Library of American Comics imprint, which publishes classic comic reprints; Yoe! Books, a partnership with Yoe! Studio; and is the print publisher for EA Comics.


IDW's original horror series, 30 Days of Night, was launched as a major motion picture in October 2007 by Sony Pictures and was the #1 film in its first week of release. More information about the company can be found at IDWPublishing.com.
Related posts: