Reviews: Super Dinosaur Origin Special, Soldier Zero #8, and Drums #1
It's weekly comic review time!
As my "day job" is an evil night/third-shift schedule (11 p.m. - 7 a.m.), I can never make it downtown during the week, because I mostly sleep during daylight hours, like a Vampire. However, due to the magic of the internet, and publishers who are living in this century, I now get sent a ton of digital copies of the week's comic. Not all publishers do this, so you can mostly expect to see stuff here from: 2000 AD, Archaia, BOOM! Studios, Dark Horse Comics, Fantagraphics, Image Comics, Oni Press, and Radical Comics.
If you work for a publisher, and want to get your books to me for review, please email me at [email protected]!
This week's reviews (click the title to skip to the review):
If you missed Image's FCBD Super Dinosaur Origin story, it's no real surprise, because that thing was one of this year's fastest moving FCBD titles. Well, if you did, here's your chance to catch it again! This special will tell you everything you need to know about the origins of Super Dinosaur, including where he came from, how he avoided extinction, what DynOre is, how his tech suit was invented, and why Max Maximus became a bad guy!
If you haven't yet experienced the awesomeness that is Super Dinosaur, make sure you pick up this origin issue, to bring you up to speed on one of the most fun comic stories you will ever read. This is by far the best thing that Robert Kirkman has written since The Walking Dead and Invincible, and is destined for greatness. It's an all ages comic that fills you with the wonder of a child!
Also out this week is the second printing of Super Dinosaur #1, make sure to grab it if you missed it the first time!

As the government 'clowns' move in to take Soldier Zero and Application Nine down, the suit begins to take control, and Stewart find his own personality being pushed aside! It's up to Kaylee to help bring him back, so they have a chance of escaping from the government holding facility.
I really enjoyed the first issue of Soldier Zero, but found the second issue a bit weak, and sort stopped following the series after that, for whatever reason. However, when I heard that Dan Abnett and Andy Lanning were taking over on the series, I asked my comic shop owner to start adding it to my file, because I never miss a DnA release! We're now three issues into their run on the title and the dynamic duo have very much made it their own book. Many of the cornier elements of the story have been pushed aside, and we're left with a slick sci-fi action series, with an intriguing back-story that is revealed to us in tantalizing bite-sized chunks. Abnett & Lanning have worked their magic again, taking a two dimensional story, and fleshing it out into something unmissable. If you haven't been picking up Soldier Zero, or dropped it, like I did, I'd strongly suggest giving it another try, because DnA have made it kick-ass!
Horror scribe El Torres brings us a macabre tale of voodoo, possession, and zombies as an FBI agent investigates a case of apparent mass suicide during a mysterious religious ceremony. However, when one of the dead rises from the autopsy table, guts spilling on the floor, and kisses him on the lips, he begins to suspect there's more to this case than meets the eye.
El Torres weaves an interesting tale that plays heavily on the mysteries of Latino and West-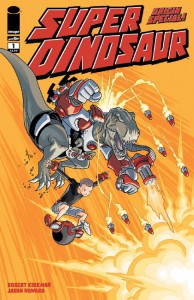 African religions, and the mythology that surrounds them. The story is creepy, atmospheric, and suspenseful, as we follow the FBI agent whose investigation drags him down into a world of intrigue. The story is brought to life with dark and moody artwork from Abe Hernandez & Kaichang Kraneo, which makes the story feel even more eerie. Highly recommended for fans of smart horror!
Related posts: