Exclusive New Dark Horse Digital Comics Available Today at Your Local Comic Shop!
From the press release: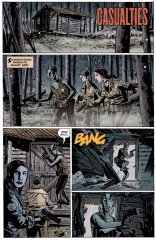 JULY 1, MILWAUKIE, OR—As previously announced, Dark Horse debuts its program to distribute exclusive digital content through brick-and-mortar retailers today, with the launch of B.P.R.D.: Casualties!
Starting today, the Dark Horse Digital Retailer Exclusive program will offer all-new monthly digital comics for free! This exclusive program is a great way to drive both new and existing customers into local comic shops for digital comics that only those stores can provide.
Over the next three months, the program will debut new stories from some of Dark Horse's hottest titles:
JULY: B.P.R.D.: Casualties -
Liz and Abe investigate a series of hideous murders taking place at a remote cabin in the woods.
Creators:
Writers: Mike Mignola, Scott Allie
Artist: Guy Davis
Colorist: Dave Stewart
Letterer: Clem Robins
AUGUST: Buffy Season 9: Magical Mystery Tour Featuring the Beetles -
Spike leads an intergalactic bug crew though time and space in order to get back to planet Earth!
Creators:
Writer: Jane Espenson
Artist: Georges Jeanty
Inker: Dexter Vines
Colorist: Michelle Madsen
Letterer: Richard Starkings
SEPTEMBER: Mass Effect – Details coming soon!
A complete list of participating retailers can be found below. Stop into your local comic shop today to pick up a special redemption code for your exclusive eight-page B.P.R.D. story today!
For the complete list of participating stores, please visit the Dark Horse blog!
http://www.darkhorse.com/Blog/476/exclusive-digital-comics-available-your-retailer
Related posts: