Jim Woodring Brings Congress of the Animals to the Georgetown Carnival this Saturday!
Hardly a day goes by when I don't wish that I lived over the water in Seattle. *sigh*
If you are in the Georgetown area this Saturday, make sure to head to this: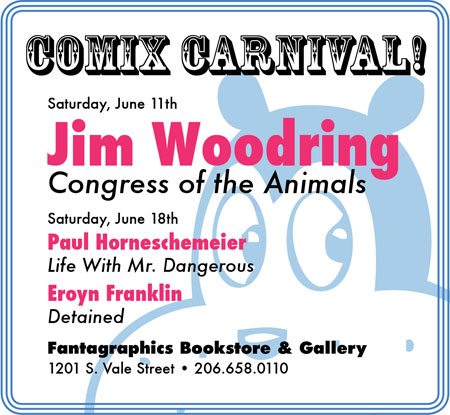 Don't miss Jim Woodring signing his latest work of genius, Congress of the Animals, at Fantagraphics Bookstore & Gallery this Saturday from 1:00 to 3:00 PM. Jim's appearance is part of the lively Georgetown Carnival festivities featuring attractions that will appeal to all: circus entertainers, sideshows, aerial acts, carnival games, confections, music, alluring art, power tool races, and more! The Georgetown Carnival promises free fun for everyone from noon to 8:00 PM, rain or shine.  So plan to arrive early and stay late. For details see www.georgetowncarnival.com.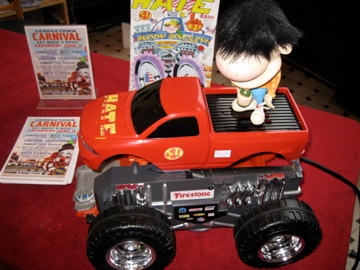 You'll want to see Larry, Bella and Stacey defend their title at Hazardfactory's annual Power Tool Races. Last time out they terrified the crowd with the "Georgetown Chainsaw Massacre." This year it's "Monstrosity" — a Hate inspired Black & Decker "Dragster" model belt sander. (I swear that's the factory brand.) A wicked quick, bad ass machine.

The Carnival caps off with a reunion of Seattle's seminal proto-grunge band Feast, performing right outside the bookstore. (Inside, you can view a vintage photo of Feast circa 1985 in Charles Peterson's "Taking Punk to the Masses" exhibition.)

See you all on Saturday at 1201 S. Vale Street in the heart of Georgetown. Phone 206.658.0110. Skip the traffic and parking problems by taking a Metro bus (routes 131, 134, 106, or 60.)
Related posts: