Jim Woodring Goes on Book Tour in Support of Congress of the Animals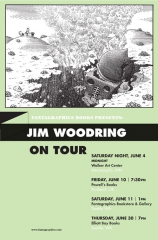 Fantagraphics Books has announced that cartoonist Jim Woodring is about to embark on a short book tour, in support of his upcoming graphic novel - Congress of the Animals. Sadly, it look like he's not coming over to Victoria, BC, so I won't get to see him. I really wish FB brought their signing tours over here, we're just a short ferry ride away from Seattle. Oh well!
If the tour is coming near you, make sure that you catch on of the dates, because Woodring is a marvelous cartoonist, and Congress of the Animals is some of his greatest work to date (review coming VERY soon!).
Here are the details from the FB blog:
Iconoclastic cartoonist Jim Woodring will be touring the Northwest in June behind the release of his latest masterpiece, Congress of the Animals. Woodring will appear in Minneapolis, Portland, and Seattle to sign books and illuminate the allusions in his second full-length graphic novel.

In Congress of the Animals we are treated to the pitiful spectacle of Woodring's signature protagonist Frank losing his house, taking a factory job, falling in with bad company, fleeing the results of sabotage, escaping in an amusement park ride, surviving a catastrophe at sea, traveling across hostile terrain toward a massive temple seemingly built in his image, being treated roughly by gut-faced men and intervening in an age-old battle in a meadow slathered in black and yellow blood. We trust the artist's book tour will be more sedate.

Woodring's journey begins at midnight on Saturday, June 5 at the Walker Art Center in Minneapolis, MN. Woodring will demonstrate his giant pen, discuss his work, and sign books as part of the unorthodox "Nightshift" festival of art. The tour continues on Friday, June 10 with a book signing at the illustrious Powell's City of Books in Portland, OR at 7:30 PM. Woodring returns to Seattle on Saturday, June 11 where he will appear at 1:00 PM at Fantagraphics Bookstore & Gallery as part of the amazing Georgetown Carnival. He concludes the Northwest leg of his tour with a signing at Elliott Bay Book Company on Capitol Hill in Seattle on Thursday, June 30 at 7:00 PM.

Don't miss an opportunity to meet America's most visionary cartoonist. Look for more public appearances by this remarkable artist as the summer progresses.
Related posts: