Preview: Jim Woodring's Congress of the Animals
Fantagraphics Books have made available preview pages from Jim Woodring's Congress of the Animals. You can check out the gorgeous pages below, along with the solicitation text, and book details
Fantagraphics aim to have the book on shelves in about four weeks, but that date isn't concrete. To make sure you don't miss it, I'd recommend pre-order a copy directly from the Fantagraphics Book Store.

I should have an advance review of the book up in a couple of weeks time, but for now, feast your eyes on these gorgeous pages.
Warning: Drooling on your keyboard is very likely to occur while viewing these images!
Congress of the Animals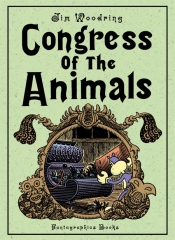 by Jim Woodring
104-page black & white 7.25″ x 9.75″ hardcover • $19.99
ISBN: 978-1-60699-437-5
Ships in: May 2011 (Subject to change) — Pre-Order Now
Readers of the "Frank" stories know that the Unifactor is in control of everything that happens to the characters that abide there, and that however extreme the experiences they undergo may be, in the end nothing really changes. That goes treble for Frank himself, who is kept in a state of total ineducability by the unseen forces of that haunted realm. And so the question arises: what would happen if Frank were to leave the Unifactor?
That question is answered in Congress of the Animals, Jim Woodring's much-anticipated second full-length graphic novel following 2010′s universally acclaimed Weathercraft, and first starring his signature character Frank. In this gripping saga an act of casual rudeness sets into motion a chain of events which propels Frank into a world where he is on his own at last; and like so many who leave home, Frank finds himself contending with realities of which he had no previous inkling.
In Congress of the Animals we are treated to the pitiful spectacle of Frank losing his house, taking a factory job, falling in with bad company, fleeing the results of sabotage, escaping the Unifactor in an amusement park ride, surviving a catastrophe at sea, traveling across hostile terrain toward a massive temple seemingly built in his image, being treated roughly by gut-faced men and intervening in an age-old battle in a meadow slathered in black and yellow blood. And when he finally knocks on opportunity's door he finds… he finds…
Suffice to say he finds what most of us would like to find. Can he bring it back with him? Will the Unifactor accept him as he has become? Are his sins forgiven? Is love real? Is this the end of Frank as we know him?
Download an EXCLUSIVE 10-page PDF excerpt (819 KB).
Related posts: