Revising the Pull List - Looking at New Stuff in the September Issue of Previews (Issue #252 for titles in shops beginning November 2009)
Every month when a new copy of Previews Magazine comes out I like to sit down, flick through and see what cool new stuff is coming out. I then add stuff I am interested in to my pull list, trim off a few titles I'm not really enjoying, and shoot an email off to my comic shop to update my order.
The below is a list of upcoming new series and one-shots coming out in November that have me excited. It isn't a full list of everything that I will be buying that month. For that, feel free to check out my full pull list!
AAM Markosia
(Original Graphic Novel)
With all of the annoying emo vampire rubbish coming out at the moment, it's actually quite refreshing when somebody does something original with Bram Stoker's original Gothic Classic, much like Moore & Reppion's recent The Complete Dracula Project that inserted scenes into the original that had be removed prior to original publication.
Tony Lee's From the Pages of Bram Stoker's Dracula: Harker is such a publication, and is set to give fans a taste of what happened to the Harker family after the count's demise. The OGN is a brand new OGN (Original Graphic Novel) that is set as a direct sequel to the events of Bram Stoker's Dacula. The story, written by Tony lee and illustrated by the art team of Neil Van Antwerpen and Peter-David Douglas, is set set six months on from the Count's grizzly death, and six months before the birth of Jonathan and Mina Harker's son, Quincey. Although his body is destroyed, Dracula's dark spirit still lives, and only his last remaining 'Bride of Dracula', the Countess Dracula can avenge and save him as she arrives in London to take brutal vengeance against the hunters and their families.
The OGN is the the first ever graphic novel sequel to receive an active endorsement from a member of the Stoker family itself, being endorsed by Bram stoker's great-grandnephew, Dacre Stoker.
The release of the OGN coincides with the release of Dracula: The Undead (October 13, 2021), the the first official novel sequel to Draula, written by Dacre Stoker, and Dracula documentarian Ian Holt. The name Dracula: The Undead is taken from Bram Stoker's original title for his novel, and Dacre Stoker claims that parts of the work are based on excised material from the original novel and Stoker's notes.
Find out more, and see a 15 page preview here!
Avatar Press
(New Ongoing)
Warren Ellis' Avatar Press releases tend to get mixed reviews, though I have enjoyed almost every one of them, this new title looks set to plough the same territory, with it nice sacrilegious cover. If you read between the lines of the over-hyped solicitation blurb this is set to be another superhero deconstruction piece in the vein of Black Summer and No Hero. These are both great series, although No Hero got a bit same at the end of the sixth issue. Could be a fun read!
DC Universe

(One Shot)
Brian Azzarello's Batman strip was one of the few decent stories in Wednesday Comics, and I am dying to read more Azzarello penned Batman tales. He brings a true detective story quality to the dark detective that has been sorely absent for a long time!
In this one-shot Azerello is set to bring classic pulp magazine character Doc Savage into the DC Universe, and bring him "face-to-fist" with the Batman!
Apparently this one-shot is a prologue to an upcoming 6-issue miniseries by Azzarello and Rags Morales, which will pull back the curtain to reveal the full width and breadth of DC's new pulp-influenced universe. I can't wait to read that. I'm really hoping Azerello can do fr the DCU what Ed Brubaker has done for the Marvel U!
(Prestige format Two-Part Miniseries)
I am a huge Lobo fan, like HUGE! However, Lobo is one of those characters that people tend to get wrong a lot of the time. In fact, No one has really gotten him write since Keith Giffen and Alan Grant…
This new story is written by Anthrax lead singer, Scott Ian, which seems a little bit of a PR stunt, and the artwork is by Sam Keith, who previously did Batman/Lobo: Deadly Serious, which I found to be a bit Bisley-lite. The plot apparently takes Lobo to Hell, where he has a showdown with Satan.
It all seems a little bit of a vanity project really, but I'm a sucker for a Lobo story, I know, I know, I'm a rube!
DC Vertigo
(Six Part Miniseries)
Fables is another favorite series of mine, and I love the fact that Bill Willingham is pulling in members of Clockwork Storybook to expand the series' Universe. Chris Robertson is a relative newcomer to the comic industry, but he is Willingham approved, so that is OK with me!
Readers of Fables will know that whilst Cinderella appears to be a cliched blond bombshell, she is really a secret agent, working undercover for the Fabletown sheriff. In this new miniseries Cinderella has to stop the illegal trafficking of supernatural artifacts from the Homelands to the modern world before Fabletown and its hidden, exiled inhabitants are exposed once and for all. Meanwhile, trouble brews back home in Fabletown when Cindy's overworked, under appreciated assistant decides to seize control of The Glass Slipper, Cindy's exclusive shoe boutique.
DC Wildstorm
(Twelve-Part Miniseries - Starts at #3)
Back in the mists of time, Grant Morrison began writing what was touted as the greatest series of The Authority EVER! Grant's version of the Authority was admittedly very cool, but sadly we have only seen two issues in three years!
Finally, Wildstorm have given the series over to Keith Giffen to complete. Giffen says of his involvement:
I stepped into a book that was in the midst of a type of storyline that is probably my least favorite in comics. And that is, heroes come to our earth. Because this is in a comic book, it's obviously not our earth. But I've always hated it when Superman ends up on the real earth Well, if that's the case, why aren't you doing it as a fumetti? You know? So I had no idea what I was supposed to do with this. …

…The story that Grant started wraps up in two more issues, then it moves into another adventure. This book is about the Authority having trouble with the Carrier and they're trying to find their way home. It's almost like the Odyssey, in a way, as trying to find your way home and going through various adventures. And this is what Grant had planned. This is in keeping with the basic structure that he told me over the phone. But then, I'll put in my point of view
It's not quite the same as Grant finishing up the book, but at least it's closure. The series will also have artwork by Darick Robertson, so that is a definite plus!
(Six-Part Miniseries)
Ian Edginton has contributed some fantastic period fantasy to 2000 AD, such as The Red Seas and Stickleback, and now brings these talents over to Wildstorm with Victorian Undead. This new miniseries sees Sherlock Holmes and Watson confronted with the most extraordinary case of their career - the dead are returning to life!
I love stuff like this, and Edginton is a master of the genre!
Del Ray Publishing

(New Ongoing)
Stephen King's magical novel The Talisman was one of my favourite novels when I was a child. The book charts the adventure of a young teen boy named Jack Sawyer. The adolescent hero sets out from Arcadia Beach, New Hampshire in a bid to save his mother, who is dying from cancer, by finding an enchanted crystal called "the Talisman."
This adaptation is written by personal research assistant Robin Furth, and is set to be Del Ray's first ever comic series! A preview issue was recently released, and it was amazing. This is a definite must for all Stephen King fans!
Dynamite Entertainment
(Four-Part Miniseries)
Having tackled literary classics like Dracula and Sherlock Holmes, Leah Moore & John Reppion have chosen Alice's Adventures in Wonderland for their next comics adaptation.
Alice's Adventures in Wonderland is a truly magical story that is much more interesting than many people give it credit for, and contains tons of strange symbolism and odd references to mathematical concepts. Carol's original story is far less know than the various animated versions and adaptations that have surfaced over the years.
Leah Moore & John Reppion have proved to have an incredible talent for adaptation work, and I can't wait to see what they do with Alice!
(New Ongoing)
Black Terror started as a four-issue spin-off miniseries of Project Superpowers that bridged the gap between the first and second chapters of the series. Fan reaction to the series was incredibly positive, so Dynamite have decided to make the series into an ongoing, with the same creative team. Plotted by Alex Ross, with scripts by Phil Hester, this is set to be awesome!
IDW Publishing

(Three-Part Miniseries)
Steve Niles and Bernie Writghtson previously collaborated on Dead, She Said, a fantastic macabre detective story. This series sees the team reunite to tell the story of a Los Angeles Detective who finds himself in the middle of a Hollywood mystery that falls way outside the norm, and need a special kind of help. He finds it in the bizarre form of The Ghoul, a monstrous investigator with a reputation for solving the world's weirdest crimes.
(Six-Part Miniseries)
Locke & Key is one of the most amazing horror comics ever penned, and is quite possibly Joe Hill's greatest story to date! I cannot wait for this new miniseries to start! Do not miss it!
(Hardcover)
Yes, there are countless Sherlock Holmes adaptations coming out at the moment, but not all of them have artwork by Kelly Jones & Ashley Wood! This one is actually just a reprint of Sir Conan Doyle's original stories in their original order, but with gorgeous illustration throughout.
Image Comics

(Six-Part Miniseries)
This could be good, or it could be REALLY bad! I'm going to put my trust in the talents of Robert Kirkman though, and hope to hell that this isn't a pile of cheesy poop!
Marvel Comics

(Five-Part Miniseries)
Again, I'm a rube! I like the X-Men, and I like Paul Cornell, what more can I say?!
(New Ongoing)
Thank god! Marvel have written off the trash that Punisher Max became after Garth Ennis quit, and relaunched the titles with a proper writer. Jason Aaron is the perfect pick for this, and it is going to kick all kinds of ass! Oh, and it has artwork by Steve Dillon, what more could you want?
They could have come up with a better title that Punishermax though. Weak!
(One Shot)
(Five-Part Miniseries)
(Five-Part Miniseries)
I love Nova, I adore Guardians of the Galaxy, and War of Kings was probably the best event comic even written. At this point Dan Abnett and Andy Lanning could write a comic called 'Super-Frogs in Space' and I would preorder the entire series, and you know what? That series would probably be awesome if they did it!
(Four-Part Miniseries)
Mark Waid is writing a Dr. Strange miniseries? Sign me up, 'nuff said!
(New Ongoing Series)
S.W.O.R.D. is Kieron Gillen's first ongoing Marvel series, so give the man some support with your hard earned dollars, pounds, Euros, Yen, Rupees, or Malange (it's the most valuable currency in the Galaxy, don't you know)…
S.W.O.R.D. (Sentient World Observation and Response Department) is a spin off of Astonishing X-Men, and focuses on the adventures of the counter-terrorism and intelligence agency that's purpose is to deal with extraterrestrial threats to world security.
It's written by Kieron, so it will be good, nay great! Buy it!
(New Writer - Kieron Gillen)
Double the Kieron Gillen Action! I a haven't bought a Thor comic for… decades possibly, with the exception of Matt Fraction's standalone one-shots, but that is all about to change.
For his first arc Kieron is pitting Thor against Doctor Doom, so expect some epic sledgehammer fighting action!
Marvel - Icon
(New Monthly Ongoing)
Powers is coming back as an ongoing monthly series!!! This is the best thing that Bendis has ever written, and we will get regular doses of Oeming's awesome artwork. Fantastic!
According to the solicitation this new number one issue is the PERFECT jumping on point for new readers and a glorious return to form for long time fans. Gimme!!!
Sterling Publishing
(Hardcover)
This is the first new Asterix release in five years, and whilst this isn't a new story, it is a showcase of little-seen work from original creators René Goscinny and Albert Uderzo.
I have been reading Asterix books since I was three years old, and I will fight anyone who says that they are lame!
Titan Publishing
(Four-Part Miniseries)
An all-new Tank Girl mini-series by Alan Martin and Rufus Dayglo. Martin and Dayglo have been doing Tank Girl together in Judge Dredd Megazine for a could of years now, and are now set to spread their wings and take Tankie to foreign parts, with new series coming out from both Titan Book and Image Comics! Yankees, prepare your defenses!
The plot sees a retired Tank Girl forced to give up her life of semi-retirement and climb back into the saddle to save the life of her best friend, Barney! Expect explosions, profanity, violence, and more explosions… oh and did I mention the explosions?
Alright, alright, it's not really ALL new, as this is the same series that saw print in Judge Dredd Megazine, but buy it anyway, becasue it is awesome, and Rufus Dayglo is the best Tank Girl artist ever!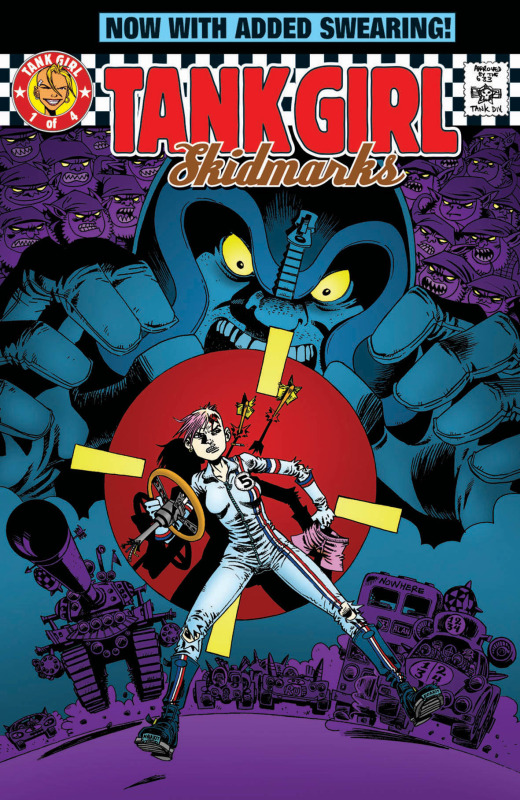 Related posts: