Revising the Pull List - Looking at New Stuff in the August 2009 Issue of Previews (Issue #251 for titles in shops beginning October 2009)
Every month when a new copy of Previews Magazine comes out I like to sit down, flick through and see what cool new stuff is coming out. I then add stuff I am interested in to my pull list, trim off a few titles I'm not really enjoying, and shoot an email off to my comic shop to update my order.
When I came to do my list this month I realized that I forgot to do it last month, so you lucky people are going to get two of these long and time-consuming articles…
The below is a list of upcoming new series and one-shots coming out in October that have me excited. It isn't a full list of everything that I will be buying that month. For that, feel free to check out my full pull list!
Check back soon for my November list!!
Boom
This concept of the comic sounds incredibly interesting, and quite insane! BOOM! are describing the series as being in the vein of Hellboy and The Goon. The gorgeous artwork in the preview pages certainly does have a touch of Mignola and Powell's style, but I think it actually devalues the title a bit to compare it to anything. This highly original tale looks like it is going to be a legend in its own right!
For a Ten Page Preview Click Here!
Dark Horse
Strictly speaking this is not a new story because it is a reprint of a Myspace MySpace Dark Horse Presents story from this Summer. The story tells adventure from Abe's early days in the B.P.R.D. and is written by Mignola & Arcudi, with art from newcomer Patric Reynolds. I read this one online and absolutely loved it, but I always prefer to read things printed, so I'm still going to buy this one shot.
Do I really have to tell you why to buy this??? Mark Evanier and Sergio Aragones are returning to make a new Groo miniseries… if you don't buy it then I take no pity on you!
This is again a Myspace Dark Horse presents reprint. Sugarshock is by far the most enjoyable thing that I have read by Joss Whedon in the last couple of years, and this one shot is a must buy. Though after enduring Dollhouse I'm not sure I ever want to touch anything with the name Joss Whedon on it again!
DC
Fabian Nicieza reinvented Azreal for DC's recent 'Batman Reborn' storyline, and obviously fans responded well to the mini, because Nicieza has been given a new Azreal ongoing. For some inexplicable reason DC have decided to launch it in the Batman Annual #27 and Detective Comics Annual #11, before Azreal #1 hits in the same month! If you like the character then you are going to have quite the opening story, with 144 pages of story in on month! However, Azreal really isn't a hugely popular character, so this is a pretty big risk for DC because I doubt that many casual readers are going to be willing to lay down $13 for what is essentially the opening story of a new series. Nice idea, but a bit of a marketing FAIL if you ask me!
Arkham Reborn (New Three-Part Miniseries)
This three-part miniseries is a continuation of the story started in Battle for the Cowl: Arkham Asylum. The series follows Jeremiah Arkham as he starts building rebuilding the asylum following the design of his mad Uncle Amadeus. He starts out with the best of intentions, to create a modern treatment facility for mental illness, but this IS Arkham asylum, so pretty soon things turn to hell and things in Arkham are worst than they ever work. The series is written by David Hine, so it is sure to be dark, twisted and sadistic. In other words: Awesome!
Hot off Batman Gotham After Midnight Kelley Jones just picks up his pencil are starts another dark tale of the bat. This time he is reunited with long-time collaborative partner Doug Moench for a story that finds Batman hunting down a murderer who eye witnesses describe as a weird, skinless 'meat-man' who seems to fade away after the crimes. Good lord, as if we didn't have enough fantastic Batman stories coming out right now! DC, you are really spoiling us!
Superstar newcomer writer Sterling Gates brings us a 'World of New Krypton' spin-off, which sees a team-up between the Kryptonian Nightwing and Red Robin on the streets of Gotham. It sounds like it is sure to be fun and action packed!
I always pick up the Halloween specials, some times they are good, and sometimes… not so much! This year DC have enlisted the help of Joe Harris and Billy Tucci though, so that is positive sign!
DC - Vertigo
House of Mystery is one of my favourite series, and this Halloween special is packed full of stories by fabulous writers like Matthew Sturges, Peter Milligan, Matt Wagner, Bill Willingham and Chris Roberson; with art by Luca Rossi, Giuseppe Camuncoli, Amy Reeder Hadley, Mark Buckingham & Kevin Nowlan, Mike Allred and more.
DC - Wildstorm
Not really new I guess, but I love Astro City and will definitely be picking up this two part special. It looks like a nice break from the rather heavy 'Dark Ages' storyline.
OK, this is hardly new, but it has been so long wince issue #26 that it gets an honorary mention. I think it is time to pull out my Planetary trades so I can remember what the hell was going on before the series stopped so abruptly!
IDW
ACT-I-VATE is one of the Internet's premiere web comic collectives, and this primer will give you a taster of some of the finer tales found on their website. The book also contains all new stories and artwork too, so there is something here even for those who have read the website back to front. A 'must have' collection!
Image
Haunt (New Ongoing)
I'll be honest, I'm only picking this comic up for the Robert Kirkman effect. Kirkman has never really failed me before, except for Astounding Wolfman, so I tend to pick up most things that he has a hand in. However, that McFarlane cover is absolutely terrible, and I'm not sure that I want to be seen in public buying something that looks so embarrassingly ugly. God! It looks like Venom meets Spawn meets a fan boy orgasm. That is just sad!
Hah! You had me at Ninja! This comic looks insane, so insane it might just work! The solicitation doesn't really give much away, but this looks like is going to be one hell of a lot of fun, so be sure to pick up the first copy and see if the concept holds water!
Its for a good cause innit! When I was employed I used to give to the CBLFD and Hero Initiative as much as I could. Sadly, I'm a bit of a charity case my self now, so making donations is a bit beyond my means right now. So, it's good to be able to help out in a small way buy picking up books like this.
Every fan in the land should pick up this comic, if not for the fact that it is a good cause then for the immense list of contributors that the comics has, including:
Neil Gaiman, Gail Simone, Jason Aaron, Jimmy Palmiotti, Kathryn Immonen, Brian Wood, Jamie S. Rich, Ray Fawkes, Ben Mccool, Paul Grist & Chynna Clugston; Art Jim Lee, Dave Gibbons, Paul Pope, Mike Allred, Stuart Immonen, Ben Templesmith, Cameron Stewart, Joelle Jones, Jim Rugg, Moritat, Brian Wood, Paul Grist & Chynna Clugston; Cover John Romita, Jr.; Variant Cover Tim Sale.
Make sure you buy a copy or two!
Paul Grist has been serializing this comic on the internet for quite some time. It's a fantastic piece of work, and I'm glad to see it get collected finally.
Please check out my Issue #1 Review/featurette
Marvel
I was hoping to avoid the 'Dark Reign: The List' event but those sneaky bastards at Marvel have only gone and put some of my favourite writers and artists on the titles! There is Jonathan Hickman on Secret Warriors, Rick Remender & John Romita Jr. on Punisher, Jason Aaron on Wolverine, then fantastic British artist Ben Oliver is illustrating the Hulk story.
Damn you Marvel!
Again, it's Rick Remender, so I have to check it out. I haven't been reading New Avengers recently so I have no idea who this character is, but… REMENDER!
This is one of those good-for-nothing tricks that Marvel pulls every now and then. I pick up X-Force every month so to get me, and others, reading New Mutants they force to two titles to cross-over with each other. I normally don't mind so much, but it is a trick they have been pulling a lot lately, and X-Force only just came out of a crossover with Cable… Grumble!
I don't normally buy 'DeadPool' but I figure I'll check this one out for the creative teams involved.
I dropped this series a while back, but I think I will check out this final double-sized issue just for the creative tems they have pulled together for it. I'm rally looking forward to the series relaunch though!
Orion
I grew up reading The Eagle, next to 2000 AD it was one of the best British anthologies. The hardcover trades of the anthology are really nicely put together and well worth checking out.
Oni
Stumptown is writer Greg Rucka's first creator-owned series since the Eisner Award-winning Queen & Country! Written by Rucka, with artwork by Matt Southworth, Stumptown tells the story of Dex, the proprietor of Stumptown Investigations, and a fairly talented P.I. Unfortunately, she's less adept at throwing dice than solving cases. Her recent streak has left her beyond broke-she's into the Confederated Tribes of the Wind Coast for 18 large. But maybe Dex's luck is about to change. Sue-Lynne, head of the Wind Coast's casino operation, will clear Dex' debt if she can locate Sue-Lynne's missing granddaughter. But is this job Dex's way out of the hole or a shove down one much much deeper?
To see a five page preview of issue #1, click here!
Panini
I don't get Doctor Who Magazine, due to the cost and the fact that I am really not that interested in the new series. However, some of the comic stories in the magazine are amazing, and now Panini have started collecting them together into nice trade paper back collection. Yay!
The Widow's Curse is a "must have" collection written by Ian Edgington with gorgeous artwork by Mike Collins, Rob Davis, and more!
Radical
FVZA (New Miniseries)
FVZA is based on the popular website, FVZA.org, created by Richard S. Dargan, FVZA chronicles a world where a deadly disease, representing a new threat of global terrorism, transforms innocent victims into Zombies and a long dormant government task force is called into action: The Federal Vampire and Zombie Agency. Throughout history, from the Civil War to World War II, the FVZA protected humanity from the blood-sucking and flesh-eating hordes — until a cure was discovered that sent the undead to their graves. When a new incurable strain of the virus ravages a small town in America, Agent Landra Pecos must call upon her lethal skills to eradicate the threat. But as Landra delves deeper into her investigation of the undead menace, she uncovers shocking secrets that will forever change her family, her world and her life.
This new series written by David Hine with art by Roy Allan Martinez is absolutely amazing. I have already read issue #1, and it is amazing! I shall try to get a review up soon!
To check out a six page preview click here
Rude Dude
Nexus is one of the greatest space epics of all time, and this last arc 'Space Opera' was probably one of the greatest arcs of the story yet. If you didn't pick up the singles, which you probably didn't, not many people did, then you HAVE to pick up this TPB. This is essential reading for all fans of cosmic comics! Baron & Rude have told one of the best stories of their amazing careers here, and you really need to check it out!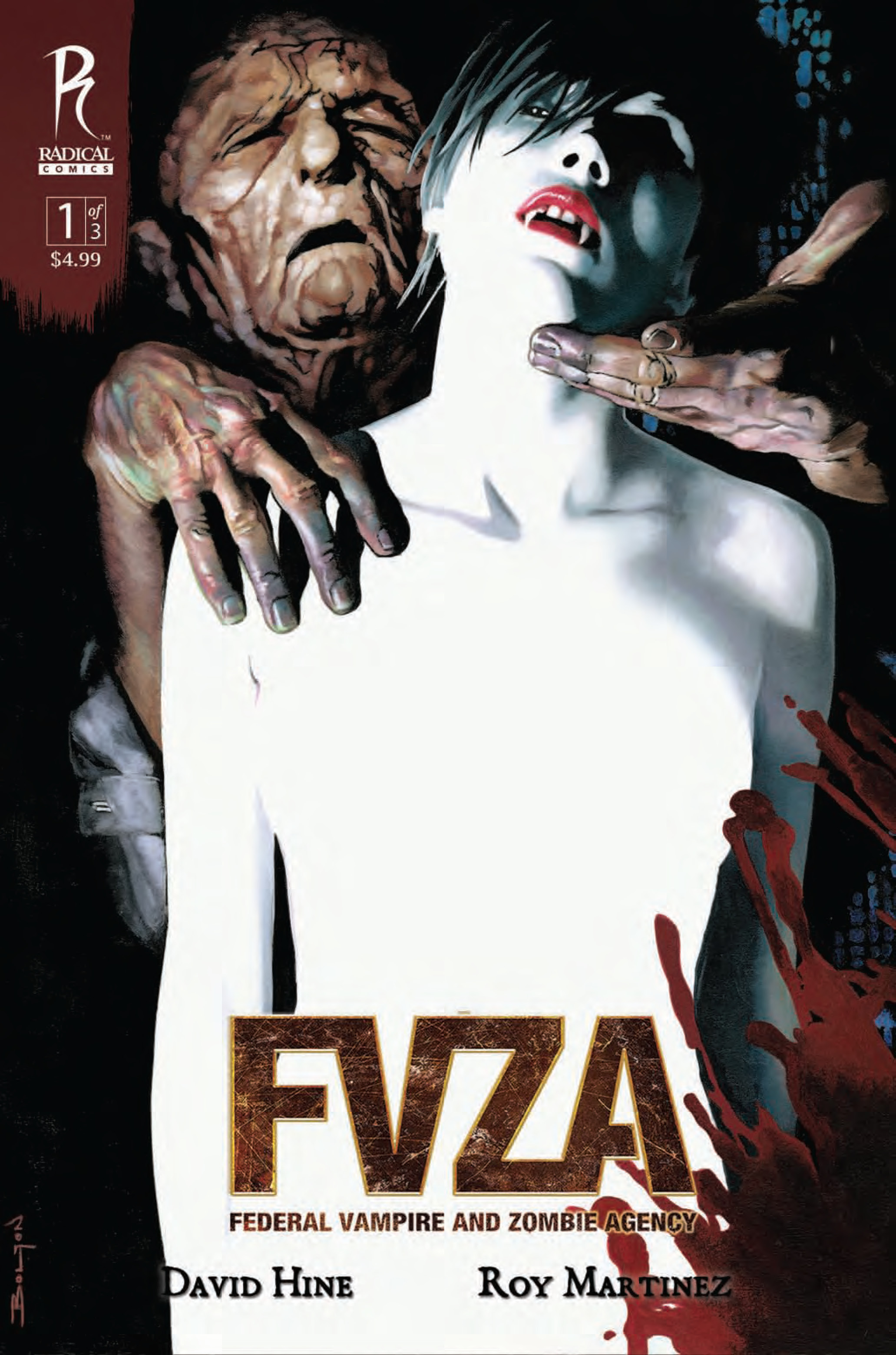 Related posts: