"Fear Itself: Fearsome Four" Sign at Midtown Comics June 8
From the press release: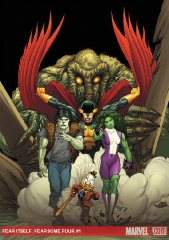 Midtown Comics in New York City will present Brandon Montclare, Michael Kaluta and Ryan Bodenheim signing their new book Fear Itself: Fearsome Four #1 from Marvel Comics at Midtown Comics Downtown on Wednesday June 8th from 6 to 7 P.M.
Brandon Montclare is a former editor at DC Comics working on high profile projects like All-Star Superman and All-Star Batman. Montclare has also written the Chaos War: Chaos King one-shot and a back up story in The Incredible Hulks for Marvel Comics.
Michael Kaluta is an artist who has been working in comics since 1969. His work includes several covers for DC Comics' Detective Comics, House of Mystery and The Spectre. Kaluta recently worked with Brandon Montclare doing interiors for the Vertigo series Madame Xanadu.
Ryan Bodenheim is an artist whose work has included a number of Marvel comic books. He is known for his interior work on Jonathan Hickman's Red Mass For Mars and the Image Comics series Halcyon written by Tara Butters and Marc Guggenheim.
Fear Itself: Fearsome Four #1: With the entire Marvel Universe enveloped in fear, Man-Thing has been driven insane on panic-wracked Manhattan! Will the whole city burn at his touch? Or can the team of Howard the Duck, She-Hulk, Frankenstein's Monster and Nighthawk shut down this mindless embodiment of terror before the whole world goes up in flames? They'll have to fight fear with fear this June, only in Fear Itself: Fearsome Four #1!
MIDTOWN COMICS opened its first store in 1997, and is now the industry's leading retailer of comic books, graphic novels, and manga, with its online store as well as three landmark NYC locations in Times Square, Grand Central and Downtown. Follow us on Facebook, Twitter, and the Midtown blog! More information available online at: http://www.midtowncomics.com
Related posts: