Zachary Quinto to Sign Lucid Vol. 1 at Midtown Comics on May 18th
From the press release: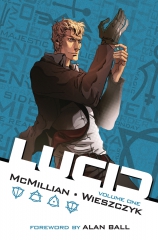 Midtown Comics in New York City will present Zachary Quinto ("Heroes," "Star Trek") signing LUCID Vol. 1 HC from ARCHAIA Entertainment at Midtown Comics Downtown. Purchase of the LUCID Vol.1 is required to attend. Limit two signatures per customer. LUCID will be available exclusively to Midtown Comics one week prior to its national release, for the purpose of this event.
In 2008, longtime collaborators and friends Corey Moosa, Neal Dodson and Zachary Quinto formed Before The Door Pictures, a media production company. Before The Door has an extensive development slate of projects in film, television, web and graphic novels. In 2009, Before The Door and Archaia Entertainment announced a partnership to produce a series of graphic novels. The first title, LUCID, created by actor and longtime BTD friend Michael McMillian ("True Blood"), debuted in 2010 in single-issue form and is now available in a collected-edition hardcover. Together with Moosa and Dodson, Quinto served as an executive editor on LUCID, working with McMillian, artist Anna Wieszczyk and the Archaia staff to help make the book as accessible and entertaining as possible, offering his input and feedback where needed. Quinto was also instrumental in helping LUCID gain recognition within and outside the comic book industry, using his influence and popularity to tout the book at Comic-Con International in San Diego and in interviews with various media outlets, including MTV, G4 and Comic Book Resources.
Wednesday, May 18th, from 6:00PM to 7:30PM
Midtown Comics – Downtown
64 Fulton Street, NYC
LUCID VOL. 1 Collected Edition Hardcover
(W) Michael McMillian (A, COV) Anna Wieszczyk
Welcome to the world of LUCID, the action-packed pop-fantasy that draws inspiration from the spy genre, Arthurian legend and 21st-century folklore! Dark forces are conspiring to prevent humankind from reaching its true potential. Thankfully, as newly appointed "Protector of the Realm," Agent Matthew Dee uses his skills as a covert spy and Combat Mage to ensure America's freedom from the grip of evil. Written by "True Blood" actor Michael McMillian and illustrated by newcomer Anna Wieszczyk, LUCID is Archaia's first title published in association with Zachary Quinto ("Heroes," "Star Trek") and his company, Before the Door.
MIDTOWN COMICS opened its first store in 1997, and is now the industry's leading retailer of comic books, graphic novels, and manga, with its online store as well as three landmark NYC locations in Times Square, Grand Central and Downtown. Follow us on Facebook, Twitter, and the Midtown blog! More information available online at: http://www.midtowncomics.com
Related posts: