The Fearsome Four Head Into Fear Itself!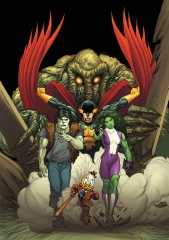 From the press release:
This June, Marvel's most monstrous heroes step up in Fear Itself: Fearsome Four #1 (of 4), from rising star writer Brandon Montclare, legendary artist Michael Kaluta, and rising star artist Ryan Bodenheim! Whoever knows fear burns at the touch of Man-Thing and, with the arrival of Fear Itself, he's about to turn all of New York into a bonfire! But with Marvel's mightiest pinned down by "The Worthy," who can protect the Big Apple from the rampage of a creature that that's more monster than man? Howard the Duck, She-Hulk, Frankenstein's Monster and Nighthawk are out to extinguish the Man-Thing's flame by means necessary as the all-new, all-outcast Fearsome Four!
"As stand-ins for the Fantastic Four, they may not inspire confidence in the people they're sworn to protect—but they each have a great story to tell," said series writer Brandon Montclare. "They're going to turn some heads, and then knock them clean off!"
Can the Fearsome Four deliver the coup de grace while there's still a city to save or will these would-be defenders unwittingly give themselves over to the dread deep within themselves? Find out as Earth's Mightiest Monsters cut a path of destruction clean through 2011's biggest comics event, only Fear Itself: Fearsome Four #1 (of 4)!
FEAR ITSELF: FEARSOME FOUR #1 (of 4)
Written by Brandon Montclare
Penciled by MICHAEL KALUTA & RYAN BODENHEIM
Cover by MICHAEL KALUTA
Rated T+…$2.99
ON SALE THIS JUNc
Related posts: