Scott Snyder, Kyle Higgins & Trevor McCarthy to Sign Batman: Gates of Gotham at Midtown Comics on May 19th
From the press release: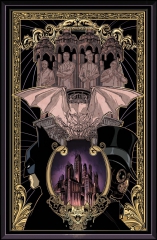 Midtown Comics in New York City will present Scott Snyder, Kyle Higgins and Trevor McCarthy signing their new book Batman: Gates of Gotham from DC Comics.
Scott Snyder is the creator of the hit Vertigo series American Vampire and is also currently writing Detective Comics for DC Comics.
Kyle Higgins is a writer/director who has worked primarily for Marvel and DC Comics writing for books such as Captain America and Batman.
Trevor McCarthy is an artist whose work has included a number of DC and Marvel comic books. He is best known for his run on Nightwing.
BATMAN: GATES OF GOTHAM #1: When a mystery as old as Gotham City itself surfaces, Batman assembles a team of his greatest detectives – including Red Robin, Owlman, I-Ching and others – to investigate this startling new enigma. As clues are discovered and the mystery deepens, Batman's team soon finds itself on a journey that explores different eras in Gotham's history and touches upon notable Gotham families including the Waynes, Kanes, and Elliotts. This miniseries spins out of recent events in the Batman titles and sets the stage for several exciting storylines in 2011. Additionally, this limited series touches upon mysterious story elements introduced in Grant Morrison's RETURN OF BRUCE WAYNE. Featuring many exciting Batman Family guest stars!
MIDTOWN COMICS opened its first store in 1997, and is now the industry's leading retailer of comic books, graphic novels, and manga, with its online store as well as three landmark NYC locations in Times Square, Grand Central and Downtown. Follow us on Facebook, Twitter, and the Midtown blog! More information available online at: http://www.midtowncomics.com
Related posts: