Devils Due Introduces "The Royals" Digital Comic Book
From the press release:
DEVILS DUE INTRODUCES "THE ROYALS" DIGITAL COMIC BOOK
Biographical Comic Set To Engage Readers April 2011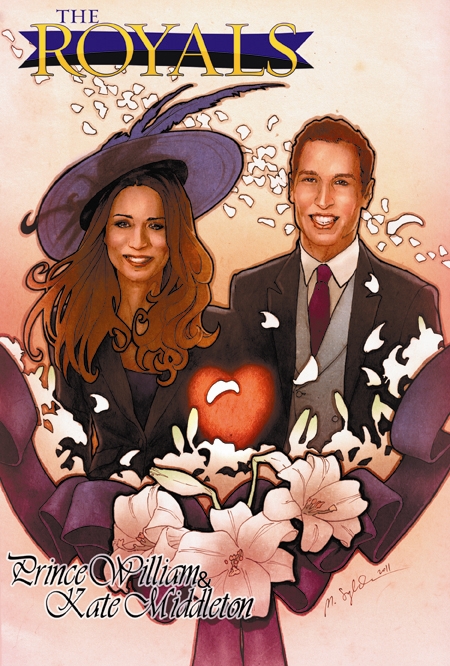 Since the marriage and tragic death of a Princess Diana, the world has been fascinated with the lives of the British Royal Family. As the eldest son of the monarch sets to wed with the whole world watching, Devil's Due Digital and Bluewater Productions invite you to follow the budding love story from the beginning with The Royals: Prince William and Kate Middleton on Android Market.
The stunning 32-page issue is written by CW Cooke and penciled and inked by Pablo Martinena. The biographical digital comic takes readers through the early life of William and Kate, and looks to give a fresh take on the couple's 8-year romance.
In a news release, President of Bluewater Darren Davis said, "As Americans, we are fascinated by the British royals. They fit within our construct of a celebrity-fueled popular culture. But more than that, they represent an air of pomp and history that we just don't have."
The Royals: Prince William and Kate Middleton is sure to leave readers satisfied, yet still wanting more with a quick behind-the-scenes glance into the lives of regal Prince and his bride-to-be before they join together at the wedding of the century.
About Devil's Due Digital
Offering consumers the chance to be a part of the digital age, Devil's Due Digital is the joint effort of publishers Mark Thompson of Checker Book Publishing Group (est. 2000) and Josh Blaylock of Devil's Due Publishing (est. 1999). These two prominent Midwest publishers are offering consumers the chance to peak into the future of the comic book and graphic novel industry with individual digital issues from such beloved creators as Clive Barker (Hellraiser), Winsor McCay (Little Nemo in Slumberland), and Alan Moore (Supreme).
About Bluewater Productions
Bluewater Productions Inc. is one of the top independent production studios of comic books, young adult books and graphic novels. Its extensive catalog of titles includes the bestsellers 10th Muse and The Legend of Isis.
More Information
Other available Apps from Devil's Due Digital on Android include Barack the Barbarian: Quest for the Treasure of Stimuli, Fame: the Cast of Glee, Voltron: Defender of the Universe, Ninjatown: The Adventures of Wee Ninja, Hack Slash, Mercy Sparx, Hellraiser, Fame: Justin Bieber and much more!
For more information on The Royals: Prince William and Kate Middleton visit Android at http://bit.ly/dKqQu3 .
Don't forget to joins us on Facebook for more Devil's Due updates at http://on.fb.me/gcaU8v
Related posts: