Bluewater's Second Cover Revealed for Upcoming Kate & William Royal Wedding Comic Book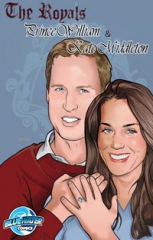 From the press release:
As anticipation grows towards the fairy-tale wedding of the William, Prince of Wales and Kate Middleton, Bluewater Productions announced an alternative cover to the upcoming April 2011 biography comic book.
The second cover for "Fame: The Royals," designed, penciled and inked by Pablo Martinena, will be printed as a special limited run and features the royal couple in a softer, more casual pose.
"The positive feedback we received gave us the notion that this issue will be big, and we wanted to do something special to meet the unique demand," said Bluewater president Darren Davis.
Bluewater, the leading biography comic book publisher in the United States, has also announced a deal that will distribute "Fame: The Royals" in Britain and throughout most of the European Union.
"This title is gaining momentum," Davis said. "There seems to be a large appetite for all things related to the wedding."
According to Davis, this phenomenon is not new. Thirty years ago, much of the world was captivated by the wedding of Prince Charles and Diana Spencer, William's parents. Their likeness appeared on everything from dolls and lunchboxes to plates and tapestries and, of course, hundreds of publications. This fervor was even felt back in the 1950′s for the coronation of William's grandmother, Queen Elizabeth II.
"Fame: The Royals," penned by veteran comic book scribe CW Cooke ("SE Hinton's Taming of the Star Runner" and the upcoming "Anne of Green Gables" adaption) covers the life stories of William and Kate Middleton and how they balance the need for privacy and the demands of a very public life. A follow-up graphic novel to be published in May will include pinup posters, special illustrations of the April 29th wedding as well as a comparison with Diana and Charles' 1981 wedding. The special edition also offers a unique double-sized cover.
"What we have is a couple who don't make movies or score touchdowns. They don't make public policies or write best sellers or cure diseases. Yet we are fascinated with them," Davis said. "I guess they plug into the whole fairy-tale motif we wish our everyday lives could be."
The standard 32-page issue retails for $3.99. It will be available through local comic book stores and several online venues including Amazon.com (and Amazon UK) and the Barnes and Noble and Borders online stores. The special collector's edition (which will feature over forty pages), which is scheduled for a March 30th release, will retail for $7.99.
The "Fame" series was launched earlier in 2010 as a companion piece to the successful "Female Force" and "Political Power" biography titles. The comic allows Bluewater to delve into the celebrity culture and understand how a person rises to fame, deals with the newfound celebrity and continue to produce in the public eye. That includes actors, sports figures, recording artists and royals.
Related posts: