Bluewater's Rosie O'Donnell "Female Force" Comic Sells Out in One Day
F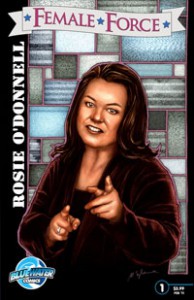 rom the press release:
The latest biography comic offering from Bluewater Productions, "Female Force: Rosie O'Donnell" has sold out in one day after its release from the distributor. This extends its record to 10-biography comic book titles sold out in the past six months. Stores that ordered the comic book might have it in stock.
Bluewater will not be authorizing a second, single-issue printing. Instead, the Vancouver, WA-based comic book publisher will be putting the issue into a graphic novel with a couple of other comedian biographies they have done. The graphic novel will be out towards the end of the year.
"There was a lot of buzz regarding this particular title outside the traditional comic book buying demographic," said Darren G. Davis, president of Bluewater. "We really hope people try to pre-order the titles in advance to make sure they get a copy. I just sent my only copy to "The View"!"
Released on April 6th, the comic book written by Dan Rafter and drawn by Kristoffer A. Smith, "Female Force: Rosie O'Donnell" charts the controversies, feuds and successes of O'Donnell's life. Fans can read about O'Donnell's spats with fellow The View celebrity Elisabeth Hasselbeck and entrepreneur Donald Trump, her time as editor of Rosie Magazine, her successful daytime TV talk show and all the activism work she does.
The comic book has been featured on the Today Show, ABC World News Tonight, CNN, The Wendy Williams Show & People Magazine by covering the biographies of such celebrities and political leaders as Lady Gaga, Angelina Jolie, Sarah Palin and Facebook founder Mark Zuckerberg, Bluewater is bringing new readers to the comic's world.
Bluewater launched the "Female Force" series in 2009 as a broad examination of strong and influential women who are shaping modern history and culture. In past issues, the monthly series has featured Michelle Obama, Hillary Clinton, Oprah Winfrey, Margaret Thatcher, JK Rowling, Sarah Palin and others.
Bluewater's upcoming biography comic books include "Female Force: Kathy Griffin", "Orbit: Howard Stern", "The Royals: Kate Middleton and Prince William" which will be in stores in late April. In May the biography comic books on Stephen King, Vincent Price and Ayn Rand will be on stands.
The suggested retail price (SRP) for the upcoming 32 page comic books is $3.99. To make sure you get your copy, contact your local comic book store to order it. To find a comic book store near you go to www.comicshoplocator.com. They will also be available on several online venues including Amazon.com and the Barnes and Noble and Borders online stores.
Related posts: