Rich Johnston, Gary Erskine, and Mike Collins Collaborate on Kate And William: A Very Public Love Story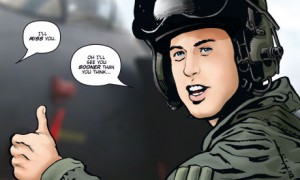 This morning, I've been hearing some rumblings on the Twittersphere about an upcoming comic about Prince William and Kate Middleton. At first, I just assumed that people were talking about the upcoming Bluewater Productions  bio comic about the couple, which was announced last week (see here). However, I did wonder why people were talking about it so much, because these Bluewater biogs are usually pretty vanilla, and I personally couldn't really see what would get people excited about that.
Well, it turns out that there is another biog of the couple coming out, and this one is written by notorious comics blogger/journalist, Rich Johnston. Rich talks a bit about the project over on his Bleeding Cool website, where he describes the project as being "A biographical comic book telling the lives of Prince William and Kate Middleton before their upcoming wedding".
Joining Rich for this project will be two fantastic British artists, who I'm a big fan of: Gary Erskine and Mike Collins!  The book will be released by British small press publisher Markosia, whose books I have reviewed on here many times, and should be released on April 2nd, 2011.
The book is receiving pretty good press coverage, particularly from The Guardian, who wrote an article about the comic, which can be read here. On Twitter, Rich says that he's been contacted by several other publications, including Vogue, and classic BBC 1 young adult news show, Newsround.
Rich says that he'll have another interview up on Bleeding Cool later today, so keep an eye on his site for more info.
Related posts: