Bluewater Commemorates Prince William and Kate Middleton's Engagement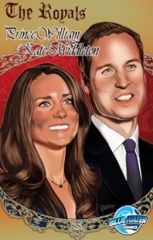 From the press release:
With the announcement of their impending nuptials, Prince William and Kate Middleton have captured the public imagination in much the same way the William's parents did a generation ago. Now Bluewater Productions is publishing a behind-the-curtain look at the royal couple a new biography comic book.
"Fame: The Royals" scheduled for an April 2011 release reminds readers how much of William's life has been lived in the public eye; his birth, the tragic death of his mother Diana; his schooling, charitable work and military service. However, this issue, penned by CW Cooke ("Fame: Taylor Swift" and "Fame: Beyonce"), looks to give context to the headlines along with a fresh take on the burgeoning 8-year romance with his bride-to-be Kate Middleton.
"Here you have two people trapped in a fishbowl," said Darren Davis, president of Bluewater, "As a non-royal how do you navigate in the sudden storm of fame? As someone used to the spotlight, how do you maintain a veil of privacy?"
The issue, penciled and inked by Pablo Martinena ("Political Power: Bill Clinton," "Fame: David Beckham") also takes a look at the planning for the "wedding of the century." What shall Kate wear? Carriage or car? Fairy tale or modern? Where will they honeymoon?
Additionally, Bluewater is publishing a special collector's edition graphic novel of the title that features several extras not included in the standard release. Some of the planned extras include pinup posters, special illustrations of the wedding as well as a comparison with Diana and Charles' 1981 wedding. The special edition also offers a unique double-sized cover by Martinena.
"As Americans, we are fascinated by the British royals. They fit within our construct of a celebrity-fueled popular culture. But more than, that they represent an air of pomp and history that we just don't have," Davis said. "In terms of relevance to our series, William and Kate are the embodiment of fame and people (on both sides of the Atlantic) can't get enough of them."
The special collector's edition flip book (which will feature over forty pages), which is scheduled for a May release, will retail for $7.99 several online venues including Amazon.com and Barnes and Noble and Borders online stores. It is available for pre-order on Amazon now
.
To make sure you get your copy, contact your local comic book store to pre-order it. To find a comic book store near you go to www.comicshoplocator.com. The standard 32-page issue retails for $3.99. It will be available at comic book retail outlets.
The "Fame" series was launched earlier in 2010 as a companion piece to the successful "Female Force" and "Political Power" biography titles. The comic allows Bluewater to delve into the celebrity culture and understand how a person rises to fame, deals with the newfound celebrity and continue to produce in the public eye. That includes actors, sports figures, recording artists and royals.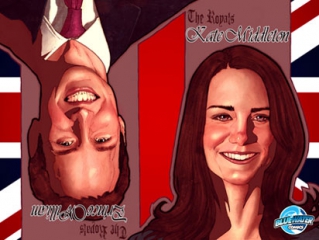 Related posts: