Sara Quinn of Tegan & Sara Fame Discusses Jeff Lemire's Essex County for CBC's Canada Reads Event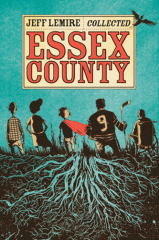 You may, or may not, aware of the fact that Canadian writer/artist Leff Lemire's Essex County has been picked as one of CBC's Canada Reads' essential Top 5 Canadian novels of the decade.
The Top 10 list was voted for by CBC readers and viewers, from a list of 40 novels, which were picked from more than 6,000 suggestions submitted through CBC's recommendation form, e-mail, Facebook and Twitter.
Five of the Top 10 titles were then selected by CBC's five celebrity panelists to defend during the Canada Reads debates in February. The hour-long debates will air on CBC Radio One on February 7, 8 and 9 at 11 a.m. and again at 8 p.m., except in Newfoundland, where they will air at 2:30 p.m. and 8:30 p.m. NT.)
Essex County will be defended by Sara Quin, of Tegan & Sara fame, and in the run down to the debates, Sara Quin visited CBC studios in Vancouver to discuss her strategy for defending a graphic novel and how she's prepping for the debates.
You can listen to the entire podcast, here: http://www.cbc.ca/books/canadareads/2011/01/podcast-sara-quin-defends-essex-county.html
Related posts: