Jeff Lemire's Essex County Named one the Top 40 Essential Canadian Novels of the Decade!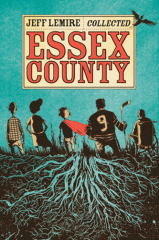 I have just received word that Jeff Lemire's Essex Country trilogy has been named one the Top 40 Essential Canadian Novels of the Decade, in CBC's prestigious Canada Reads programme!
Canadians around the world sent in their suggestions through CBC's recommendation form, e-mail, Facebook and Twitter. They received more than 6,000 nominations in total, and from those, readers voted for 400 different novels of every genre: science fiction, mystery, romance, young adult and more.
CBC has now revealed the shortlist of the Top 40 voted Novels, and are asking readers to vote for which of the 40 is their essential Canadian novel. So let's make a statement, and go and vote for Essex County! Screw Margaret Atwood, screw William Gibson, let's show the nation that we love comics, and that comics are literature too!
There is only one vote allowed per person, so choose carefully! The poll is open until midnight ET November 7, and they'll reveal the Top 10 list on November 9.
To vote, go to http://www.cbc.ca/books/canadareads/
P.S. Yes, this is a Canadian based comic site!
Related posts: