Jeff Lemire Shares Thoughts on Essex County for CBC's Canada Reads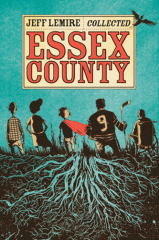 Those of you living south of the 49th parallel may not be aware of the fact that Canadian writer/artist Leff Lemire's Essex County has been picked as one of CBC's Canada Reads' essential Top 5 Canadian novels of the decade. However, it's a pretty big deal up here in Canada! We love us some CBC!
The Top 10 list was voted for by CBC readers and viewers, from a list of 40 novels, which were picked from more than 6,000 suggestions submitted through CBC's recommendation form, e-mail, Facebook and Twitter.
Five of the Top 10 titles were then selected by CBC's five celebrity panelists to defend during the Canada Reads debates in February. The hour-long debates will air on CBC Radio One on February 7, 8 and 9 at 11 a.m. and again at 8 p.m., except in Newfoundland, where they will air at 2:30 p.m. and 8:30 p.m. NT.)
As part of the run down to the debate, Jeff Lemire has contributed a post over on the Canada Reads site, sharing his thoughts on both Essex County the book and Essex County the place. It's an interesting post, and if you enjoyed the book it's got some illuminating insights. Check out the post at http://www.cbc.ca/books/canadareads/2011/01/jeff-lemire-gives-us-a-tour-of-essex-county.html
You can also check out Jeff's conversation with Shelagh Rogers, on The Next chapter, here.

Finally, don't forget that CBC wil be hosting a live chat with Jeff  on Thursday, January 27, at 2 p.m. ET.
Related posts: