Hero: 9 to 5 — Out Now from Markosia Enterprises!
From the press release:
HERO: 9 TO 5 — OUT NOW FROM MARKOSIA ENTERPRISES!
UK Indie publisher releases original graphic novel!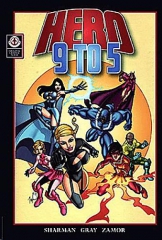 MARKOSIA ENTERPRISES is pleased to announce the release of
HERO: 9 to 5
, a 100 page original graphic novel written by Ian Sharman (
Alpha Gods, FTL, Eleventh Hour
), with pencils by David Gray and colours by Yel Zamour.
HERO: 9 to 5 is sure to appeal to fans of great comic stories everywhere.
"Hero 9 to 5 is a unique and hilarious take on the concept of the real-world superhero. Like the best parodies, it doesn't merely make fun of the genre on which it is based, but accentuates some its sillier aspects, while telling a great story in its own right. Sci-Fi had Douglas Adams, Fantasy has Terry Pratchett, and while this isn't quite at the level of those great authors, it's a damn good attempt to do the same for comics!"  — Hypergeek
HERO 9 TO 5 is a new original graphic novel by the creative team of Ian Sharman, David Gray, and Yel Zamour.
"What if being a super hero was just like any other job? What if you fell in love with your arch enemy? What if your sidekick had a crush on you? Meet Jacob Reilly, aka Flame-O. He didn't want to be a hero, he wanted to be a rock star, but now he's stuck working for Heroes for Zeroes, and his life is about to get, really, really complicated…."
HERO: 9 TO 5 is available directly from Markosia Enterprises: http://www.markosia.co.uk/Comics.aspx?ID=35
You can also order from amazon.com: http://www.amazon.com/Hero-9-5-Ian-Sharman/dp/1905692412/ref=sr_1_3?ie=UTF8&s=books&qid=1295646214&sr=1-3
And amazon.co.uk: http://www.amazon.co.uk/Hero-9-5-Ian-Sharman/dp/1905692412/ref=sr_1_1?s=books&ie=UTF8&qid=1295646388&sr=1-1
Get HERO: 9 TO 5 for your iPhone! From ComiXology: http://www.comixology.com/digital/5022/Hero-9-To-5-1
Writer Ian Sharman will be on hand to sign copies at next month's Midlands MCM Expo - 19th Feb - http://www.midlandsmcmexpo.com/, as well as the Cardiff International Comic Expo - 26th Feb - http://www.fantasyevents.org/cice/, and the London Comic and Small Press Expo - 12th March - http://www.spexpo.co.uk/london.htm. Please stop by and say hello!
For more information on Markosia Enterprises visit them online at http://www.markosia.com/
Preview Pages:
Related posts: