AAM/Markosia's 'Growing Up Enchanted' is Back in Print!
From the press release:
Young! Old! 'Growing Up Enchanted' is back in print in one action-packed collection!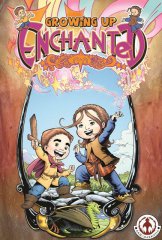 AAM/Markosia is proud to bring back to print the 2003 Eisner-nominated all ages fantasy adventure series, Growing Up Enchanted, newly re-lettered in a complete collection of the delightful four-issue miniseries.
FACT: Growing up is hard to do. Fictional FACT: Growing up ENCHANTED is even harder to do!
Join young Olianna and her family & friends as she tries to learn life's mundane lessons while practicing magic in a world of giants, trolls, and dragons! Lessons like: enjoying the finer points of school, bullies and all; getting along with her sorceress mother and knightly father while not getting along too well with family friends, The Three Stooges, I mean, Knights!; and finally, last but not least, controlling her urges to kill her baby brother a.k.a. pain-in-the-butt, Anto… and making sure none of them get eaten alive by the dragons they encounter in the process!
Creators Jack Briglio (DC's Legion of Super-Heroes in the 31st Century, Scooby-Doo, IDW's Digger & Friends) and Alex Serra (Legion of Super-Heroes in the 31st Century, Teen Titans Go!) are excited to have their story collected for new fans to enjoy. "Growing Up Enchanted is an adventure story about growing up for all ages; with this collection and the upcoming mobile phone game due out in May, it's wonderful that our story is getting out to a new and broader audience. Even those who have already read our story will appreciate it collected for the first time and completely re-lettered. With the re-lettering, Alex and I feel like we're looking at the story and art with fresh eyes again - what a difference!"
A Diamond staff pick, here is what Keith Davidsen had to say - "It's adorable. Really, really adorable. It looks and feels like an animated film. You know when you walk out of a movie theater after having seen a particularly enjoyable flick aimed at kids and adults alike? That extra hop in your step, an almost uncontrollable grin on your face? That's what it feels like to read Growing Up Enchanted. I highly encourage readers of all ages to pick up this book and embrace that euphoric sense of fantasy and wonder."
Find it on page 186 of the APRIL shipping issue of the Diamond Previews catalogue where the Diamond order code is -
FEB10 0643 Growing up Enchanted GN - 30 Pages of the Graphic Novel are available to view online http://www.myebook.com/index.php?option=ebook&id=27282
Launched in 2005 AAM Markosia has been a leader in the independent publishing field, with titles such as Starship Troopers, Kong: King of Skull Island, The Boy Who Made Silence, Midnight Kiss, The Lexian Chronicles and many more. AAM/Markosia will be attending many conventions during 2010, including Angouleme, Birmingham International Comics Show, Comic Geek Speak Supershow, Bristol Comic Expo, SPX.
Related posts: