AAM Markosia's The Dark and Freeman of the Armed Services hit the Shelves in March
From the press release:
'The Dark' and 'Freeman of the Armed Services' hit the shelves in March
March will see the introduction of two new OGN's (Original Graphic Novels) from publisher AAM/Markosia, following hot on the heels of recent successes 'From the Pages of Bram Stoker's Dracula: Harker', 'Serpent Wars' and 'Kong: King of Skull Island'.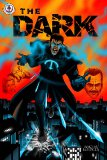 'The Dark', written and created by Chris Lynch with art by Rick Lundeen, is a super-hero sci-fi thriller that challenges the reader's very perceptions of reality versus fiction. It is the story of Daniel Abbot, a brilliant young scientist on the fringes of the establishment and the creator of Memetech - a technology that encodes information and memories into a liquid form, allowing anyone to literally "drink" the encoded knowledge. Terrified that his invention will be used for military purposes he decides to destroy his research, but not before he takes one last trip … with disastrous results.  Two years on and the genie is out of the bottle. Abbot, having perfected his own version of the technology, fights a one-man war against the spread of his own invention and the collapse of our information culture in the guise of 'The Dark'.
"We've hidden lots of coded messages throughout the book," explains Lynch, "Both in the dialogue and in the artwork. From the symbol on The Dark's chest to adverts in the background, everything is there for a reason. Hopefully people will get a kick out of trying to solve the mystery, or at least from looking back after they've read the book for the first time to find all the clues they missed. Either way, we wanted to create something with enough depth to bring people back to re-read the story time and again."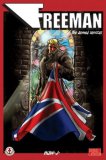 Also shipping in the same month is 'Freeman of the Armed Services', written and drawn by industry veteran Huw-J. Freeman is a true archetypal British hero of old, a cross between James Bond, Doc Savage and Captain Britain without the spandex! Action and adventure throughout as our hero takes us back to the good old days where the spirit of adventure and good old-fashioned action reigned supreme. You join Captain Freeman in his search of a mysterious Viking treasure in the frozen north and battling an evil Chinese drug lord alongside Irish gangs in prohibitionist era New York, in a non-stop action-packed adventure akin to the old Saturday morning pulp shows.
'
"When I decided to take the successful 'Garth' strip down from the Daily Mirror website it was with both sadness and excitement," explains Huw-J. Re-branding the character as "Freeman" was easy as I wanted the character to be 'a homage' to all the creators who went before me, so buckle up and enjoy the ride!"
The Diamond order codes for both books are:
JAN10 0699 THE DARK GN a 18pg preview is available to view online http://www.myebook.com/index.php?option=ebook&id=12805
JAN10 0698 FREEMAN OF THE ARMED SERVICES GN  a 28pg preview is available to view online http://www.myebook.com/index.php?option=ebook&id=24152
About AAM/Markosia:
Launched in 2005 AAM Markosia has been a leader in the independent publishing field, with titles such as Starship Troopers, Kong: King of Skull Island, The Boy Who Made Silence, Midnight Kiss, The Lexian Chronicles and many more. AAM/Markosia will be attending many conventions during 2010, including MCM Expo, Birmingham International Comics Show, Bristol Comic Expo, Mocca, SPX, Comic Geek Speak Supershow.  For interviews, signings, press releases and any other information regarding this title or any other AAM/Markosia titles please contact [email protected]. Visit the AAM/Markosia website at www.markosia.com
Related posts: