Asterix Co-Creator, Albert Uderzo, Ordered to Pay €203,000 in Back Taxes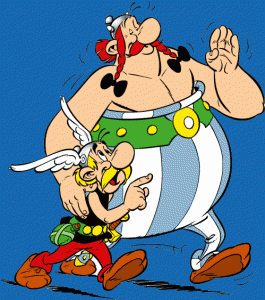 The Telegraph is reporting that Albert Uderzo, the co-creator of the French comic book series Asterix has been ordered to pay €203,000 euros (£171,000 or $273, 000) in unpaid tax on the 24 Asterix comic books he and the late René Goscinny produced between 1959 and 1979.
According to the article, the French tax office has ruled that Uderzo was ineligible for the extra tax exemption that he claimed for, under the country's authorial rights tax regime. This tax regime applies only to "people who have participated in writing the texts of the comic strip". As Uderzo was only the illustrator of Astrix during this period, and not author, he has been ordered to pay back the amount that he claimed for. Following Goscinny death in 1977 Uderzo took over writing duties on the series, and was therefore eligible for the tax break on any books produced after that.
Uderzo has said that he plan to fight the decision, stating that "This is an injustice and a scandal," and going on to say "The brutality and lack of respect with which, 51 years after creating Asterix, the tax authorities have 'woken up' to deny me the right to be co-author of my dear little Gaul – at my age I will not accept to be stripped of this title."
Uderzo says that the original contract that he signed with the Darguad publishers gave him authorial rights, "It was stipulated that I signed off the drawings and René Goscinny the texts, but that we formed one single author," he says, and that "Moreover, for each album, we met before getting stuck into the scenario to dream up a story. Goscinny worked according to my requirements and I to his."
I think the lesson to learn from this is that you need to be very careful what you claim for, because the taxman will discover your mistakes, even years later!
Related posts: