Secret Documents of "Transformers" & "G.I. Joe" Cartoons Creator at Auction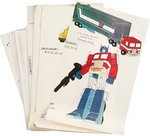 From the press release:
The collection of Ron Friedman, featured in Heritage Auctions' Nov. 19 Comic and Comic Art Auction, should be irresistible to anyone who grew up with THE TRANSFORMERS and G. I. JOE, and to anyone interested in how these classic toys were brought to cartoon life and early-to-mid-1980s glory.
"I did not want to kill Optimus Prime," Friedman said. "HASBRO made me do it."
Available for the first time are Friedman's own original shooting scripts. These archives contain "insider" art work and establishing drawings of those toys, along with their accompanying bios, which Friedman then turned into exciting and recognizable characters, first establishing the kind of stories and action sequences that made both series long running favorites.
"Friedman created the G.I. JOE series for television, then developed and 'set' THE TRANSFORMERS series by re-writing the first 50+ episodes before writing the influential THE TRANSFORMERS: THE MOVIE," said Lon Allen, Managing Director of the Comics division of Heritage, "one of the first long format, Made-for-TV cartoons of its kind. Gen-Xers will well remember running home from school as fast as they could so as not to miss a minute."
Friedman's original, and often personally, annotated scripts are here, along with original and often "SECRET" Hasbro and Marvel generated art works, illustrated toy and product information and "in-house" documents and promotional materials never before seen outside of the inner circle of Hasbro, Marvel Comics and the Marvel Animation cartoon production studios, including material on one of the most 'controversial' actions the TRANSFORMERS cartoon took, the death of the beloved leader of the Autobots, one Optimus Prime.
Also available are Friedman's original shooting scripts for the first season of THE MARVEL ACTION HOUR, plus many full color model sheets for the characters in 13 IRON MAN and 13 FANTASTIC FOUR episodes, plus other eyes only "insider" art works, backgrounds, product information and allied materials never seen before by anyone but Friedman and his long time friend, frequent writing partner, and co-creator of the series, Stan Lee, whose handwritten and signed note(s) – and often hilarious comments to Friedman – are on many of the scripts, materials, and "art" sheets.
"A highly regarded Adjunct Professor of Screenwriting at the prestigious USC and Chapman University Film Schools, Ron Friedman is an Emmy-nominated and Writers Guild Award winning writer with more than 700 of hours of prime-time TV to his credit," said Allen, "but to anyone who grew up in the '80s, what he did on Saturday mornings and school afternoons is more important."
Friedman is selling all of his original and revised scripts, which reveal how he created, shaped and made memorable the good guys and baddies, and also many cool preliminary designs for some of the toys along with character model sheets used as references.
"Many of these are stamped 'secret' on the first page," said Allen. "They were obviously classified information at the time."
The documents provide an intriguing behind the scenes look at how much thought goes into making sure that the characters, stories, and action sequences get to the screen clearly, excitingly and entertainingly.
Substantial preliminary biographies, support material, and product information of almost every character are here, intended only for Friedman's interpretation, and thus never before seen by fans. Also documented and available in this archive are name changes of some of the cult characters (with the lackluster "Captain Chameleon" becoming the memorable G. I. Joe foe Zartan).
Also included in the auction are documents and memorabilia relating to Hasbro's "Air Raiders," a noble attempt to launch a new animated series featuring Air Powered figures and vehicles.
Heritage Auctions, headed by Steve Ivy, Jim Halperin and Greg Rohan, is the world's third largest auction house, with annual sales more than $600 million, and 500,000+ registered online bidder members. For more information about Heritage Auctions, and to join and gain access to a complete record of prices realized, along with full-color, enlargeable photos of each lot, please visit HA.com.
Related posts: