Radical Publishing's Shrapnel Creator Launches Trade Paperback at Barnes and Noble
From the press release: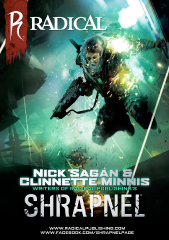 November 10, 2010, Los Angeles – Radical Publishing is proud to announce that critically acclaimed Idlewild trilogy author and Sci-Fi Channel series writer Nick Sagan and rising star Clinnette Minnis will be discussing and signing copies of Radical's sci-fi military epic Shrapnel: Aristeia Rising and Shrapnel: Hubris on TUESDAY, NOVEMBER 16, 7:00 P.M. at the Barnes & Noble store located at 91 Old Country Road, Carle Place, NY 11514. Both Nick Sagan and Clinnette Minnis will be on hand to answer questions, chat with fans and sign copies of their work.
Co-created by Nick Sagan and Mark Long and the first of a three-part series, Shrapnel: Aristeia Rising introduces readers to a planet in peril and a people divided. As the Solar Alliance increases its sphere of influence across the Solar System, the citizens of one planet, Venus, led by former Marine and war hero, Vijaya "Sam" Narayan, has the guts and bravery to stand against their reign.  Shrapnel:Hubris follows Sam and her resistance force as they expand their battle against the Solar Alliance to Mars and beyond, giving the downtrodden a chance for freedom while embarking on their epic struggle.
Both Shrapnel: Aristeia Rising and Shrapnel: Hubris are available in trade paperback editions and can be purchased on the day of the event. Writer/Creator Nick Sagan and Shrapnel: Hubris co-writer Clinnette Minnis will host a discussion about their inspiration for creating Shrapnel followed by a signing session.
About Radical Publishing
Radical Publishing is a leading creator of science fiction, action-adventure and fantasy based comic books and graphic novels .  The company has produced award winning properties, including; Hercules, Legends, Aladdin, Caliber, Hotwire, FVZA, and The Last Days of American Crime.  Founded in 2007 by Barry Levine and Jesse Berger, whose vision was to develop high-concept stories intertwined with leading edge artwork created by the industry's marquee talent.   For more information, visit www.radicalpublishing.com, www.facebook.com/radicalpublishing, www.twitter.com/radicalcomics, www.myspace.com/radicalpublishing.
Related posts: