The Return of the The A-Z of Canadian Comic Book Creators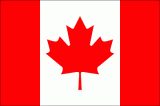 As avid readers of Hypergeek are no doubt aware, I am a British Citizen who emigrated to Canada in 2004. In July 2008 I became a permanent resident of Canada and decided to celebrate this event by bringing together my love of Canada with my love of comic books. This lead to a series of articles highlighting all of the wonderful Canadian comic writers and artists that have worked in the industry over the years. Rather ambitiously, I decided that it would be fun to do this as an A-Z list, picking one creator for each letter of the alphabet, and then going back and filling in extras at a later date.
Unfortunately, this project proved too ambitious, and in July 2009, after writing the entry for Russ Jones, the project was scrapped. Actually, it's unfair to say that the project proved too ambitious, because starting that same month, I made a number of changes to this site that would waylay me, and lead me to focus my efforts on other tasks. The most major change was moving the entire site from blogger/blog spot to a wordpress based system, followed by a full site overall, and then moving the site between servers twice in one year (don't ever use godaddy or inmotion hosting!). In addition, a number of things happened in my personal life, including buying a condo, my mum dying of cancer, me loosing my job, and a number of other setbacks.
Well, almost two years have passed since this project was begun, so I am going to attempt to finish it, or die trying! However, the first thing I plan to do is edit, and generally tidy-up, all of the previous entries. This is for a number of reasons, primarily because my writing has improved over the last two years (I like to think), but also because the some entries are now out-of-date, and because some of the article formatting was destroyed when it was imported from blogger.
The first article to be fixed is the entry on Adrian Alphona, which can be found here. As each article is updated, I shall add a note, both to the article and to the index page (found here). I shall also announce the updates on the Hypergeek Twitter page (see here) and on the Hypergeek Facebook Fan Page (see here). Hopefully, the updating won't take too long, and new articles will start to appear shortly.
For convenience, I have attached a copy of the index to this page, which can be found below:
Related posts: