Sweet Tooth is a brand-new ongoing comic series from DC's Vertigo imprint. Sweet tooth is both written and illustrated by award-winning Canadian cartoonist Jeff Lamire.
Jeff Lemire entered the comic industry when he self-published the Xeric Award-winning comic Lost Dogs in 2005. Following this, Lemire found a home at Top Shelf Productions, where he produced the Eisner and Harvey Award-nominated Essex County Trilogy in 2008–2009. In 2009, DC/Vertigo published Lemire's The Nobody, a tale of identity, fear and paranoia in a small community.
Sweet Tooth is Lemire's first ongoing monthly comic series, and issue #1 of the series was released this last Wednesday, 2nd August 2009, and should be available from all good comic stores for the very low introductory price of $1.00 (U.S.)
The following review may very well contain a few light spoilers, but seeing as the comic has been on release for a few days, and Vertigo published a preview of half of the issue in many of their popular titles, I think a couple of spoilers are allowable. However, if you wish to avoid spoilers, skip forward to my summary… now!
Sweet tooth #1 tells the story of a young boy named Gus, who appears to be some sort of human/deer hybrid. Gus appears mostly human, but he has buck teeth, large protruding ears, a deer-like nose, and… antlers!
The story opens with Gus being chased by a man who looks down at him with cold eyes. He runs and runs as fast as he can, but the man keeps gaining on him… and then he wakes up in bed, sweating. Gus lives alone in a small cabin in the woods with his ailing father. Gus' father is dying from an unknown disease that seems very much like Cancer, and it is up to Gus to look after his father and care for him in his final days. The disease that is killing Gus' father is the same disease that killed his mother and everyone else they ever knew, and it seems that everyone started to get sick after something that Gus' father refers to only as "The Accident." According to Gus' father, so few children were born after the accident, that god decided to make them special, so they got fur, antlers, or tails; of these children, Gus is the last. Gus' father also warns Gus that he should never leave the forest, because the world outside is "fire and hell." The assumption therefore, is that there has been some sort of nuclear disaster, which caused most people to die from radiation sickness, and caused children to be born with strange mutations.
One day, when Gus is out collecting wood, he ventures to the edge of the forest, and discovers that the world beyond the trees looks exactly the same as that inside, and the "fire and hell" of which his father speaks is no where to be seen. After his trip to the forest's edge he begins to find candy bars, wrapped in bright red packaging, scattered throughout the forest, and every time he finds one he hears the sound of cracking branches from nearby. Petty soon Gus' father catches him eating a candy bar, and is furious. His father is very concerned for Gus' safety once he is no longer there to protect him from harm, and tells Gus to be wary of  hunters, and how they use candy bars as bait to catch special people like Gus.
…That night Gus' father dies in his sleep…
When spring comes around, and the ground thaws, Gus takes his father's body outside to bury it. Right then, a pair of hunters happen into the clearing where Gus has laid his father to rest next to the grave of his mother. Gus tries to escape, but the hunters manage to corner him, and he goes into shock because these are the only other people he has ever seen in his life. The hunters plan to sell Gus to a collector of genetic freaks, then at the last moment Gus' savior comes along: the cold eyed man from his dreams. However, his reasons for saving Gus may not be entirely altruistic.
Sweet Tooth #1 is one of the strongest opening issues of a series that I have ever read! Lemire has created something truly unique and special here, which has originality oozing out of every beautifully illustrated page.
I pick up Previews magazine every month, and I make a special point of searching through it to look out for interesting new comic titles. When I was flicking thorough the October edition of the catalogue I happened on on the solicitation for Sweet Tooth #1, and that wonderfully illustrated cover image just made me stop in my tracks! This vision of a young boy with deer antlers just grabbed my attention and had me completely mesmerized. His sad eyes seemed to stare out at me from the page, and I knew then that this was a book that I just had to pick up! It was a couple of minutes before I read the text that accompanied the image, but all that did was strengthen my belief that this comic should be added to my pull list post-haste!
Sweet Tooth #1 is a brilliant debut issue, which introduces the readers perfectly to the main characters and the world in which they live, while at same time playing its cards close to its chest ever some of the larger mysteries about the world outside the forest, and the disaster that caused so many people to get sick, while others became human/animal hybrids. To find the answers to these mysteries and more, readers will have to come back and pick up Sweet Tooth #2 and beyond… I know I will!
If you haven't already picked this comic up yet, then I would urge you to get to your store and grab a copy right now! Sweet Tooth #1 is one of the most magical comics that I have read in a long time, and gave me that fantastic feeling I get whenever I read Fables. Sweet Tooth is a classic in the making, and with the opening issue only costing $1, you'd be mad NOT to buy it. I bought Three copies!
Ed Note: Don't worry, I haven't lost my mind. Apparently, if you send a copy to Jeff Lamire he will sign it, and return it to you with an original sketch. What a fantastic idea!! See here!
Hypergeek's Hot Picks is a weekly column on the site, where I take a look through the list of comics being released that week, and decide which ones I think are worth picking up. I then pick out the comics which I am most looking forward to, and tell readers why I think they will be that week's hottest comics.
With most of the comics that I recommend, I have usually read a pre-release copy, and enjoyed it, or I have read a preview of the comic, and can predict that it is going to be a good read. At the end of the day though, it's just my opinion, so don't take it *too* seriously
This Week's Hottest Comic Picks
My top comic recommendations for this week! Make sure you buy them if you buy nothing else from the Hot Pick stack!
Hotwire: Requiem for the Dead #4 is an amazing comic that deserves to be bought by every self-respecting comic and sci-fi fan on the planet. Everyone knows how much I love 2000 AD, and this comic gives even the best thrills from the Galaxy's Greatest a good run for their money. Steve Pugh has made this project his baby, pouring a lot of blood, sweat and tears into every single page of this comic, and his efforts really shine though to make this one of the very best comics on the shelf. If you buy one comic this week, make it Hotwire: Requiem for the Dead #4
To see my full review of this comic, please click here
Check out a Seven Page Preview!
Solicitation:
Chew continues to be one of the best books on the shelves. Now that the initial hype  has worn off we begin to see that this story has some serious meat on its bones and is not just all about the gimmicks. This month Chew goes all cosmic, as a case takes the detectives to an Arctic research planet that is studying a distant Earth like planet…
Check out a Five Page Preview!
Solicitation:
This is the final issue of Young Liars, I am very sad to report! I've loved this series, but I guess it wasn't as popular with readers whose minds aren't quite as twisted as mine. I'd be hard pressed to tell a new reader what the hell the book was all about, but that is part of the beauty of the whole mad exercise. Everybody in this book is a liar, and parts of the story itself may, or may not, be lies! It's been a real thrill ride that has really re-defined the term 'mind-fuck'!
Solicitation:
Steve Moore's interpretation of the Hercules myth is possibly the greatest version of the legendary character in popular culture. Moore does away with some of the cheesier elements that have become associated with the character, and goes back to the more ancient interpretation, giving us a version of Hercules who is draped in the skin of the fabled lion that he slaughtered, and carries around a powerful club with which to vanquish his opponents. Hercules and his band of Greek mercenaries are depicted here as honourable rogues, traveling the world doing what they can to get buy, which often involves large amounts of very bloody violence. Hercules: The Knives of Kush is an amazing book, full of high adventure from start to finish. Steve Moore has been writing comics since time immemorial, and this might very well be his greatest work yet!
Issue two of the series was even better than the first, which was already amazing. In this issue the Greeks begin to search for the traitors in the Pharoah's entourage…
To see my review of Hercules: Knives of Kush #1, please click here
Check out a Seven Page Preview!
Solicitation:
This is the conclusion to the 'Self Preservation Society' story arc, which has been one of the most shocking storylines yet! Not in a gross-out way, but this arc has had some seriously brutal moments that have really tested the breaking limits of the team, and has seen the Female beaten into a coma that she may never wake up from. Now the remaining Boys have to face Stormfront: the super-nazi, an the Aryan demigod…
Solicitation:
Sweet Tooth is a brand new ongoing series by writer/artist Jeff Lemire that tells the story of Gus, a boy born with deer-like antlers who, after being raised in total isolation, is left to survive in an American landscape devastated a decade earlier by an inexplicable pandemic. Even more remarkable is that Gus is part of a rare new breed of human/animal hybrid children who have emerged in its wake, all apparently immune to the infection.
Wow! What an interesting sounding concept! Lemire is an amazing creator, and his recent graphic novel The Nobody is one of the most moving stories that I have read in a long time. Sweet Tooth is set to be amazing series, and with the first issue only cost $1, You just can't afford to miss this one!
Solicitation:
I've really been looking forward to the release of this series since I read the initial press release! Strange Tales is a three-part anthology title that showcases Marvel's greatest characters re-imagined by the best and brightest talents working in independent comics today. The most exciting thing about it all is that we finally get to ready Peter Bagge's "Incorrigible Hulk" mini, which will be serialized over all three issues!
Solicitation:
Incognito has been a blast, and has really been satisfying my 'pulp' urges… what am I going to do now that it is all over? Oh wait, Criminal is back next month… all with good in the word!
Solicitation:
If you have not been reading Irredeemable then you are a fool, plain and simple! Irredeemable is one of Mark Waid's greatest ever creations, and mark my words, it won't be long before people talk about it in the same breath as Kingdom Come. So get out there are buy the damn book already, I promise you won't regret it!
Solicitation:
A brand new arc begins for Brian Wood's viking epic. This arc is a direct sequel to Northlanders Vol.1: Sven, and picks up the story several decades when the legend of "Sven, The Returned" is bandied about in taverns on the main land. Hearing the legend of Sven and deciding that there is money and fame to be earned, a group of mercenaries begin making their way to Sven's remote island sanctuary!
Solicitation:
Waiting on the Trade
So, you don't buy the weekly comics eh? Too good for the Wednesday crowd? Well, don't worry, Hypergeek's go you covered….

… Actually, there is nothing out this week that I can recommend. Save your money!
My Complete Hot Picks
Included below is the full list of comics that I am picking up this week. They are all great, and any one would be a great pick!
Please note that the below script is pulled from comiXology, and some items that were supposed to have shipped this week, but did not are still included in the list until Diamond gives them a new shipping date.
Items that are not shipping this week include:
2000 AD Pack #2 Jul 2009
Lords of Misrule HC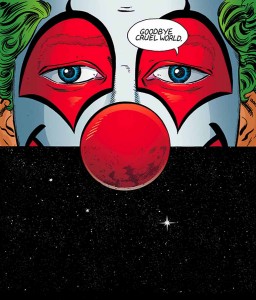 The following comic previews are for DC Comics and Vertigo Comics titles on sale Wednesday September 2nd 2009.
Please click the the title below that you wish to preview. Once there, please click on the thumbnail images to launch the image viewer. Pictoview is recommended for easier image navigation.
Previews
Greek Street #3 - 5 Pages
Written by Peter Milligan
Art by Davide Gianfelice
Cover by KAKO
32pg
$2.99

"A reminder that some stories are too true and too dangerous to ever die. GREEK STREET crackles with Promethean fire." — Grant Morrison

There are many monsters on Greek Street, but none more terrifying then the deadly creature who's leaving a trail of corpses, each with a page of an ancient Greek play stuffed into its dead heart. Meanwhile, young Eddie learns a secret that just might cost him his life!
Magog #1 - 5 Pages
Written by Keith Giffen
Art and variant cover by Howard Porter and John Dell
Cover by Glenn Fabry
32pg
$2.99

Introducing the latest member of the Justice Society of America to break out into his own monthly series!

Tired of chafing at the restraints that being a member of the JSA put upon him, Magog decides to take justice into his own hands and track down who's behind the dealing of high-tech arms to lowlife scum around the DC Universe! Be here as the hunt starts Magog on the path to discovering his own unavoidable destiny thanks to writer Keith Giffen (JUSTICE LEAGUE INTERNATIONAL, DOOM PATROL) and artists Howard Porter and John Dell, the acclaimed team behind JLA!
Sweet Tooth #1 - 7 Pages
Written by Jeff Lemire
Art and cover by Jeff Lemire
32pg
$1.00

From out of the deep woods and the mind of acclaimed indie cartoonist Jeff Lemire (THE NOBODY, The Essex County Trilogy) comes a new Vertigo monthly ongoing series like no other! After being raised in total isolation, Gus — a boy born with deer-like antlers — is left to survive in an American landscape devastated a decade earlier by an inexplicable pandemic. Even more remarkable is that Gus is part of a rare new breed of human/animal hybrid children who have emerged in its wake, all apparently immune to the infection.

Enter Jepperd, a violent, hulking drifter who soon takes in Gus and promises to lead him to "The Preserve," a fabled safe-haven for hybrid children. Along the way they'll have to contend with science militias, deadly scavengers, rival bounty hunters, and hybrid worshipping cultists as they fight to make it to safety and solve the mysteries of this deadly new frontier.

This bizarre and haunting new series is boldly written and illustrated by Eisner-nominated creator Jeff Lemire and elegantly colored by fellow Eisner nominee Jose Villarubia. A little boy with antlers, a big man with guns, a world without hope!
Vertigo just released an 8 page preview for Sweet Tooth #1. When I saw this comic featured in the July 2009 Issue of Previews Magazine I was immediately intrigued by the wonderful sounding concept, and the beautiful artwork, and this eight page preview has me even more excited for this wonderful looking book!
Pull this Issue on Comixology:
I'll admit it, I am a super geek, or as the name of this site implies, a Hypergeek. I am such a huge geek that every month when a new copy of Previews Magazine comes out I like to sit down, flick through and see what cool new stuff is coming out. I then add stuff I am interested in to my pull list, trim off a few titles I'm not really enjoying, and shoot an email off to my comic shop to update my order. I know that DC & Marvel release their solicits weeks for they appear in print, but when you actually sit down and look through Previews Magazine, there are tons of small companies releasing all sorts of interesting looking books that you might not notice otherwise!
The below is a list of upcoming new series and one-shots coming out in September that have me excited. It isn't a full list of everything that I will be buying that month. For that, feel free to check out my full pull list!
This month is actually looking like a reasonably sized one, and there isn't too huge an amount of new stuff solicited that I desperately want. Marvel have a few books out by writers I really like, such as Diggle, Fraction, Hickman and Remender, but they are all Dark Reign titles, and I can't afford to get into buying all of that stuff! So that saves a bit of cash at least
Avatar Press
- Issue #1 of a six part series
Garth Ennis is picking up the reigns of his hilarious, and bat-shit crazy, series about a benevolent Antichrist, his best friend Jesus, and a talking rabbit. If you've read any of the previous series, you'll know what to expect, and it goes without saying, this isn't for the easily offended
Solicitation
Garth Ennis returns to the fan-favorite Chronicles of Wormwood series! Continuing the on-going series of mini-series, Jimmy the Rabbit, Jay, and Danny Wormwood, the Anti-Christ himself, are back in a new full-color six issue series that promises to provide everything you love about Ennis! Danny has started to get his life back together after averting the apocalypse, and getting rid of God and Devil. But Hell might be getting taken over by something even worse, Pope Jacko! Series artist Oscar Jimenez provides the stunning cover and interior art. Ennis drags the whole world into the gutter with his trademark razor-sharp dialogue, biting wit, and the stunning art of Jimenez, all in full-color. This sacrilegious artifact is available with Regular and Visions of Hell Wraparound, both by series artist Jimenez, a Special Ennis Signed Poster edition that also has a new Jimenez cover and is limited to just 3000 copies, and special retailer incentive Anti-Christ Edition!
Dark Horse
Jill Thompson is one of my absolute favourite artists, so this miniseries is a must have. The book looks like a great all-ages read, so it would be perfect for parents to read with their kids!
Solicitation
When supernatural occurrences sweep the community of Burden Hill, it's up to a heroic gang of cats and dogs to keep residents safe from harm.

A bizarre disturbance leads these four-legged neighbors on a wild-goose chase into the depths of the nearby forest, where loyalties are tested and lives come to an abrupt end.

Award-winning comics creators Evan Dorkin (Milk & Cheese) and Jill Thompson (Scary Godmother) first introduced these heroic characters in the anthologies The Dark Horse Book of Hauntings, Witchcraft, the Dead, and Monsters, for which they won coveted Eisner Awards for Best Short Story and Best Painter.

Adventure, mystery, horror and humor thrive on every page of Beasts of Burden-a comic-book series that will capture readers' hearts and haunt their dreams.

The Eisner Award-winning story gets its own series!
- An Original Graphic Novel
2009 Marks the 25th year of publication for Stan Sakai's rabbit ronin, Usagi Yojimbo. To celebrate this event, Sakai has decided to publish an original graphic novel called Usagi Yojimbo: Yokai. This OGN is set to be legendary! I've been really getting back into Usagi Yojimbo recently, and the series is still absolutely wonderful. If you have been thinking of getting into the comic, or back into, this OGN would be the perfect jumping on point, because it is a self contained story, and looks like it will act as the perfect introduction to the world of the rabbit ronin. This very special original graphic novel will be fully hand-painted, written, and lettered by creator Stan Sakai!
Solicitation
Yokai are the monsters, demons, and spirits of Japanese folklore, such as the shape-changing kitsune, the obakeneko demon cats, and the evil oni ogres. Usagi faces all these and more when a desperate woman begs for his help in finding her kidnapped husband. Tracing the abducted man to an old castle, Usagi finds the ruins haunted by creatures of Japanese legend and discovers that they are amassing for a great raid on the countryside! Fortunately, Usagi is joined by Sasuke the Demon Queller, who is also fighting to prevent the invasion, but things aren't always as they seem—especially when dealing with the supernatural!
DC
- Issue #1 of an ongoing series
This new series is a continuation of the storylines of two of the characters from J. Michael Straczynski's "Red Circle" event. The book is really a flip-book, with the first story featuring The Shield written by Eric Trauntmann with art by Murco Rudy, and the second story featuring Inferno being written by Brandon Jerwa with art by Greg Scott.
Trutmann and Jerwa have worked together previously on 'Wide Awake', their webcomic project, and I am really looking forwar to seeing them work together again. Trautmann and Jerwa are two upcoming writers that you should definitely keep an eye on!
Solicitation
Spinning out of August's "Red Circle" event from superstar writer J. Michael Straczynski comes the new ongoing adventures of the patriotic Shield and the mysterious man on the run, Inferno! Eric Trautmann (CHECKMATE) and Marco Rudy (FINAL CRISIS) take Lt. Joe Higgins, a.k.a. The Shield, into the hotspots civilians dare not go. His first mission takes The Shield to the razed country of Bialya, destroyed by the rage of Black Adam in 52. Something lurks in the mountains beyond militia activity, and The Shield must investigate!

Plus, Inferno stars in a fast-paced co-feature from writer Brandon Jerwa (G.I. Joe) and artist Greg Scott (GOTHAM CENTRAL)! Who is Inferno, and why is he being pursued by the Dark Men? He'd better find out fast because Green Arrow and Black Canary have questions of their own for the new hero!
- Issue #1 of a six part series
I have to admit that I haven't been reading the superman books recently. I have been hearing very good things about what Geoff Johns, James Robinson, Greg Rucka, and Sterling Gates have been doing with the super- titles of late, but I simply cannot afford to pick up all those blasted titles. Much like Marvel's Dark Reign line, it has frankly excluded me with the massive amount of cash it costs to keep up with the full storyline.
Now though, Johns is reuniting with Gary Frank to tell the "secret" origin of the Man of Steel. Gary Frank's artwork on his recent run on Action Comics was jaw-droppingly brilliant, and he draws one of the best Supermen that I have ever seen. Some people might be scratching their heads over the concept of telling Superman's 'Secret Origin' again, and frankly, who could blame them! I mean, we've had the origin of Superman told so many times now that it is becoming absolutely confusing. So far we have had Man of Steel, Superman: For All Seasons, Superman: Birthright, and now this new series called 'Secret Origin' - I hope some one at DC sees the irony in that title!
The company line is that these official origin tales are all for 'different' versions of Superman that have since been retconned in the wake of massive Universe changing events…. as a DC fan, I understand this concept completely, but I can imagine it will drive casual readers away in droves. Oh well, I trust Geoff Johns to tell a wonderful, if not surprise filled, version of Superman's origin.
Solicitation
Hot on the heels of their acclaimed run on ACTION COMICS, superstars Geoff Johns and Gary Frank reunite to present a 6-issue event that spells out the definitive origin of Superman for the 21st century — and it all starts with a gigantic 48-page issue! Chronicling Clark Kent's journey from the cornfields of Smallville to the skyscrapers of Metropolis, you'll witness a whole new look at the beginnings of Lex Luthor, the Legion of Super-Heroes, Lois Lane, Metallo, Jimmy Olsen, the Parasite and more! It's a look at the mythic past of the Man of Steel with an eye toward the future!
DC Vertigo
- Issue #1 of a new ongoing series
This is one of the reasons I really like looking through Previews Magazine. I have never heard of this title before, but the cover image really got my attention. My eyes drifted down to the text 'blurb' and I was instantly very intrigued with this bizarre sounding little book. It sounds like pretty high-concept stuff, in the vein of Fables and other recent Vertigo books, and the artwork is just divine. Definitely worth a look!
Solicitation
From out of the deep woods and the mind of acclaimed indie cartoonist Jeff Lemire (THE NOBODY, The Essex County Trilogy) comes a new Vertigo monthly ongoing series like no other! After being raised in total isolation, Gus — a boy born with deer-like antlers — is left to survive in an American landscape devastated a decade earlier by an inexplicable pandemic. Even more remarkable is that Gus is part of a rare new breed of human/animal hybrid children who have emerged in its wake, all apparently immune to the infection. Enter Jepperd, a violent, hulking drifter who soon takes in Gus and promises to lead him to "The Preserve," a fabled safe-haven for hybrid children. Along the way they'll have to contend with science militias, deadly scavengers, rival bounty hunters, and hybrid worshiping cultists as they fight to make it to safety and solve the mysteries of this deadly new frontier. This bizarre and haunting new series is boldly written and illustrated by Eisner-nominated creator Jeff Lemire and elegantly colored by fellow Eisner nominee Jose Villarubia. A little boy with antlers, a big man with guns, a world without hope — SWEET TOOTH #1 ships in September for only $1.00! Plus, don't miss a free preview of this title in August's JACK OF FABLES #37!
DC Zuda
- Trade Paperback collection of online material
High Moon was the first winner of Zuda Comics monthly online competition, and to this day it is still the best title they have. This is really saying something, because there have been some ridiculously good Zuda strips in the last year and a half, but High Moon is just the best of the best! Written by David Gallaher, and with artwork by Steve Ellis, High Moon is an adventure/horror story of cowboys and werewolves in the Old West. Word don't really do it justice to be honest, so head on over and read it, then make sure to order this lovely collection!
Solicitation
The first winner of Zuda Comics' monthly online competition, HIGH MOON is a horror adventure of cowboys and werewolves in the Old West. HIGH MOON begins with a gruff bounty hunter, Matthew Macgregor, investigating a series of strange happenings in the dusty town of Blest, Texas. While Macgregor seeks to uncover the town's dark secrets, he tries desperately to keep his own hidden.

The horrors of Blest ripple out to the mountainous town of Ragged Rock, Oklahoma, where another detective investigates a series of murders following a bizarre train robbery. Uncovering an age-old vendetta, this mysterious lawman is forced to do battle with a steam-driven monstrosity.
Macgregor's tale concludes as a young woman's dire call for assistance leads him through the Black Hills of South Dakota and into devastating battle between two warring factions. Macgregor must face down the United States government - only to discover a secret ritual that spells the destruction of the American frontier.
IDW
- Illustrated collection of poems and short-stories
IDW are reprinting this classic book of Gothic literature by the legendary Edgar Allan Poe. How do you make these well known stories even creepier than they already are? Simple, get Ben Templesmith to illustrate it. Genius! I can't wait to get this one, Ben's illustrations for IDW's recent Dracula reprint were absolutely stunning, and the review images I've seen for this one looks even better!
Solicitation
Celebrated American author Edgar Allan Poe's most cherished works are re-presented in this handsome volume from IDW Publishing. Featuring "The Raven," "The Cask of Amontillado," "The Masque of the Red Death" as well as additional poems and short stories from the author's library, all accompanied by the haunting art of Ben Templesmith.
Lori is a novel by Robert Bloch, who is apparently the master of American horror, but I have to say I've not heard of him before! Still, the blurb sounds like an interesting tale, and again, it's illustrated by Ben Templesmith, so who am I to resist???
Solicitation
After graduating from college, Lori returns home only to lose her parents in a fire. In the wake of this tragedy, unusual events begin to unfold, starting with the discovery of a girl named Priscilla Fairmount in an old high school yearbook who looks just like Lori. But the yearbook is from before Lori was born! Now, suspected by the police for being involved in the fire, Lori begins a descent into madness, convinced that her "twin," Priscilla, is attempting to take over her mind… unaware of the brutal role she herself may be playing in the events which now shape her fate. From Robert Bloch, the master of American horror, Lori is a cerebral and terrifying read.
Image
- Issue #1 of a four part series
I did an Advance Review of Underground #1 a few weeks ago, and I absolutely loved it. I'm definitely going o be picking up this series, and you should too!
Solicitation
As WHITEOUT readies to hit theaters worldwide, artist STEVE LIEBER returns to the adventure genre with a new thriller, pairing with acclaimed writer JEFF PARKER (AGENTS OF ATLAS, EXILES)! Park Ranger and avid caver Wesley Fischer is on a one-woman mission to stop Stillwater Cave from being turned into a tourist trap, but public opinion is not on her side. When locals begin blasting in the cave, Wes and a fellow ranger investigate - and a confrontation spirals into a deadly chase deep under the Kentucky mountains!
- Issue #1 of a five part series
I don't want to sound biased here, but I'm quite friendly with the creators of this next title; however, they are both wonderfully talented individuals, so I don't feel that bad for pimping their wares You may know Josh Wagner from his awesome comic book series, Fiction Clemens. If you don't, then get out their and buy it now! Camilla D'Errico is a wonderful, incredibly talented lady, and her previous comic book work includes an arc of Nightmares & Fairy Tales, Burn, and Tanpopo. She also has an upcoming art book in Ashley Wood's Sparrow series.
This one is sure to be brilliant, so make sure to ask your comic shop owner to pre-order you a copy, and urge him to get some for the shelves.
Solicitation
In Neo Terra, a world of forgotten technology and natural magic, reckless young glide-wing pilot, Billy Boom Boom, must outwit the Pirate King to stop him from ushering in a new Dark Age. CAMILLA D'ERRICO, (Burn, Nightmares and Fairy Tales) pencils this high adventure mini-series about loyalty, friendship, and what it means to be a true hero. Based on the Nintendo DS game "The Sky Pirates of Neo Terra".
Last Year, Antony Johnston and Ben Templesmith wrote a really cool and incredibly gory Dead Space mini series that acted as a prelude to the much acclaimed survival horror video game. I loved the comics, and then the game came out… but they didn't make a version for the Wii !! I know that hardcore games only play 360 or PS3, but you try telling my wife that! Anyway, now that the Wii has become the most popular console in the galaxy it seems that game devs are starting to make special interactive versions of their games to tap into this absolutely humongous market of Wii owners. So is born Dead Space: Extraction, a Wii exclusive version of the game, scripted by none other than Antony Johnston himself! Now Johnston and Templesmith are reuniting to do a comic of the video game, and I for one will definitely be buying it. The first series was great, the game looked amazing, and this looks equally kick-ass!
Solicitation
Take a step further into the horrifying world of DEAD SPACE with EXTRACTION, the special edition comic of the forthcoming Wii title, from the same creative team behind the original DEAD SPACE comic! Senior Medical Officer Nicole Brennan gets the chance of a lifetime when she's assigned to the USG Ishimura… but before long, the necromorph infection breaks out and Nicole must race to unravel the horrifying clues she finds in a very special young girl!
Marvel
- Issue #1 of an eight part series
Mike Carey and Alex Ross writing together…. oh yeah, that sounds pretty… fucking awesome! Take Alex Ross' fantastically nostalgic plots, and add to that Mike Carey's wonderful flair for bringing characters to life, and you've got yourself an insanely good Human Torch comic! I wonder if this story is a retrospective sort of thing, or whether this is a 'rebirth' type of tale? I don't know, but I sure can't wait to find out.
Solicitation
The Soul of an Old Machine, part 1. The Torch is dead - buried with full military honors. But what does death mean for an artificial man? The Mad Thinker is determined to find out, with the reluctant help of the Torch's best and oldest friend - Tom (Toro) Raymond.
- Issue #1 of a four part series
Well, it looks like Marvel are really bringing on the big guns for their Ultimate universe reboot. First Mark Millar is back on Ultimate Avengers, and now they've brought Warren Ellis back to do Iron Man again, after his ridiculously popular Ultimate Human series. Well, it sounds great, I just wonder if it'll ship in as timely manner as Marvel want. When was the last issue of New Universal??
Solicitation
Exploding from the ruins of ULTIMATUM, Tony Stark races against time to save his crippled corporation and stop the theft of his armored arsenal! Superstar writer WARREN ELLIS (ULTIMATE HUMAN) teams up with rising talent STEVE KURTH (IRON MAN) to bring you a globe-spanning, high-octane thriller with a blast from Tony's past that you've gotta see to believe!
If you have been reading Mark Millar and Steve McNiven's adrenaline packed future Marvel Universe story that has been running in Wolverine for the past year or so, you are definitely going to want to pick this up, and not the regular Wolverinebook. Obviously Millar and McNiven were not producing the book fast enough for Marvel to finish the storyline in time for 'Dark Reign', so they get this 'Giant size' special, while the main book gets turned into Dark Wolverine, urgh… another title to dump from my list
Solicitation
This is it! The moment you've been waiting for! Prepare yourselves for the most brutal battle in the history of comics as Wolverine returns- and unleashes a tidal wave of bloody revenge! It's Wolverine versus the Hulk Gang to the death! Don't miss the flesh-rending final chapter to the greatest Wolverine story ever told by the peerless Mark Millar and Steve McNiven! Plus — you won't be able to tear yourself away from the gallery of covers, background material, behind-the-scenes extras, and all-new pinups that fill out this GIANT-SIZE SPECTACULAR!
- Issue #1 of a new ongoing volume
After wrapping up work on their pulp super-villain book, Incognito, Brubaker and Phillips are returning to do a new Criminal book. This fifth book of Criminal is titled 'The Sinners' and follows the misadventures of Tracy Lawless, who was a popular character in previous volumes of the series, as she tries to solve the mystery of bad guys that keep turning up dead throughout the city. Criminal is crime comics done right, it is noir done to perfection, because it doesn't set out to be Noir, it just is! Make sure you pick this amazing book up. It is one of the best comics you will ever read
Solicitation
One of the most award-winning and acclaimed comics series of the last several years returns to the shelves this September with a perfect new jumping-on point for new readers — or those who've gotten hooked on Brubaker and Phillips hit series INCOGNITO and are craving more! CRIMINAL's most popular character, TRACY LAWLESS returns in THE SINNERS. It's been a year since Tracy was forced into working for the bad guys, and now made men are turning up dead all over the city, in what appears to be mob-style hits. But since criminals don't go to the cops for justice… only Tracy can solve this crime.
Top Shelf
Alec is a wonderful series of semi-autobiographical stories from the legendary writer/artist, Eddie Campbell. This gorgeous looking hardcover collects together all of the previous volumes of Alec stories, and includes a brand new 35-page book called 'The Years have Pants'. This collection has Eisner written all over it, another beautiful collection in the vein of Lost Girls.
Solicitation
For the first time ever, the groundbreaking autobiographical comics of master cartoonist Eddie Campbell (FROM HELL) are collected in a single volume! Brilliantly observed and profoundly expressed, the ALEC stories present a version of Eddie's own life, filtered through the alter ego of "Alec MacGarry." Over many years, we witness Alec's (and Eddie's) progression "from beer to wine" — wild nights at the pub, existential despair, the hunt for love, the quest for art, becoming a responsible breadwinner, feeling lost at his own movie premiere, and much more! Eddie's outlandish fantasies and metafictional tricks convert life into art, while staying fully grounded in his own absurdity. At every point, the author's uncanny eye for irony and wry self-awareness makes even the smallest occasion into an opportunity for wit and wisdom. Quite simply, ALEC is a masterpiece of visual autobiography. ALEC: THE YEARS HAVE PANTS (A LIFE-SIZE OMNIBUS) collects the previous Alec books THE KING CANUTE CROWD, GRAFFITI KITCHEN, HOW TO BE AN ARTIST, LITTLE ITALY, THE DEAD MUSE, THE DANCE OF LIFEY DEATH, AFTER THE SNOOTER, as well as an all-new 35 page book, THE YEARS HAVE PANTS, and some other short stories rarely or never before seen. — Softcover Graphic Novel with French Flaps, 640 pages, 7 1/2″ x 10″
In an attempt to manage and keep a track of what comics I am buying, I've been putting together my comic book pull-list. I thought I may as well share it with you guys, and put it up on the top menu. I'll update it periodically, as it show what is currently on my list, and what has been solicited in the next two month's worth of Previews magazine.
P.S. Please send donations so I can afford all these titles
Aardvark-Vanaheim
Glamourpuss
Cerberus Archives
Abstract
Avatar
Absolution
Anna Mercury
Crossed
Doktor Sleepless
Ignition City
Frankenstein's Womb
Gravel
Neonomicon
No Hero
Raw Bone
Wolfskin
Wormwood: Last Battle
Beserker
BOOM! Studios
Do Androids dream of Electric Sheep?
Irredeemable
Potter's Field
The Unknown
Unthinkable
Cartoon Books
Dark Horse
Hellboy
BPRD
BPRD 1947
Citizen Rex
Creepy
Death Lok vs. The Goon
End League
Fear Agent
Gigantic
The Goon
Umbrella Academy
Usagi Yojimbo
Usagi Yojimbo: Yokai
Witchfinder: In the service of Angels
Devil's Due Publishing
The Zombies that Ate the World
DC
All-Star Batman & Robin
Batman: Streets of Gotham
Batman & Robin
Blackest Night
Blackest Night: Tales of the Corps
Detective Comics
Flash: Rebirth
Green Lantern
JSA vs. Kobra
Justice Society of America
The Last Days of Animal Man
Red Robin
Superman: Secret Origins
Wednesday Comics
DC (Vertigo)
Air
DMZ
Fables
Greek Street
Hellblazer
House of Mystery
Jack of Fables
Madame Xanadu
Northlanders
Scalped
Sweet Tooth
Unknown Soldier
Young Liars
DC (Wildstorm)
Astro City: The Dark Ages Book III
Authority
Ex Machina
Do Gooder
Dynamite
The Boys
Complete Dracula
Doctor Who
Herogasm
Garth Ennis' Battlefields: Tankies
Project Superpowers
Sherlock Holmes
Fantagraphics
Castle Waiting
The Comic Journal
IDW
American McGee's Grimm
Groom Lake
Legion of the Supernatural
Locke & Key: Head Games
Zombies vs. Robots Adventure
Image
Dead Space: Extraction
Elephant Men
Fell
Godland
The Great Unknown
Gutsville
Invincible
Jack Staff
Madman
Phonogram 2: Singles Club
Sky Pirates of Neo Terra
Special Forces
Underground
Viking
Walking Dead
War Heroes
Radical Comics
Cholly & Flytrap
Hercules: The Knives of Kush
Hotwire
Rebellion
2000 A.D.
Judge Dredd Megazine
Renegade
Rude Dude
Marvel
Astonishing X-Men
Cable
Captain America
Captain Britain and MI13
Daredevil
Dark Tower
The Destroyer
Fantastic Four
Guardians of the Galaxy
Invincible Iron Man
Immortal Weapons
Nova
New universal: Shockfront
Punisher
Reborn
Thunderbolts
The Torch
Ultimate Comics: Spider-Man
Ultimate Comics: Avengers
Ultimate comics: Armor Wars
Uncanny X-Men
War of Kings
War of Kings: Ascension
Wolverine: Weapon X
X-Factor
X-Force
X-Men Legacy
Marvel (Icon)
Criminal
Kick-Ass
Incognito
Oni
Top Shelf
The League of Extraordinary Gentlemen Century 1910
Comic Book Reviews
- Reviews are listed in reverse chronological order
Movie Reviews
Book Reviews
I'm such a nerd - I love it when Previews Magazine comes out. I like to sit down, flick though, and look at what I am going to order in the upcoming months. Last weekend, I picked up the May 2009 edition of Previews, with comics solicited for July. I decided that now would be a great time to revise my pull list, you know, cut the fat, stick some new titles on there etc.
Below is a list of upcoming series and One-shots coming out in July that have me excited. It isn't a full list of everything that I will be buying. That list is MUCH LARGER
New Series & One-Shots
Dark Horse
In 1946, the Nazi Occult Bureau's Project Vampire Sturm threatened to destroy the fragile peace following the end of the Second World War. A year later, the B.P.R.D. learns that there are creatures far older-and far more dangerous-than the Nazis' creations, as a lone vampire nobleman ruthlessly hunts the survivors of the Third Reich. Joshua Dysart (B.P.R.D.: 1946) and Hellboy creator Mike Mignola team up with Gabriel Ba (The Umbrella Academy) and Fabio Moon (Sugarshock) for a new chapter in the hidden history of the B.P.R.D.!
- I absolutely loved BPRD 1946, it was such a interesting story. I loved seeing the early days of the beuraeu, and Professor Bruttenholm. The quality of the story without the presence of Hellboy, Abe, Liz etc. speaks volumes about the strength of the Hellboy Universe and Mignola and Arcudi's writing skills. Add two of my favourite artists, Ba and Moon, to the mix, and this could be one of the greatest series of 2009!
Comics legends Gilbert and Mario Hernandez join forces to present a bizarre, sexy view of the future and what it means to be human. Twenty years ago, the most famous, lifelike robot in the world was engulfed in scandal, arrested, and deactivated. Since then, an anti-robot movement has developed, while body modification is in and prosthetic limbs have become hot, black-market items. Stories like these are the stock-in-trade of gossip columnist Sergio Bauntin, whose startling revelations earn him the constant scrutiny of both the mob and the city's mysterious investigators, the Truth Takers. When Sergio catches wind of sightings of the long-missing robot celebrity CTZ-RX, all of these interests will collide in violence and intrigue. It's sci-fi adventure with beautiful women by Los Bros. Hernandez!
- I am a MASSIVE Love & Rockets fan. Gilbert and Jamie and written some of the greatest stories in modern comic book history. Now we get an all new story from Gilbert, and the lesser known Mario Hernandez. This looks like it is going to be incredible.
What's black and white and clawing its way onto your reading list? It's the newly resurrected Creepy, of course! Now, don't fret, my putrid pets-these new terror tales are cut from the same cursed cloth as the outlandish originals, telling contemporary horror stories with gorgeously ghoulish art from a lineup that'll make you lose your head! Original Creepy artist Angelo Torres teams up with devilish Dan Braun on "Hell Hound Blues"; Michael Woods and artist Saskia Gutekunst serve up a dose of "Chemical 13″; Neil Kleid and Brian Churilla provide "All the Help You Need" at a weird weight-loss camp; and jaundiced Jason Shawn Alexander brings his phenomenal painting skills to Joe Harris's "The Curse"! Plus Bernie Wrightson, the return of "Loathsome Lore," and more. All this, plus one classic story from Uncle Creepy's dank dungeon, and you've got 48 freakish pages of terror to bring home to mummy!
- The solicitation says it all really, a great new horror anthology series by some of the best horror writers in the industry!
"In the histories of fictions there is many historious meetings . . . Frankenmasteins meets the Wolfmans . . . Scooby-Doos meets the Globetrobbers . . . and of course the Godzilla meets the little fat black kids from Diff'rent Strokes. But those are all for the douches. Now . . . we have come to make crossovers metal. Be prepared for the most brutal meetings of alls times! Dethklok versus The Goon!" From Eric Powell and the creators of Adult Swim's Metalocalypse: since 2006, Metalocalypse has been bringing its special brand of dark comedy to the masses through the American/Scandinavian death-metal band Dethklok. And, since 1999, The Goon has contributed the best in bucktoothed zombie brawls to the world of comics. Now, the twain shall meet . . .
- It says GOON on it, so I'm buying it. I'm not at all familiar with DethkLok, but if Eric Powell is involved it is sure to irreverent and hilarious.
Witchfinder: In the Service of Angels
Witchfinder: In the Service of Angels chronicles one of Edward Grey's first cases as an agent of the queen, which takes Grey from the sparkling echelons of Victorian London to its dark underbelly in his first clash with the city's most infamous secret society: The Heliopic Brotherhood of Ra. Mike Mignola teams up with artist Ben Stenbeck (B.P.R.D.: The Ectoplasmic Man) for a look into one of the Hellboy universe's greatest enigmas: nineteenth-century occult investigator Edward Grey!
- It's a new Hellboy Universe story by Mike Mignola. It looks like they are really working to expand the Universe into a fully blown franchise, and I for one approve heartily.
DC
Geoff Johns and Ivan Reis raise the dead in the most anticipated comics story of the year! Throughout the decades, death has plagued the DC Universe and taken the lives of heroes and villains alike. But to what end? As the War of Light rages on, the prophecy of the Blackest Night descends upon us, with Hal Jordan and the Green Lantern Corps at the center of it all.
- I loves me some Green Lantern! Though this does look like it could get a bit cheesy, with all the dead heroes coming back to life… we'll wait and see.
Blackest Night: Tales of the Corps
In this 3-issue miniseries, writers Geoff Johns and Peter J. Tomasi (GREEN LANTERN CORPS) reveal the secrets behind the Lanterns of BLACKEST NIGHT! Bear witness to Blue Lantern Saint Walker's pilgrimage of hope, Star Sapphire Carol Ferris' sacrifice for love, Green Lantern Kilowog's courageous beginnings, Red Lantern Vice's source of rage, Orange Lantern Blume's bizarre creation, and the first appearance of the mysterious Indigo, leader of the Indigo Tribe!
- Geoff Johns' Green Lantern = Good. Peter Tomasi's Grren Lantern Corps. = very bad. Hopefully the balance will go in favour of the former rather than the latter here
In July, DC Comics gives a fresh twist to a grand comics tradition with WEDNESDAY COMICS, a new, weekly 12-issue series by some of the greatest names in comics today! WEDNESDAY COMICS is unique in modern comics history: Reinventing the classic weekly newspaper comics section, it is a 16-page weekly that unfolds to a sprawling 28″ x 20″ tabloid-sized reading experience bursting with mind-blowing color, action and excitement, with each feature on its own 14″ x 20″ page.
- This series sounds amazing! Tons of talented artists and writers are involved. One problem though, $3.99 a week. ARGH! Hmm, I think I'll get the first issue, see how good that is, and play it from there. I wish DC had priced this cheaper, as it would be a great way for them to bring in some much needed new readers. Sadly, greed seems to have gotten in the way of an awesome marketing opportunity.
IDW
At long last, Doctor Who gets an ongoing monthly series! Join series writer Tony Lee and regular cover artist Paul Grist for the further adventures of everyone's favorite Time Lord!
- Tony Lee's Doctor Who: The Forgotten was one of the best Who stories I have read, or seen, for many years. I've not really liked Doctor Who since the relauch of the series, but Tony clearly understands the character far better than the TV show writers could ever hope too. Doctor Who is alive and well!
Dr Who: Room with a Deja View (one-shot)
The Doctor, traveling alone, lands at the scene of a murder on a space station in the middle of deep space. He must use every ounce of his incredible mind to discover the truth from the sole suspect, whose species lives against the natural flow of time. Writer Rich Johnston (Whatmensch) and artist Eric J (Rex Mundi) bring you this mind-twisting tale.
- More Doctor Who! This is sure to be a laugh though, as it from LITG writer Rich Johnston. Rich is a big Who nerd, so I'm sure he's going to do a bloody great job on this!
Image
Elephant Men War Toys: Yvette (one-shot)
A special one shot featuring Yvette from the critically acclaimed WAR TOYS mini series.
- Elephantmen is a great series, you should be picking it up!
Marvel
- Marvel have solicited a new five part series by Ed Brubaker and Bryan Hitch called simply Reborn They released no information on the content and haven't even shown a cover image. TOP SECRET. I assume therefore that Steve Rogers is coming back!
Out of the pages of IMMORTAL IRON FIST! Jason Aaron (WOLVERINE) and Mico Suayan (MOON KNIGHT) plus an all-star roster of guest artists kick off IMMORTAL WEAPONS in this double-sized issue! Fat Cobra! No man has fought more heartily, consumed more mightily, or lived life more fully! Fat Cobra! Master of the sumo thunder stomp and the devil's skullcrusher! Fat Cobra! Immortal Weapon from the Seven Capital Cities of Heaven! But to this day, no man has known the story of Fat Cobra's life…including the Cobra himself! Discover the shocking origins of this boisterous brawler and witness his decades of adventure! Meanwhile, Danny Rand embarks on his own mission of search and adventure, in a special bonus story by IMMORTAL IRON FIST writer Duane Swierczynski running through all five IMMORTAL WEAPONS issues!
- FAT COBRA, n'uff said!
Radical
Steve Moore returns to take Radical's controversial hero into ancient Egypt, where mysticism and intrigue awaits Hercules. Recovering from the Thracian Wars, Hercules and his surviving band of mercenaries must take on Egyptian spies, assassination and face the mystery of a death cult known as Kush.
- Radical are on fire at the moment, I have loved everything they have been putting out recently. I haven't read the first Hercules series, but I'll be sure to pick this up.
Vertigo
You're a boy from the hood. You're brought up rough in a children's home, trying to stay out of trouble but usually failing. Then at 18 you decide to track down your mother. Within hours of finding her, she's lying naked and dead at your feet. So you run to Greek Street. And that's when your troubles really begin… Boasting a cast of sexy strippers, murderous gangsters, body-snatching mad women and a disturbed young girl who can see the future, GREEK STREET is Peter Milligan's reimagining of those brutal and visceral tragedies that graced the Theater of Dionysus in Ancient Greece – bloody tales about incest, homicide, beautiful oracles, all-knowing choruses, kings, monsters and gods – played out on the mean streets of modern-day Red-Light London. Milligan – best known for his super-smart Vertigo work like SHADE THE CHANGING MAN, HUMAN TARGET and now HELLBLAZER– joins forces with illustrator Davide Gianfelice (NORTHLANDERS) to create an epic ongoing series that's both familiar yet completely new and always with the bloody, visceral edge that makes it a Vertigo book. Take a trip to GREEK STREET where the old stories are not through with us yet.
- This sounds really interesting, and Peter Milligan is usually a pretty good writer. Also, you can't go wrong with a $2 first issue.
Wildstorm
Somewhere in Midwestern America was a place called Conover County. When the old book was opened, and the runes therein used in haste and ignorance, a place of farms, simple folk, and small-town dreams became a den of monsters and nightmare. NORTH 40 is the story of those who survived and came to confront an even greater evil on the horizon – one that wouldn't just consume their flesh, but their souls as well. Heroes arise with power to bring against the dark: Wyatt, an unwilling protector of his former tormentors; Amanda, an apprentice to forgotten arts; and Sheriff Morgan, whose bonds with Conover County go back farther than even he can remember. See where it started, and watch where it's all going in NORTH 40 #1.
Created by Aaron Williams (PS238, The Nodwick Chronicles) and Fiona Staples (SECRET HISTORY OF THE AUTHORITY: HAWKSMOOR).
- I met Aaron Williams at ECCC. He's a really nice, and very interesting man, with a penchant for goo British TV Since I met him I started reading his webseries Nordwick, and his superhero comic P238. I have been really impressed with both of these series, so I'll definitely be picking up his new Wildstorm series.
TPBs & OGNs
These aren't books that I plan to buy in August specifically, just stuff that will be added to my wish list for when an unknown benefactor gives me a huge chunk of money. That can happen right??
Dark Horse
In eighteenth-century Venisalle, faith governs life and death, and the guilty hide their shame behind masks, showing their faces only in the secret rites of the confessional. It is to this stronghold of the Inquisition that the souls of Hell have escaped to possess the living, spreading sin, murder, and chaos. Amid the carnage, one man is blessed with the clarity to recognize the demons that prey on his countrymen-and the means to return them to the fires of Hell. But as the stakes rise, the lines separating good and evil begin to blur, and the Marquis-the dark avenger whom even demons fear to cross-finds himself torn between the blind faith that has defined his life and the bitter truths exposed under his new sight.
- This looks SWEET! Guy Davis is a brilliant artist, and now he has created his own universe that looks absolutely perfect for his dark, gothic looking artwork.
IDW
The Hunter, the first book in the Parker series, is the story of a man who hits New York head-on like a shotgun blast to the chest. Betrayed by the woman he loved and double-crossed by his partner in crime, Parker makes his way cross-country with only one thought burning in his mind - to coldly exact his revenge and reclaim what was taken from him! Richard (Donald Westlake) Stark's groundbreaking Parker books are adapted for the first time as a series of graphic novels by Darwyn Cooke. The initial graphic novel brings to life the first Parker book, The Hunter, which introduces readers to the dangerous anti-hero's cold and calculated world of criminals, thugs, and grifters.
- OH GOD YES! I've been looking forward to this since it was announced last year.
Camilla d'Errico is a Canadian visual artist based out of Vancouver, BC, who creates artwork for comic books. She is also a painter, displaying in galleries in the Lowbrow genre across the United States and Canada. Her style is heavily influenced by manga and her use of bright colors and ability to convey intense emotions is a hallmark of her work.
- Camilla's artwork is a thing of true beauty - I'll be certain to grab this art book.
Explore the world of Popbot with his creator Ashley Wood! This all-new visual guide includes info on Popbot, Kitty, Lady Sham, The Mortis, and all your favorite Popbot characters. Get back on the bus, Mabel!
- Ashley Wood = Awesome!
The biggest names in comics crime fiction assemble for an anthology of original tales of murder and deceit, presented in glorious black-and-white! Comics luminaries Brian Azzarello (100 Bullets, Filthy Rich), Ed Brubaker (Criminal, Sleeper), David Lapham (Stray Bullets), Rick Geary (A Treasury of Victorian Murder), Chris Offutt (HBO's True Blood), and Paul Grist (Kane) show why they're masters of the genre, while newer talents like Jeff Lemire (Essex County trilogy), M. K. Perker (Cairo, Air, Insomnia Café), and Alex de Campi (Smoke) reveal their surprising dark sides. Aided and abetted by some of the most gifted slatherers of thick, black India ink in the field, such as Sean Phillips (Criminal), Eduardo Barreto (Cobb), Dean Motter (Mister X), and more, this gang is headed straight for the bad parts of town, and you're invited along for the ride!
- It looks like Noir is the flavour of the month. But I don't mind, because I love it!
ONI
Wasteland: The Apocalyptic Edition, Volume 1
The ongoing series gets the deluxe hardcover treatment with this new massive collection! Reprinting the first 13 issues of the series including the fan-favourite "Walking the Dust" prose shorts, this impressive tome chronicles the opening adventures of Michael, a mysterious wanderer struggling to find the answers to both his past and his future. Written by Antony Johnston with art from Chris Mitten with Carla Speed McNeil.
- Wasteland is a wonderful series, and Antony Johnston is a brilliant writer. This massive hardcover of the first 13 issues looks beautifully put together.
Radical
Collected for a new generation of readers is the horror classic by Abnett, Tomlinson and White which begins when two friends are horribly murdered near the dark rural English town called Callow. But no rational mind could ever anticipate the ancient evil that the survivors will find in the village with a long and bloody history of murder and hauntings.
In color for the first time and featuring over 60 previously uncollected pages for the definitive edition of the series.
- Never heard of this before, but it is written by Dan Abnett, so it HAS to be good. Also, the cover is by the Biz!
Raw Juniors
There is a lot to do before Little Mouse is ready to go visit the barn. Will he master all the intricacies of getting dressed, from snaps and buttons to Velcro and tail holes? Eisner Award-winning cartoonist Jeff Smith (BONE) and his determined Little Mouse reveal all the smallest pleasures of this daily task.
- It's a kid's book, but it i by Jeff Smith, so you should buy it!