Dark Horse Comics Announces Retailer Digital Exclusives!
From the press release:
DARK HORSE COMICS ANNOUNCES DIGITAL EXCLUSIVES FOR BRICK-AND-MORTAR STORES
JUNE 1, MILWAUKIE, OR—Dark Horse Comics is proud to announce its Digital Retailer Exclusive program, with never-before-seen material from B.P.R.D., Buffy the Vampire Slayer, and Mass Effect!
Dark Horse has come up with a unique way to offer support for brick-and-mortar retailers in a changing market: free, exclusive eight-page digital stories from our best-selling titles!
Launching in July, the Dark Horse Digital Retailer Exclusive program will offer all-new monthly digital comics for free! This exclusive program is a great way to drive both new and existing customers into local comic shops for digital comics that only those stores can provide.
The three-month program will include three of our current hottest titles:
July: B.P.R.D.
August: Buffy the Vampire Slayer
September: Mass Effect
How does it work?
During July through September 2011, Dark Horse will e-mail exclusive retailers a sheet of one hundred unique (one-time use) digital-download codes at the beginning of every month. The store simply prints out the codes and hands them out to loyal customers!
Customers redeem the coupon code and get their free digital comic by visiting Digital.DarkHorse.com/RetailerExclusive.
Fans should head over to their local comic shop and tell them to sign up today! Retailers can simply e-mail their business name, business address, e-mail address, and Diamond account number to [email protected] to be a part of this exciting new program! Please note: In order to be eligible for this program, you must sign up by June 22.
In the meantime, here's a sneak peek from the B.P.R.D.: Casualties digital exclusive available in July!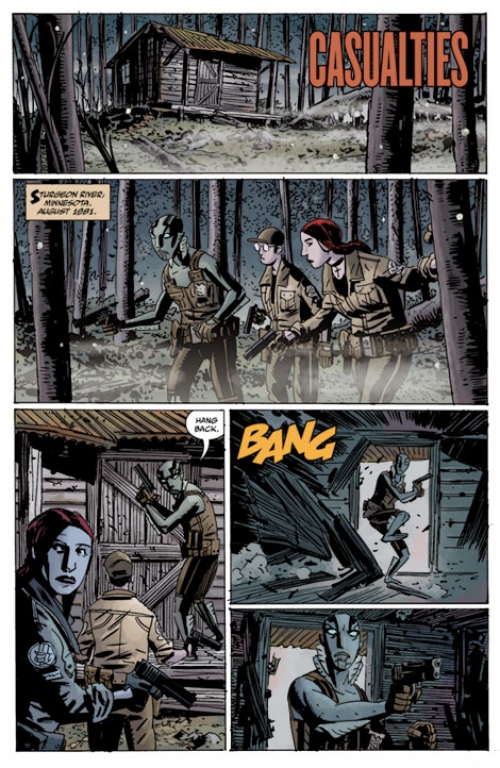 Related posts: