Dark Horse Comics Launches Industry-Changing Digital Comics Program
From the press release:
DARK HORSE COMICS LAUNCHES INDUSTRY-CHANGING DIGITAL COMICS PROGRAM!
Offering single-issue comics at $1.49, the publisher's new proprietary bookshelf app delivers lower prices while rewarding creators with higher profits!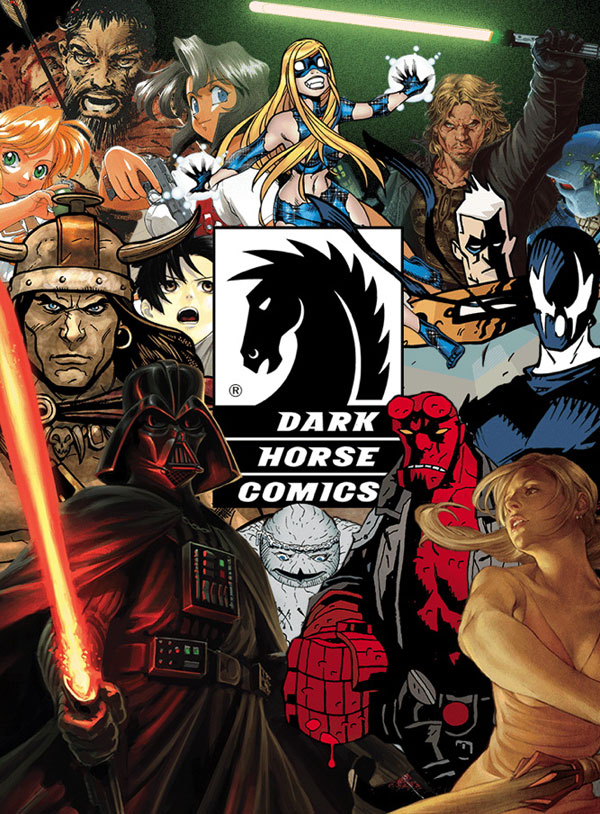 October 8, 2010, MILWAUKIE, OR–Today at New York Comic Con, the publisher that revolutionized creator-owned comics announced a new and ambitious digital publishing plan that's set to do the same for sequential storytelling in the digital medium! By creating and managing its own digital publishing program—the Dark Horse Bookshelf app—Dark Horse Comics has eliminated third party fees on its digital editions. Not only will readers be able to enjoy Dark Horse comics at lower prices, but comic creators will receive a greater percentage of each digital sale. In short, readers pay less for their comics and creators make more money.
"We are excited by the opportunities offered through this new channel of distribution," Dark Horse president and publisher Mike Richardson said. "The comics and graphic novels published by Dark Horse will now reach more readers than ever, while creating new customers for traditional brick and mortar stores."
The Dark Horse Bookshelf app will be available on iPad, iPod Touch and iPhone. Comics can also be purchased and read on modern web browsers at the Dark Horse Digital Store.  Launching in January 2011 with comics priced at $1.49 per issue—50 cents lower than the industry standard—the Dark Horse Bookshelf app will be available for download from the iTunes Store and online at digital.darkhorse.com. To drive customers to brick and mortar retailers, the app and Web site will also include links to local comic shops.
Launching with over 150 titles including Dark Horse's wildly popular horror anthology Creepy, Mike Mignola's Hellboy and B.P.R.D., Joss Whedon's Fray and Serenity, Felicia Day's The Guild, BioWare's Mass Effect, Robert E. Howard's Conan, Gerard Way's Umbrella Academy, Eric Powell's The Goon and many more, the pricing at the Dark Horse Digital Store offers readers unprecedented value. While single-issue comics will be available at the low price point of $1.49, Dark Horse will also offer an extensive list of free introductory #1 issues. The Dark Horse Digital Store's comic bundles will group together story arcs spanning multiple issues into easily affordable packages, allowing readers to get the three or four issues that comprise a complete narrative at manageable prices from $2.99 to $5.99. Starting in February 2011, some Dark Horse titles will feature synchronized release in both the digital and print formats.
Dark Horse also has a plan in place that will allow retailers at comic shops and bookstores to offer readers exclusive digital content through the Dark Horse Digital Store. The specifics of this plan will be announced at a later date.
To celebrate the announcement of the Dark Horse Bookshelf app, Dark Horse Comics is offering eight of its current digital comic apps completely free throughout the weekend. Comics enthusiasts can head to the iTunes store and download free copies of Dark Horse's current Serenity, Beasts of Burden, B.P.R.D., Conan, Fray, Troublemaker, Umbrella Academy and Terminator: 2029 apps.
Fans are invited to sign up for additional news at our official website:
http:///digital.darkhorse.com/
About Dark Horse Comics
Since 1986, Dark Horse Comics has proven to be a solid example of how integrity and innovation can help broaden a unique storytelling medium and establish a small, homegrown company as an industry giant. The company is known for the progressive and creator friendly atmosphere it provides for writers and artists.  In addition to publishing comics from top talent like Frank Miller, Mike Mignola, Neil Gaiman, Gerard Way and comics legend Will Eisner, Dark Horse has developed such successful characters as The Mask, Timecop, and SpyBoy. Additionally, their highly successful line of comics and products based on popular properties includes Star Wars, Indiana Jones, Buffy the Vampire Slayer, Aliens, Conan, Emily the Strange, Tim Burton, Trigun, Serenity and Domo. Today Dark Horse Comics is the largest independent comic-book publisher in the U.S. and is recognized as one of the world's leading publisher of licensed comics material.
Related posts: