Daniel Clowes Announces Signing Tour in Support of Mister Wonderful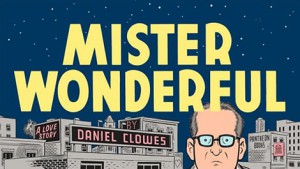 Daniel Clowes has announced that he will be embarking on a signing tour, in support of the publication of his latest graphic novel, Mister Wonder, which is set to be released through Pantheon on April 12th (preorder from Amazon!).
To see a preview of the book, head over to Publisher's Weekly.
Signing dates & locations:
Tuesday, April 19—Santa Cruz
7:30 pm - Bookshop Santa Cruz
Thursday, April 21—Oakland
7:00 pm - Diesel Bookstore
Saturday, April 30—Los Angeles
11:30 am - Los Angeles Times Festival of Books, USC Campus. Signing at Skylight Books booth.
1:30 pm - Panel Discussion with Jim Woodring and others, followed by book signing.
Tuesday, May 3—Philadelphia
7:30 pm - Philadelphia Free Library
Discussion with Ben Katchor and Chip Kidd, followed by book signing.
Wednesday, May 4—Boston
6:00 pm - Brookline Booksmith at the Coolidge Theatre
Thursday, May 5—NYC
7:00 pm - Strand Book Store
In discussion with Chip Kidd.
Wednesday, May 11—San Francisco
7:00 pm - City Lights Bookstore
Monday, May 16—Portland
7:30 pm - Powell's Books
Related posts: