Jeff Lemire's Essex County Knocked Out of Canada Reads in First Round of Debates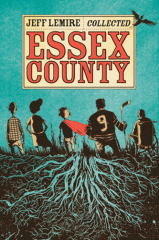 The first round of CBC's Canada Reads debates were held today, to see which of the top 5 nominated novels would be picked as the greatest Canadian novel of the decade.
I'm sad to report that Jeff Lemire's Essex County was eliminated from the competition with a vote of 4 to 1 against. Here's how the voting went down:
Georges Laraque: Essex County

Sara Quin: The Bone Cage

Debbie Travis: Essex County

Lorne Cardinal: Essex County

Ali Velshi: Essex County
*sigh*, and I was really hoping that it would win the contest. How sad is that? To watch the video of the debate, click here.
I have to say that I really question CBC's logic on the whole celebrity debate aspect of the contest. The Top 10 list was voted for by CBC readers and viewers, from a list of 40 novels, which were picked from more than 6,000 suggestions submitted through CBC's recommendation form, e-mail, Facebook and Twitter. Five of the Top 10 titles were then selected by CBC's five celebrity panelists to defend during the Canada Reads debates
I'm happy with the fan voting part of the process, but why then leave the final decision down to a bunch of B-List Canadian celebrities (I'm being kind here)? What makes them great judges of literature? Because they've been on some crappy CBC TV shows, or were hockey players? I mean, Debbie Travis was a member of the panel? To start with, she's BRITISH!! Frankly, I couldn't care a less what she thinks is a good read. She's so fucking annoying that I think I would read anything BUT the book that she picked as the best. *argh*
Has anyone read any of the books left up for debate. I've never even heard of any of them. No doubt they were Canadian best sellers, and therefore sold about 500 copies
Related posts: