Sixth Character of Stan Lee's NHL Guardian Project Revealed - The Flyer
The sixth character of Stan Lee's NHL Guardian Project has been revealed as The Flyer.
With the Guardian Project, Lee intends to create a superhero to represent each of the NHL's 30 teams. Each Guardian is derived from its corresponding hockey team, complete with special powers representative of each team and city. Every day for the first 30 days in January, the winning Guardians will be revealed at 7 pm CT with an exclusive image designed by legendary comic book artist Neal Adams along with their bio.
To see the previously revealed characters, please go to http://www.hypergeek.ca/tag/guardian-project
To vote on which guardian you want to see revealed next, head to: http://www.facebook.com/apps/application.php?id=123121171084181#!/theguardianproject
The Flyer (Philadelphia)
"The Flyer" is a patriotic American who bleeds red, white and blue (and orange and black of course) but isn't blind to the inequities of the system. He lives to be a leader and loves being the driving force behind making the world a better place. Of course, like his fellow Philadelphians, he has the propensity to let his intensity get the better of him.
As one of the many "Birds" within the NHL Guardian world, the Flyer has the obvious ability of flight. His unique addition to the Guardian "Air Force" is his gift of sight. He can pinpoint objects from 30 thousand feet and is able to see through obstacles making him slightly more valuable in certain situations. He has a titanium eagle that he keeps as a pet and he can see whatever the eagle sees. The Flyer possesses the ability of suggestion meaning he can read an opponent's mind and make them do things against their will. He is the only true telekinetic Guardian, able to move with great force any object he sets his mind to.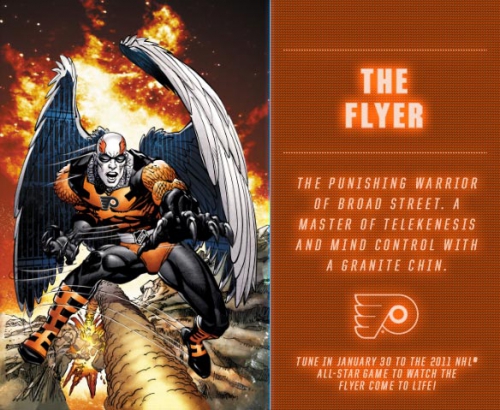 Related posts: