Hypergeek's Hot Picks – Top Comic Book Recommendations for the Week of Wednesday November 4th 2009
Hypergeek's Hot Picks is a weekly column on the site, where I take a look through the list of comics released that week, and decide which ones I think are worth picking up.
With most of the comics that I recommend, I have usually read a pre-release copy, and enjoyed it, or I have read a preview of the comic, and can predict that it is going to be a good read. At the end of the day though, it's just my opinion, so don't take it *too* seriously
Remember that you can view previews of all of this week's comics by clicking here!
This Week's Hottest Comic Picks
My top comic recommendations for this week! Make sure you buy them if you buy nothing else from the Hot Pick stack!
I did an advance review of Usagi Yojimbo Yokai yesterday, and here's what I had to say about it:
I have been reading Usagi Yojimbo for a number of years now, heck, probably for about 15 years! And I can say, without fear of hyperbole, that this is best Usagi tale I've ever read!


Sakai has created a truly enchanting tale in Yokai, which captivates the reader's imagination from the first speech bubble to the last sublime panel.

Usagi Yojimbo: Yokai is a positively wonderful tale that is perfect for readers both old and new.

Make sure you rush out and buy a copy as soon as you can, your collection needs this unmissable book!
So, yeah, I liked it Get about there are grab a copy!
Solicitation:
Again, this is another book that I did an advance review of, and here's what I had to say:
I have been looking forward to Stumptown since I first got wind of the project, as I'm a huge fan of Greg Rucka's writing, particularly his creator owned work like Whiteout and Queen & Country, and I'm glad to say that Rucka does not disappoint on this fantastic new title!

Stumptown #1 is a fantastic debut issue for what looks like it is going to be an incredible new series. Greg Rucka has created another classic comic here that is sure to please fans both old and new. This comic just blew me away, and words fail to convey just how much I enjoyed it. If you are a fan of Rucka's work on Whiteout, Queen & Country, or even Detective Comics, you're going to love this new unmissable crime thriller!
Highly recommended!
Solicitation:
Fables is another favorite series of mine, and I love the fact that Bill Willingham is pulling in members of Clockwork Storybook to expand the series' Universe. Chris Robertson is a relative newcomer to the comic industry, but he is Willingham approved, so that is OK with me!
Readers of Fables will know that whilst Cinderella appears to be a cliched blond bombshell, she is really a secret agent, working undercover for the Fabletown sheriff. In this new miniseries Cinderella has to stop the illegal trafficking of supernatural artifacts from the Homelands to the modern world before Fabletown and its hidden, exiled inhabitants are exposed once and for all. Meanwhile, trouble brews back home in Fabletown when Cindy's overworked, under appreciated assistant decides to seize control of The Glass Slipper, Cindy's exclusive shoe boutique.
Solicitation:
Sweet Tooth is such an amazing series. I've been completely addicted from the very first issue (see review), and it's just gotten better and better since then! If you like tales set in a post-apocalyptic setting then this book is going to be perfect for you. Also, if you like boys with antlers, you're also covered. WIN
Solicitation:
Sky Pirates of Neo Terra is an absolutely fantastic series. I don't normally go in for licensed tie-in stories, but this one is the exception that proves the rule. Josh Wagner has managed to create a really impressive story that both ties into the plot of the game, and can be read without any real knowledge of the original. Camilla d'Errico makes the world of Neo Terra come to life in such vivid detail that one could almost believe this is a real place. It's a true marvel to behold.
Don't miss an issue!
See my review of Sky Pirates of Neo Terra #1
See my Interview with writer Josh Wagner
Solicitation:
If you've not been reading The Unknown, you've really been missing out! The Unknown is basically Mark Waid doing a paranormal mystery in the vein of The X-Files and Fringe. Catherine Allingham has six month's left to live, and before she dies she wants to solve the mystery of what happens after we die!
There's definitely something funny going on though, because Catherine was told that she had six months to live over a year ago now…
Solicitation:
Man, I always put Nova in hot picks, every single month! Dan Abnett and Andy Lanning are such great writers that there hasn't been one bad issue of this epic series. If you don't have Nova on your pull list then I feel really sorry for you
This month's issue is Realm of Kings tie-in, and sees Richard Rider hunting down Darkhawk for the murder of Lillandra Neramani
Solicitation:
It's here! The shocking conclusion to Herogasm! This has been one of the wildest things that Ennis has ever written, and it's been a barrel of laughs! I'm pretty sad that I won't be getting a monthly dose of John McCrea's wonderful artwork anymore
Solicitation:
When Marvel first revealed that they were bringing Steve Rogers back from the grave, I was pretty hesitant. I'm getting a little sick of all these superheroes returning from the dead, and I've really been enjoying Bucky as the new cap. I should have known better though, as this is being written by Ed Brubaker after all, and everything he touches turns to awesome!
It's a great move to make it that Captain America never died in the first place, and only a writer such as Brubaker could pull this off and make it feel so logical and natural!
Maybe DC such hire Brubaker back to do their inevitable Batman: Reborn series… you KNOW it's going to happen, right?
Solicitation:
My Complete Hot Picks
Included below is the full list of comics that I am picking up this week. They are all great, and any one would be a great pick!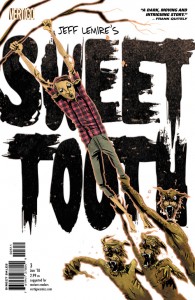 Related posts: