Hypergeek's Hot Picks – Top Comic Book Recommendations for the Week of Wednesday November 4th 2009
Hypergeek's Hot Picks is a weekly column on the site, where I take a look through the list of comics released that week, and decide which ones I think are worth picking up.
With most of the comics that I recommend, I have usually read a pre-release copy, and enjoyed it, or I have read a preview of the comic, and can predict that it is going to be a good read. At the end of the day though, it's just my opinion, so don't take it *too* seriously
Remember that you can view previews of all of this week's comics by clicking here!
The Pick of the Week!
The most unmissable comic release this week!
This week's Top pick is Insomnia Café HC, an Original Graphic Novel written and illustrated by acclaimed Turkish illustrator and New York Times and New Yorker contributor M.K Perker (Cairo, Air). Insomnia Café is a 80-page hardcover book, and marks M.K. Perker's America solo debut!
I recently did an advance review (see here) of this comic, where I said:
M.K. Perker is a FANTASTIC writer, a truly gifted storyteller!

Insomnia Café is an enthralling tale… an absolutely wonderful book with a fascinating and unforgettable story, and gorgeous black & white linework. This book is a true marvel, and is a highly recommended purchase, particularly for those who like their comics with a more cerebral, literary, quality to them.
I'm glad to see Dark Horse putting out gorgeous original material like this, and I hope to see more like this from them in the future! Insomnia Café is an 80-page 6″ x 9″ hardcover, and will cost $14.95
Solicitation:
This Week's Other Hot Comic Picks
My top comic recommendations for this week! Make sure you buy them if you buy nothing else from the Hot Pick stack!
Brian Azzarello is one of my favourite comic book writers, and 100 Bullets was nothing short of genius! Brian recently did a Batman story for DC's weekly Wednesday Comics project, and his Batman was smart, gritty, and driven. It was probably one of the best Batman depictions I've seen in years, and I'm dying to see more of that in this one-shot, which is actually a prelude to a new miniseries. We also get the revival of pulp hero Doc Savage, which is sure to be awesome!
Solicitation:
The Anchor is a fantastic new series from Phil Hester and Brian Churilla. I did a full review of The Anchor #1 last month (http://www.hypergeek.ca/2009/10/comic-review-the-anchor-1.html), where I said:
The Anchor #1 is one of the strongest series debuts that I have read this year. The Anchor is a fantastic addition to BOOM!'s line-up of original titles, and fits in perfectly with comics like Irredeemable, The Unknown, and Unthinkable. The Anchor is fresh, unique, original and gripping! It's a rare experience to be present at the birth of a classic new series, and reading The Anchor #1 felt very much like that. Phil Hester and Brian Churilla are a creative force to be reckoned with, and it feels like they have tons of great tales in store for The Anchor, and lots of interesting history set to explore. I just can't wait to see where this story goes, and I can see this fast becoming one of my favourite comic series!
…and guess what? I've read this second issue, and it's even better that the first!
Solicitation:
The Wild Hunt is the best Hellboy story in years! If you've been following this series, you'll know that things are really coming to a head in the Hellboy Universe. Hellboy recently found out that is is the rightful heir to the throne of King Arthur, and must wield Excalibur in order to save England. But taking this crown may lead to him taking the crown of hell! Then, at the end of issue #7, we were left with a vision of Hellboy in his full demonic form. Are the prophecies coming true? I can't wait to find out!
Solicitation:
B.P.R.D. 1947 has been an absolute joy of a series. Mike Mignola and Joshua Dysart have created a wonderful tale from the early days of the B.P.R.D. that really shows that this comic is strong even without Abe, Liz and the rest of the crew! The artwork by Gabriel Bá and Fábio Moon on this series is some of the best they have ever done. I really hope they come back for B.P.R.D. 1948!!
Solicitation:
Locke & Key is one of the best horror comics out there! Master storyteller Joe Hill returns to the town of Lovecraft to tell the continuting adventures of Tyler, Kinsey, and Bode. This series is unmissable fun!
Solicitation:
JSA vs. Kobra: Engines of Faith has been a fantastic series, and every single issue has appeared in Hot Picks! In this issue everything comes to a head as the JSA face-off against Jason Burr, the new head of Kobra.
Eric Trautmann is proving himself to be one DC's strongest writers, so expect to see him on lost more titles, and soon! In fact he also has Shield #3 out this week, and co-writes Action Comics #833 with Greg Rucka!
… oh hell, lets make both of those Hot Picks too, as they are sure to be amazing!
Solicitation:
Punisher Max has really been lacking in focus since Garth Ennis left the title, with a rotating team of writers and artists, and no cohesive storyline. Now Marvel have decided to relaunch the title as Punishermax (weird!) with Jason Aaron and Steve Dillon as the creative team! From what I have read of this so far, this is going to be legendary! As good as Ennis? Probably not, but goddamn close!
Solicitation:
My Complete Hot Picks
Included below is the full list of comics that I am picking up this week. They are all great, and any one would be a great pick!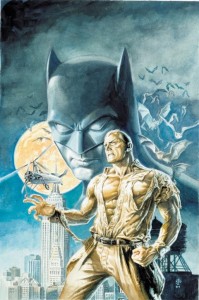 Related posts: