Dark Horse Digital is Upon Us!
Well, almost! Apparently there are just a few more tweaks to be made to the app, and DHD will be go! In the meantime, Dark Horse say that the more people who sign-up for the app, the more free comics they will give away, and I love free comics, so everyone should go and register right now! Find out more below:
DARK HORSE DIGITAL IS UPON US!
MORE SIGN-UPS = MORE FREE COMICS. TELL YOUR FRIENDS!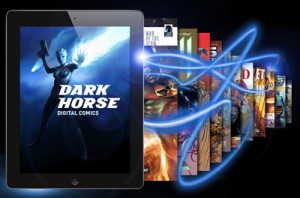 April 13, 2011, MILWAUKIE, OR: We're putting the finishing touches on our app, but we're not ready to release it just yet…we need your help!
Over the next few weeks, we want to involve as many fans as possible in preparation for the launch of the only app to bring Dark Horse Digital comics to your fingertips! In celebration of the upcoming release, we've decided to give away more free comics!
The catch: We need you and your friends to sign up for the Dark Horse Digital newsletter. The more sign-ups we get, the more comics we'll give away!
Want free digital comics?! The steps are simple!
1) Go to Digital.DarkHorse.com
2) Enter your e-mail address.
3) Confirm your subscription.
4) Tell your friends.
5)You're done!
Want to see the titles?
1st Free: Criminal Macabre #1
2nd Free: Fray #1
3rd Free: Abe Sapien: The Drowning #1
4th Free: The Umbrella Academy: Apocalypse Suite #1
5th Free: Mass Effect: Redemption #1
If that's not awesome enough, by simply subscribing to our newsletter, one lucky person will win an iPad 2 (16G/black/black Smart Cover) and a $100 Dark Horse Digital Store credit!
Stay tuned to the Dark Horse blog and Facebook for more contests and promotions leading up to the launch!
About Dark Horse Comics
Since 1986, Dark Horse Comics has proven to be a solid example of how integrity and innovation can help broaden a unique storytelling medium and establish a small, homegrown company as an industry giant. The company is known for the progressive and creator-friendly atmosphere it provides for writers and artists. In addition to publishing comics from top talent like Frank Miller, Mike Mignola, Neil Gaiman, Gerard Way, and comics legend Will Eisner, Dark Horse has developed such successful characters as the Mask, Timecop, and SpyBoy. Additionally, its highly successful line of comics and products based on popular properties includes Star Wars, Indiana Jones, Buffy the Vampire Slayer, Aliens, Conan, Emily the Strange, Tim Burton, Trigun, Serenity, and Domo. Today Dark Horse Comics is the largest independent comic-book publisher in the US and is recognized as one of the world's leading publishers of licensed comics material.
Related posts: