Steve Niles' Criminal Macabre Comes to Dark Horse Presents!
Hot on the heels of yesterday's announcement that they would be collecting Steve Niles' Criminal Macabre series in two sexy omnibus editions, Dark Horse announced today that the classic series will be returning with new stories in issue #4 of Dark Horse Presents! Find out more below!

From the press release: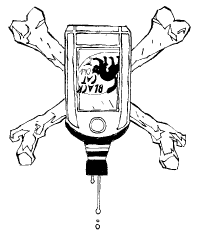 MAY 4, MILWAUKIE, ORIn celebration of the triumphant return of ourflagship title, Dark Horse Presents, we announce another classic comeback: comics' favorite alcoholic supernatural detective, Cal McDonald!
Following up on yesterday's announcement of two omnibus collections of all of the previously published Criminal Macabre material, we announce that Cal McDonald will appear in issue #4 of Dark Horse Presents!
While "Die Die My Darling" starts out as many of Cal's recent adventures dofinding our "hero" at oddswith his ghoulish sidekick, Mo'Lockthings are far from ordinary on this quiet night in Los Angeles. After a mysterious man unbuttons his coat and offers the duo a case, it becomes apparent that the two will again find themselves caught up in the seedy underworld battling shadowy figures and who knows what else.
"I can't give away too much, but there are some major shocks coming for Cal fans," Niles said. "Everything about Cal and his life is about to be whipped into a Hellish frenzy that would have the Devil himself on his heels. Plus it's gonna be funny and I can't say enough about Chris and Michelle's work together. It's perfect."
Featuring the new Criminal Macabre creative team of writerSteve Niles and artist Chris Mitten, with colorist Michelle Madsen, this two-part story begins in the fourth issue of Dark Horse Presents, on sale in September.
Fans also have a chance to pick up new Criminal Macabre this weekend in a special standalone story for Free Comic Book Day!
Related posts: