Dark Horse Collects Steve Niles' Criminal Macabre in Two Upcoming Omnibus Editions!
Dark Horse Comics have announced that they plan to collect Steve Niles' Magnum Opus Criminal Macabre into two over-sized HC omnibus editions. The first collection will be released on August 3oth, and will ring in at an astonishing 400 pages, for only $24.99!
I'm a huge fan of Niles' Cal McDonald stories, and this announcement has really made my day! I have most of his Criminal Macabre stories in single issue format, stored away in boxes, which are a pain to dig through, so a nice HC collection would be a God send! $24.99 is also an amazing price for such a big collection, so good on DH for keeping the price down!
You can find out more about the collection below. If you are a fan of Criminal Macabre, I would also recommend picking up the recently released Cal McDonald Detective Tales from Bloody Pulp Books. It's limited to 2000 copies, and only costs $5! See here for more info.

The official press release: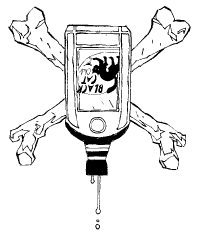 MAY 3, MILWAUKIE, OR—Leading off a week of announcements related to the return of comics' favorite supernatural detective, Dark Horse announces two volumes of Cal McDonald's illustrated adventures.
In 2003, Steve Niles, creator of the 30 Days of Night comics, launched a series of occult detective stories featuring the monstrously hard-boiled Cal McDonald. A pill-popping, alcoholic reprobate, Cal is the only line of defense between Los Angeles and a growing horde of zombies, vampires, possessed muscle cars, mad scientists, werewolves, and much more weirdness!
"The first time Cal McDonald saw print was back in 1990," said creator Steve Niles. "It took another thirteen years to launch what would become Criminal Macabre, and that junkie monster-hunting loser has been unstoppable ever since. Cal's been going strong too."
The first volume collects the first two Criminal Macabre trades, the one-shot story Love Me Tenderloin, and Criminal Macabre: Supernatural Freak Machine—never before in trade paperback!
Boasting nearly 400 pages of story, Criminal Macabre Omnibus Volume 1 arrives on shelves on August 31, with a retail price of $24.99. Fans also have a chance to pick up new Criminal Macabre this weekend in a special standalone story for Free Comic Book Day!
Related posts: