Image, Top Cow, and Minotaur Announce Sablik & Mahoney's Last Mortal
From the press release:
IMMORTALITY IS A CURSE
The Story of a Man's Failure in Life and Death Debuts This Month With Last Mortal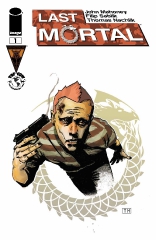 BERKELEY, CA – 4 May 2021 – Fresh from the recent success of Joshua Hale Fialkov and and Rahsan Ekedal's critically acclaimed ECHOES, Minotaur Press has once again paired up with Top Cow Productions and Image Comics to bring readers a gritty new four issue miniseries. LAST MORTAL, a noir revenge story with a supernatural twist by writer and Top Cow Publisher Filip Sablik (THE DARKNESS II: CONFESSION, PILOT SEASON: ASSET) and writer John Mahoney with artist Thomas Nachlik (PILOT SEASON: FOREVER), will be in stores soon.
LAST MORTAL tells the tale of Alec King, a born loser who could never succeed at anything. When Alec's best friend and partner in crime's latest get rich quick scheme leaves their operation forever altered, he is left at rock bottom. Will he find a way to break his pattern of continued failure and reach a better day?
Top Cow Publisher and writer Filip Sablik said, "I'm incredibly excited and proud to see this series released as a creator. Alec's story is one that my co-creator John and I have been working on for roughly fifteen years. The combination of a grounded street level revenge story and the more supernatural, personal journey Alec undergoes has a unique, wide appeal held together brilliantly by Thomas Nachlik's striking, bold art."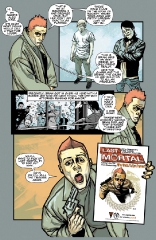 "Last Mortal is a book that is near and dear to Filip and my hearts and is a story we have been writing in one form or another for most of our lives," added Mahoney. "The street level pulp setting for this four issue miniseries asks the question: What can a man accomplish with a second chance when that opportunity is forced upon him against his will?"
Nachlik spoke of his collaboration with the two co-creators on LAST MORTAL: "Filip Sablik and John Mahoney - a dream team of writers - after working on this script for so many years had a clear vision of their concepts but were open to new ideas at the same time. That's the perfect combination for every sequential artist working on such a complex and unique story concept."
Readers who want to meet the creators while picking up the first issue of LAST MORTAL should make sure to visit Collector's Paradise in Canoga Park, CA on Saturday, May 21st. The store will be hosting a LAST MORTAL book release party from 7 PM to 10 PM. There will be a signing with co-creators John Mahoney and Filip Sablik, an art show of Thomas Nachlik's original work from the first issue, a live DJ and free drinks. And to top it off, Sablik will be getting a tattoo live at the event of the ouroboros symbol that is seen on the covers! For more information about the event, visit http://comicsandcards.net.
A video trailer of the new series can be seen at http://www.youtube.com/watch?v=jCNfDf1bgLk. Trailer sound design, score, and voiceover are by Joshua Boden.
LAST MORTAL #1 (MAR110522), a 32-page black and white supernatural noir comic book priced at $3.99 will be available on May 18. ECHOES HC, collecting the entire 5 issue series as well as a ton of extras including sketches, script pages, process pieces and more, will be available in stores on June 22nd for $19.99.
ABOUT TOP COW PRODUCTIONS INC.
Top Cow Productions, Inc. (www.topcow.com), a Los Angeles-based entertainment company, was founded in December of 1992 by artist Marc Silvestri, who also co-founded Image Comics earlier that same year. Top Cow currently publishes its line of comic books in 21 languages in over 55 different countries. The company has launched 20 franchises (18 original and two licensed) in the industry's Top 10, seven at #1, a feat accomplished by no other publisher in the last two decades. Its flagship franchise, WITCHBLADE, was TNT's #1 original film of 2000 and the subsequent TV series was released on DVD on July 29, 2008. WITCHBLADE is also the first American property to be fully adapted in Japan as an original anime and manga by Studio GONZO in 2006. Top Cow's other flagship property, THE DARKNESS, was developed into a major next-generation video game release by Starbreeze and 2K Games and achieved platinum sales status. A second game is slated for release from 2K Games in the Fall of 2011. WANTED, an Eisner-nominated miniseries published by Top Cow from 2003-2005, is now a major motion picture from Universal Pictures starring Angelina Jolie, James McAvoy and Morgan Freeman. Virtually all of Top Cow's other properties are in development as feature films, live-action television, animation or video games. Top Cow has also successfully licensed and merchandised its franchises into toys, statues, clothing, lithographs, puppets, posters, magnets, shot glasses, lighters, lunch pails, wall scrolls, mouse pads, die-cast cars, calendars, Christmas ornaments, Halloween masks, trading cards, standees, video games and roleplaying games.
ABOUT IMAGE COMICS
Image Comics is a comic book and graphic novel publisher founded in 1992 by a collective of best-selling artists. Image has since gone on to become one of the largest comics publishers in the United States. Image currently has five partners: Robert Kirkman, Erik Larsen, Todd McFarlane, Marc Silvestri and Jim Valentino. It consists of five major houses: Todd McFarlane Productions, Top Cow Productions, Shadowline, Skybound and Image Central. Image publishes comics and graphic novels in nearly every genre, sub-genre, and style imaginable. It offers science fiction, romance, horror, crime fiction, historical fiction, humor and more by the finest artists and writers working in the medium today. For more information, visit www.imagecomics.com.
Related posts: