Drawn & Quarterly's TCAF 2011 Schedule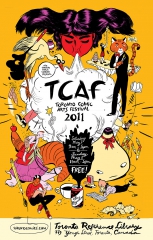 Over on their blog, Drawn & Quarterly have posted their schedule for Toronto Comic Arts Festival 2011.
On Friday Night, several D&Q creators will be attending the Kick Off! Spectacular! A Contemporary Comix Cavalcade featuring Chester Brown, Seth, Adrian Tomine, and Chris Ware! Moderated by Dan Nadel, Editor of The Comics Journal.  the event will be held at Toronto Reference Library, 789 Yonge Street The Bram and Bluma Appel Salon
7:30PM-8:30PM, Doors at 6:30PM This event is free, but ticketed. Online tickets are currently "sold-out" but there will be 150 at the door.
And then Saturday at 10 AM at the library, TCAF officially starts! For more information, check out the TCAF website. Here's their schedule:
SATURDAY
9:15 – 10:15 From Conception to Reality: Bringing Ideas to Fruition (The Beeton)
KATE BEATON
10:30 – 11:30 Creator Roundtable: Evens, Mawil, Debuerme (The Beeton)
BRECHT EVENS
11:00-12:00 PASCAL GIRARD, ZACH WORTON and JOHN PORCELLINO SIGNING
12:00-1:00 KEITH JONES, JOE OLLMANN and R. SIKORYAK SIGNING
12:00-4:00 CHESTER BROWN SIGNING
12:30 – 1:15 Quebecois Comics (Learning Center 1) PASCAL GIRARD
1:00-3:00 CHRIS WARE, ADRIAN TOMINE and SETH SIGNING
1:30 – 2:15 Telling True Stories (Learning Center 1) ZACH WORTON
1:30-3:30 JILLIAN TAMAKI SIGNING at BEGUILING BOOTH
3:00-4:00 JOE OLLMANN and PASCAL GIRARD SIGNING
3:00-5:00 BRECHT EVENS SIGNING
3:10 – 4:10 Spotlight: Chris Ware (The Beeton) CHRIS WARE
3:20 – 4:10 Design (Learning Center 1) ADRIAN TOMINE, SETH
4:00-4:45 Carousel for Kids (OwlKids Area) R SIKORYAK
4:00-5:00 ZACH WORTON SIGNING
3:30 – 4:30 Balancing a Canadian Identity With Working in the Mainstream (The Pilot) JILLIAN TAMAKI
4:15 – 5:00 Machine of Death: Draw & Guess (The Beeton) KATE BEATON
SUNDAY
11:00-12:00 ZACH WORTON SIGNING
11:30-12:30 KEITH JONES AND JOE OLLMANN SIGNING
11:30-1:30 PASCAL GIRARD SIGNING
12:00-4:00 CHESTER BROWN SIGNING
12:30-1:30 R SIKORYAK AND BRECHT EVENS SIGNING
12:15 – 1:00 Framing Comics History: Reprints (Learning Center 1) JEET HEER, SETH, CHRIS WARE
12:30 – 1:30 Illustration (The Pilot) JILLIAN TAMAKI, ADRIAN TOMINE
1:15 – 2:00 Print Culture (The Learning Center 1) JOHN PORCELLINO
1:30-3:30 CHRIS WARE, ADRIAN TOMINE AND SETH SIGNING
1:30-3:30 JILLIAN TAMAKI SIGNING at BEGUILING BOOTH
1:45 – 2:45 Married in Comics (The Beeton) JOE OLLMANN
2:15 – 3:00 Spotlight on John Porcellino (The Learning Center 1) JOHN PORCELLINO
3:00 – 4:00 Studio Tour (The Pilot) KEITH JONES
3:15 – 4:00 Building Visual Language (The Learning Center 1) BRECHT EVENS
3:30-4:30 JOE OLLMANN AND ZACH WORTON SIGNING
4:10 – 5:00 Carousel for Adults (The Pilot) KATE BEATON, R SIKORYAK
4:00-5:00 BRECHT EVENS and JOHN PORCELLINO SIGNING
4:15 – 5:00 New and Upcoming Works (The Learning Center 1) PASCAL GIRARD, JOE OLLMANN
Related posts: