BOOM! Studios May Previews for July Shipping 2011
From the press release:

---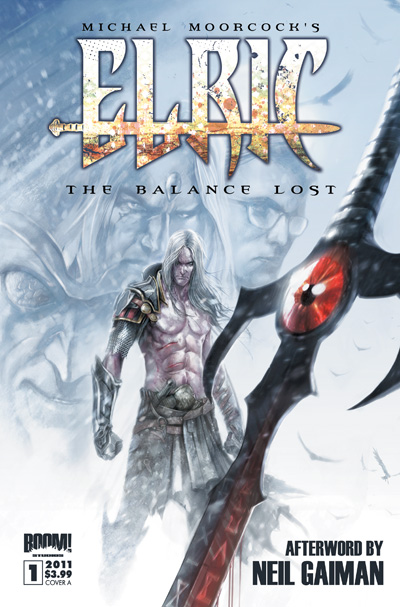 ELRIC: THE BALANCE LOST #1 (A)
ELRIC: THE BALANCE LOST #1 (B)
Written by Chris Roberson
Drawn by Francesco Biagini
SC, 32 pgs, FC, SRP: $3.99
Diamond Code: MAY110918
For 40 years comic fandom has thrilled to the exploits of Elric since his introduction in Marvel Comics' Conan the Barbarian in the early 1970s. Neil Gaiman called Elric's creator Michael Moorcock "my model for what a writer was" while Warren Ellis said he is one of the "eight core sites in my creative genome." Now the godfather of the Multiverse teams up with hot New York Times bestseller Chris Roberson (SUPERMAN, iZOMBIE, STAN LEE'S STARBORN) for an ongoing series that sees a crisis break out across multiple worlds with Moorcock's other two most famous fantasy franchise characters, Corum of the Scarlet Robe and Dorian Hawkmoon! The workings of Fate are being tampered across the Multiverse, upsetting the Cosmic Balance. Elric is on a quest to restore The Balance and save the Multiverse from ruin! Elric, Corum, and Hawkmoon are forced into action far and wide, but will they fight on the side of Law…or Chaos?
---
DRACULA: THE COMPANY OF MONSTERS #12
Written by Kurt Busiek, Daryl Gregory
Drawn by Scott Godlewski
SC, 32 pgs, FC, SRP: $3.99
Diamond Code: MAY110921
"A lot to love here…a book that's managed to keep you hooked on every single page." —Newsarama
LAST ISSUE! Hailed as "exceptional" by Newsarama, Kurt Busiek's DRACULA: THE COMPANY OF MONSTERS closes the coffin with blood-thirsty abandon! With every piece of the puzzle finally in place, Evan readies his final gambit against the monstrosities of what Conrad and Dracula have become. But Evan has gone too far and the cost may be his soul… An end to one of the greatest Dracula stories the comics medium has ever seen!
---
FARSCAPE #21
Written by Rockne S. O'Bannon, Keith R.A. DeCandido
Drawn by Will Sliney
SC, 32 pgs, FC, SRP: $3.99
Diamond Code: MAY110922
The War for the Uncharted Territories continues! Tensions rise as the alliance against the Kkore might have a greater enemy…in themselves! But as things seem their darkest, the key to defeating the Kkore may soon be discovered. What is the secret of a peaceful, ancient race only found on a remote planet? From FARSCAPE creator Rockne S. O'Bannon and fan-favorite novelist Keith R.A. DeCandido!
---
HELLRAISER #5 (A)
HELLRAISER #5 (B)
Written by Clive Barker, Christopher Monfette
Drawn by Leonardo Manco
SC, 24 pgs, FC, SRP: $3.99
Diamond Code: MAY110923
BRAND NEW ARC! Great jumping-on point for new readers. One of the greatest horror franchises of all time returns, now under the control of its original creator! Clive Barker has touched HELLRAISER only twice: once to write THE HELLBOUND HEART, and once more to write and direct the original HELLRAISER film. Now witness Barker's long-awaited return to tell a new chapter in the series' official continuity—a trajectory that will forever change the Cenobites…and Pinhead! Kirsty Cotton faces her greatest foes…both new and old. And Pinhead is her greatest fear! But what could he have planned for her?
---
INCORRUPTIBLE #20 (A)
INCORRUPTIBLE #20 (B)
Written by Mark Waid
Drawn by Marcio Takara
SC, 32 pgs, FC, SRP: $3.99
Diamond Code: MAY110925
It's reckoning time! As the sinister plans of ruthless Hayes Bellamy are put into motion, the fate of Coalville rests in Max Damage's overburdened hands. With Bellemy holding the secret to Max's weakness, and with annihilation of the city imminent, can Max finally prove himself to a world that still sees Enemy No. 1? Especially while trying to protect those he cares about most, and…a new sidekick? It's the arc-ending issue that'll change the INCORRUPTIBLE landscape forever! Miss this and miss out!
---
IRREDEEMABLE #27 (A)
IRREDEEMABLE #27 (B)
Written by Mark Waid
Drawn by Peter Krause
SC, 32 pgs, FC, SRP: $3.99
Diamond Code: MAY110927
Plutonian's revenge on the Paradigm and Earth is becoming frighteningly real! A battle wages in the heart of a distant sun that will decide the fate of Earth's heroes and villains. And the tenuous team of super-genius adversaries, Qubit and Modeus, are caught in the middle of a Mad God's wrath. This is a can't-miss issue of Mark Waid's multiple Eisner and Harvey Award-nominated epic superhero series!
---
MALIGNANT MAN #4
Written by James Wan, Michael Alan Nelson
Drawn by Piotr Kowalski
SC, 32 pgs, FC, SRP: $3.99
Diamond Code: MAY110929
The stunning conclusion to the dark and twisted sci-fi thriller that's unlike anything on the stands! When memories of Alan's horrible past come flooding back and his allies lie slaughtered at the hands of Mr. Cancer, there is only one thing on his mind…revenge. Find out how it all ends in this jaw-dropping finale to the most deranged and exciting mini-series of the year!
---
PLANET OF THE APES #4 (A)
PLANET OF THE APES #4 (B)
Written by Daryl Gregory
Drawn by Carlos Magno
SC, 32 pgs, FC, SRP: $3.99
Diamond Code: MAY110930
Get your hands on these damn dirty Apes! Ripped from the continuity of the first five Ape films, the first story arc in this ongoing series comes to a bloody conclusion! Secrets are revealed…and someone will pay! Man? Ape? Both? Discover for yourself as the next great Ape saga continues! Written by award-winning novelist Daryl Gregory!
---

STAN LEE'S SOLDIER ZERO #10
Written by Dan Abnett and Andy Lanning
Drawn by Javier Pina
SC, 32 pgs, FC, SRP: $3.99
Diamond Code: MAY110933
Stan Lee, Dan Abnett, and Andy Lanning, bring you the crossover you've been waiting for! As forces from STARBORN and THE TRAVELER collide in an epic superhero clash of the titans — the only question you will have on your mind is if Soldier Zero will find new allies…or new enemies? Find out as worlds from every point of the universe collide!
---
STAN LEE'S STARBORN #8
Written by Chris Roberson
Drawn by Khary Randolph
SC, 32 pgs, FC, SRP: $3.99
Diamond Code: MAY110935
The crossover fans have been clamoring for continues! It's Starborn and Soldier Zero fighting the vanguard of the Pride and the survival of the galaxy hangs in the balance! SUPERMAN's Chris Roberson and SPIDER-MAN's Khary Randolph bring you a Stan Lee superhero clash of the titans like no other! Worlds collide in this epic conclusion to the second story arc from Stan "The Man" Lee!
---
STAN LEE'S THE TRAVELER #9
Written by Mark Waid, Tom Peyer
Drawn by Chad Hardin
SC, 32 pgs, FC, SRP: $3.99
Diamond Code: MAY110938
NEW ARC! Great for new readers! It begins here — a crossover that you won't forget! Still reeling from the events of the last issue, Traveler comes face to face with a deadly threat that he's in no condition to confront. To save the world, Traveler must set aside his pride and accept the help of the mysterious stranger only known as…SOLDIER ZERO! Critically acclaimed writer Mark Waid is joined by fan-favorite Tom Peyer to bring you more of Stan Lee's latest superhero creations!
---
THE AMORY WARS: IN KEEPING SECRETS OF SILENT EARTH: 3 VOL. 3 TPB
Written by Claudio Sanchez, Peter David
Drawn by Aaron Kuder
SC, 112 pgs, FC, SRP: $14.99
ISBN13: 9781608860654
Diamond Code: MAY110912
The grand finale to the greatest battle the Keywork has ever seen is found here, in the concluding volume of the epic series from Coheed and Cambria frontman Claudio Sanchez and comics legend Peter David! It's an earth-shaking showdown between good and evil as Claudio and Inferno's rebel army attack the resurrected Wilhelm Ryan's fortress, House Atlantic. Will Claudio fulfill the prophecy of the Crowing, or will Ryan complete his transformation into the omnipotent god of all the planets in Heaven's Fence?
---
STAN LEE'S STARBORN VOL. 1 TPB
Written by Chris Roberson
Drawn by Khary Randolph
SC, 128 pgs, FC, SRP: $9.99
ISBN13: 9781608860593
Diamond Code: MAY110937
Specially priced at $9.99! Stan Lee, the most colossal force in the history of comics, teams up with critically acclaimed writer Chris Roberson (SUPERMAN, iZOMBIE) and artist Khary Randolph (SPIDER-MAN) for the action-packed, sci-fi superhero scorcher, STARBORN! Compiling the jaw-dropping first arc, down on his luck fantasy writer Benjamin Warner learns that he is the heir to an alien throne and soon finds himself in the middle of a galactic war, forced to face the truth that he is…not of this world! This can't-miss volume features a cover by fan-favorite artist, Humberto Ramos!
---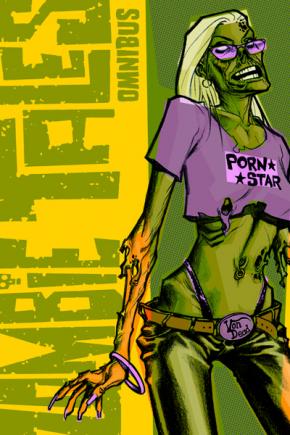 ZOMBIE TALES OMNIBUS: UNDEAD
Written by Mark Waid, Keith Giffen, Steve Niles, Joe R. Lansdale, Michael Alan Nelson, John Rogers, Johanna Stokes, Kim Krizan
Drawn by Dave Johnson, Keith Giffen, Fabio Moon, Ron Lim, Eduardo Barreto, Gabriel Hardman, J.K. Woodward, Joe Abraham, Lee Moder
SC, 220 pgs, FC, SRP: $19.99
ISBN13: 9781608860746
Diamond Code: MAY110942
A who's who of great storytellers that collects two of the bestselling ZOMBIE TALES graphic novels into one gigantic 220-page package! Featuring heavyweights Mark Waid, Keith Giffen, Steve Niles, William Mesner-Loebs, Karl Kesel, Brian Augustyn, Michael Alan Nelson, Joe R. Lansdale, screenwriters Chris Morgan (Wanted), John Rogers (Leverage), Andrew Cosby (Eureka), Johanna Stokes (Eureka), Christine Boylan (Leverage), and Academy Award® Nominee Kim Krizan (Before Sunrise, Before Sunset) with a murderer's row of artists: Fabio Moon (Casanova), Eduardo Barreto, Lee Moder (Legion of Super-Heroes), Tom Fowler (Green Arrow), Ron Lim (Silver Surfer), Minck Oosterveer (The Unknown), Andy Kuhn (Firebreather), J.K. Woodward (Fallen Angel), Carlos Magno (Transformers), Mark Badger (Batman), Gabriel Hardman (Agents of Atlas) featuring a cover from 100 BULLETS cover artist Dave Johnson!
---

---


SPACE WARPED #2
Written by Hervé Bourhis
Drawn by Rudy Spiessert
SC, 32 pgs, FC, SRP: $3.99
Diamond Code: MAY110949
Far away, in a land long ago…there was an orphaned farm kid with daddy issues trying to rescue an orphaned princess unaware of her daddy issues! In the tradition of ROBOT CHICKEN: STAR WARS and SPACEBALLS, SPACE WARPED continues, with a loving, affectionate parody of the greatest science fiction franchise of all time!
---
DUCKTALES #3 (A)
DUCKTALES #3 (B)
Written by Warren Spector
Drawn by Leonel Castellani
SC, 32 pgs, FC, SRP: $3.99
Diamond Code: MAY110947
DUCKTALES is back! The hit Disney Afternoon TV show continues to make a splash as an all new, original ongoing comic book series! Written by the creator of the EPIC MICKEY video game, Warren Spector! Scrooge McDuck, Launchpad, and the gang continue their search for the McDuck Museum artifacts that have been mysteriously deported to their original locations! Who is behind the dastardly deportation? Does Donald Duck have the answer? Find out as the man who brought you EPIC MICKEY spins an original epic DUCKTALES series!
---
CHIP 'N' DALE RESCUE RANGERS #8 (A)
CHIP 'N' DALE RESCUE RANGERS #8 (B)
Written by Ian Brill
Drawn by Leonel Castellani, Ricardo Garcia
SC, 32 pgs, FC, SRP: $3.99
Diamond Code: MAY110943
Everything is connected. Nothing is an accident. And in this cataclysmic conclusion to "Slipping Through the Cracks," Chip 'n' Dale and the Rescue Rangers learn that a shadowy foe has been manipulating their every move! But who is responsible, and why? Find out why sometimes some crimes go slipping through the cracks and which two gumshoes are picking up the slack!
---
DARKWING DUCK #14 (A)
DARKWING DUCK #14 (B)
Written by Ian Brill
Drawn by James Silvani
SC, 32 pgs, FC, SRP: $3.99
Diamond Code: MAY110944
In the aftermath of the attack by the nefarious newcomer One-Shot, St. Canard finds itself in the midst of chaos again! An army of brand new baddies has swarmed the streets, and city hall is rendered helpless without the leadership of a mayor. Could the terror that flaps in the night do the unthinkable and don the duties of a….*gasp*…desk job? Plus: Who can contain Cat-Tankerous? Make yours mallard this month and find out! Fan-favorite writer Ian Brill and superstar artist James Silvani bring you another issue of the series that is taking comic fandom by storm!
---

WALT DISNEY TREASURY: DONALD DUCK VOL.2
Written by Don Rosa
Drawn by Don Rosa
SC, 160 pgs, FC, SRP: $14.99
ISBN13: 9781608866595
Diamond Code: MAY110946
Howlin' crashwagons! Don Rosa's Donald Duck adventures continue with the second chronological selection — including tales reprinted for the first time in twenty years! Dashing Donald travels "From Duckburg to Lillehammer" for the Winter Olympics; becomes "The Duck Who Never Was" in a classic movie spoof; battles King Arthur in "The Once and Future Duck," and faces his old enemy Azure Blue in "The Lost Charts of Columbus!" A Rosa cover gallery and appearances by Uncle Scrooge, Gladstone, and Huey, Dewey, and Louie are all icing on the cake.
---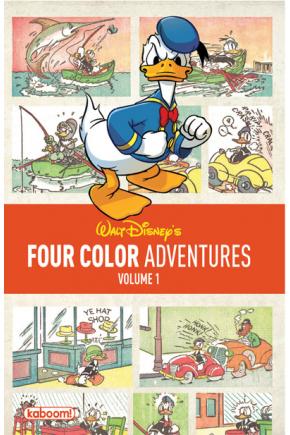 DISNEY'S FOUR-COLOR ADVENTURES VOL.1 TPB
Written by Bob Karp
Drawn by Al Taliaferro ,Jack Hannah
SC, 160 pgs, FC, SRP: $14.99
ISBN13: 9781608866557
Diamond Code: MAY110945
KABOOM! cracks the Disney vault to find some of the rarest comics of all! Collecting the complete issues #4 and #13 of Dell's vintage FOUR COLOR series, this indispensable piece of comics history features classic Disney stories over 70 years old, from such creators as Al Taliaferro, creator of Huey, Dewey and Louie, Jack Hannah, Irving Tripp and many more
---
DON'T FORGET BOOM! STUDIOS COMICS
ARE ALSO AVAILABLE THROUGH THE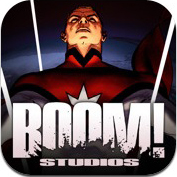 BOOM! STUDIOS COMICS APP!





BOOM! Studios Digital Comics can also be found
through any of these fine digital vendors!
Related posts: